AMS  – AMS 103 CD  /2006/
Le Mani (Ruce) jsou dalšími z kategorie kuriozních zaprášeností, po kterých nezbylo téměř nic. Pouhých pět skladeb a 18 minut hudby…
Skupina Le Mani pochází z Milána a začátkem sedmdesátých let ji založili baskytarista Umberto Licari s bubeníkem Mauriziem Gazzim. Sestava kapely se měnila, jak aprílové počasí, ale někdy v roce 1973 se ustálila v podobě – Mario Orfei (basa), Maurizio Gazzi (buben), Dario Piana (klávesy) a Roberto Bianconi (saxofon, flétna). Mládenci začali skládat vlastní materiál, obrážet hudební festivaly a když se k nim v roce 1975 připojil i zpěvák a skladatel Claudio Fucci, okamžitě jim pomohl k nahrávací smlouvě s labelem Trident. Ten už se však tou dobou potácel nad propastí, záhy zkrachoval a Le Mani se mohli s nějakou podporou rovnou rozloučit. Nakonec po nich nezbylo nic, než několik skladeb v demoverzích a (nevydaný) singl, produkovaný Eugeniem Finardim.
Až teprve v roce 2006 se objevilo cédéčko, obsahující veškerý zaznamenaný materiál Le Mani pěkně pohromadě. Je to pěkná rozkládací mini vinyl replika (byť to na vinylu vůbec nevyšlo), vyrobená v limitované edici 666 ručně očíslovanejch kopií a stejného počtu kopií se dostalo rovněž Japonsku. Na mě zbyl kousek s číslem 62 a jsem rád, že ho mám.

Je to jen demo a zvuk nahrávky není nic extra. První čtyři skladby jsou mono a opravdu dobře hraje až závěrečná La casa del vento (předpokládám, že právě ona měla být na onom výše uvedeném singlu). Ovšem muzika je to výborná a celé to odpálí instrumentální smršť Tarantella.
Rytmika uhání s větrem o závod a zvuk zkreslených varhan, provázený bezuzdně sólující šprajcnou připomíná křik hejna Harpyjí. Vrcholem nahrávky je následující, šest minut dlouhá Il palazzo. Začíná podobně, jako skladba předcházející a v první chvíli to vypadá na nějakou spojitost, jen místo flétny se hlásí o slovo zrovna tak energické ságo. Teprve v momentě, kdy tempo opadne a skladba zvolní se poprvé připojí i Claudio Fucci. Jeho výrazný, ovšem zároveň i poněkud neobvykle posazený hlas bych těžko přirovnával k někomu dalšímu, ale jedno jméno mě přece jen napadlo – Officina Meccanica. V závěrečné třetině skladby už je to znovu pořádnej kvapík s prvotřídním hudebním doprovodem a lahůdkovými instrumentálními kouzly.
Potom už to jde ráz na ráz. Třetí Canto je rychlou písničkou s folkrockovým nátiskem, pěknou flétnou a spoustou překrývajících se vokálů. Sólo na piano Mani má sotva minutu a půl a na úplnej závěr je tu ještě baladicky laděná La casa del vento. Moc příjemná, semiakustická věcička s procítěným zpěvem, kytarou, pianem a flétnou. Bonusem navíc je i její suverénně nejlepší zvuk…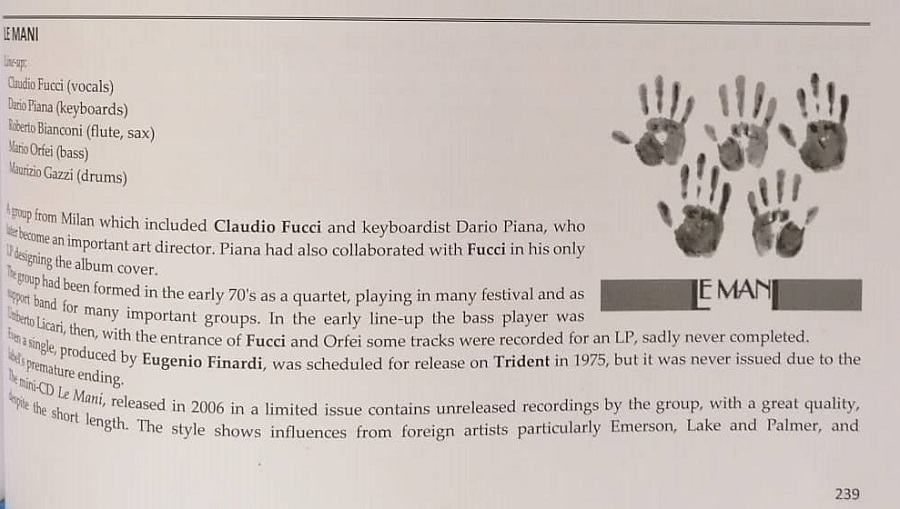 Zásadní nahrávka italského progresivního rocku to určitě není a nebude, spíš taková kuriozitka pro jeho fanoušky a sběratele. Skladby jsou to výborné, ale dojem z nich sráží vesměs podprůměrný zvuk. Tož za tři.
SKLADBY:
1. Tarantella  3:24
2. Il palazzo  6:06
3. Canto  3:34
4. Mani  1:35
5. La casa del vento  3:28
SESTAVA:
Claudio Fucci (voce e chitarre)
Dario Piana (tastiere e organo Hammond)
Roberto "Bigwhite" Bianconi (flauto e sax)
Mario Orfei (basso)
Maurizio Gazzi (batteria)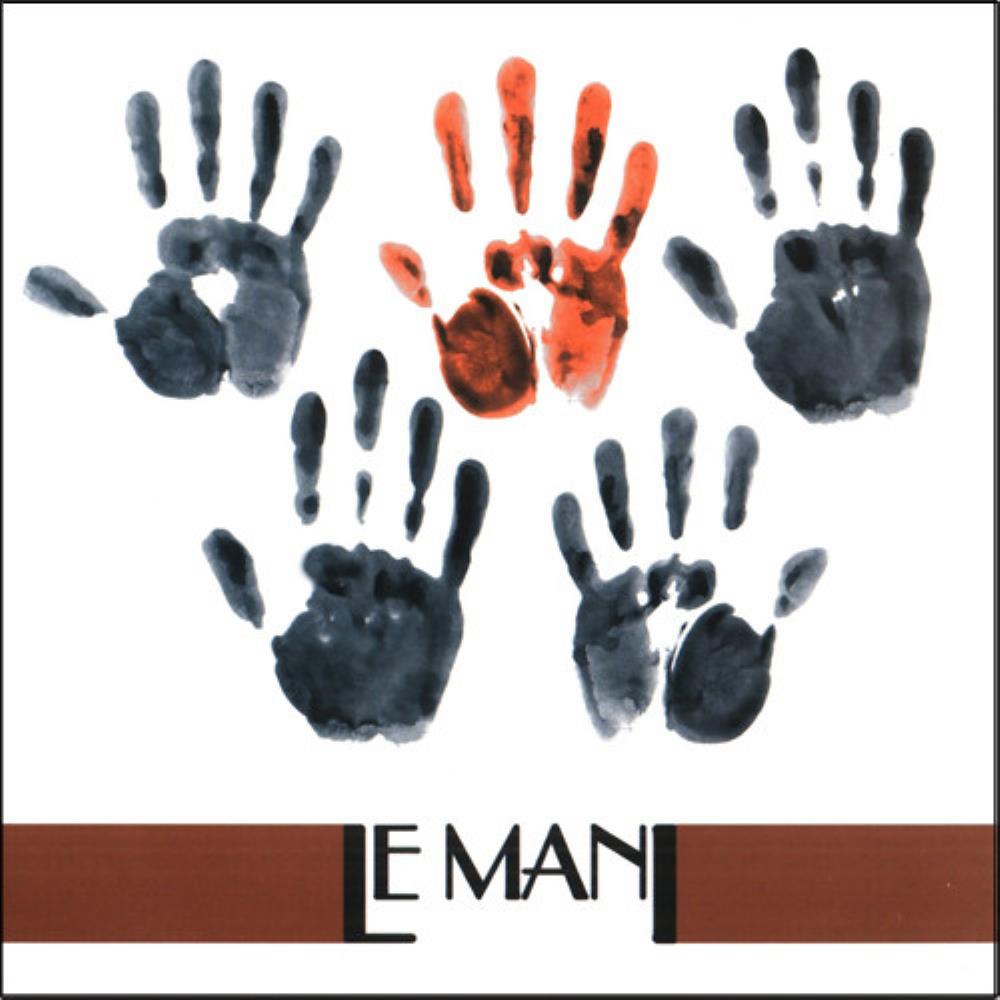 Le Mani
Le Mani
Prog Rock
AMS
2006
CD
5
AMS – AMS 103 CD /2006/