Skupinu Love Sculpture (soudím) budou znát jenom opravdoví fajnšmekři. Dělal jsem kolem sebe průzkum, který mi dal za pravdu. Jestli se mýlím, omlouvám se. Vznikla v r. 1966 v Cardiffu, ve Velké Británii. Založil ji David Edmunds z Walesu, výtečný kytarista s vybroušenou technikou hry. Vydala dvě alba, Blues Helping (1968) a Froms And Feelings (1969), v r. 1970 se rozpadla. 
Mě se podařilo Blues Helping sehnat už dřív. Album je podle dobových zvyků pojato jako kolekce coververzí, které jsou zahrány na velmi slušné úrovni. Jde o bluesovou kolekcí vybraných standardů, které získaly novou tvář a je co poslouchat.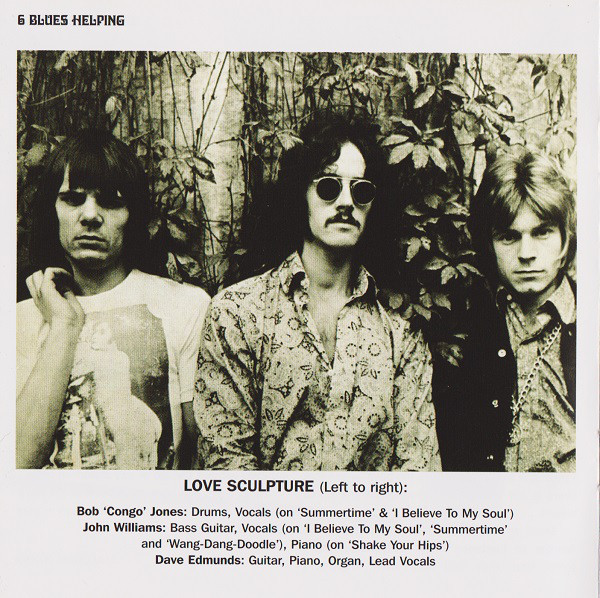 STUMBLE – Kingovu verzi natočili i Bluesbreakers. Edmunds je famózní, ale Mayallova parta podle mého názoru "dodala" lepší background a nepotlačila kapelu do pozadí, jako se tomu děje zde. To srovnání se nabízí hned v prvním plánu.
THREE O'CLOCK BLUES – Klasické číslo od legendárního B. B. Kinga nám představí stylotvorné pojetí, v němž Williams a Jones uvolňují prostor Edmundsovi jako zpěvákovi a výtečnému kytaristovi. Dokázal si osvojit bluesový výraz opravdu přesvědčivě a hrát elektrické blues v r. 1968 se v Británii považovalo jako známka slušného vychování.
I BELIEVE TO MY SOUL – Klasické číslo Ray Charlese (zdařile interpretované i naším Michalem Prokopem blahé paměti). Tato coververze není úplně podle mého gusta. Je příliš rozředěná vokály. Jones, třebaže zpívá zaníceně, mě nepřesvědčuje. Také zde chybí údernější klavírní hra. Akordy jsou příliš subtilní. Kytarové sólo to sice napravuje, ale jenom zčásti. Mám jinou představu.
SO UNKIND – Přesně podle ducha legendárního Elmora Jamese šlape skladba ve středním tempu. Klavír se srovnává s kytarou a ta se Jamesovi zrychlenými klouzavými tóny přibližuje na dohled.
SUMMERTIME – Další klasika. Gershwinova legendární skladba vždycky lákala ke zpracování a Love Sculpture rovněž neodolali. Začátek je velmi subtilní v pěvecké výpovědi i v přitlumeném hudebním doprovodu, zpěvu se ujal opět bubeník Jones. Hezká barva hlasu, i když místy méně elastická. Edmunds zahraje výtečné sólo, překrývající celý prostor a ještě připojí v unisonu s kytarou hlasový doprovod.
ON THE ROAD AGAIN – Tajemné bzučení a už je zde známé téma a skladba od Canned Heat z alba Boogie With Canned Heat. Hypnotický rytmus nás zvolna přivádí do transu. Podařilo se zde udržet napětí, navíc do skladby implantovat kytarové sólo, které ovšem nijak neruší celkovou koncepci, stejně jako Edmundsův vstup v závěru písně.
DON'T ANSWER THE DOOR – Johnsonova skladba je výtečným rhythm and blues, ve které usedne Edmunds i za klávesy hammondek, které podkreslují jeho kytarovou hru a podmanivý hlas. Podle mého soudu jedna z nejpřesvědčivějších skladeb na albu.
WANG-DANG-DOODLE – Černošský basista Willie Dixon inspiroval bluesrockové kapely poměrně často a tak trio sáhlo i po této skladbě. Zazpíval si ji baskytarista Williams. Mechanicky se opakující riff udržuje napětí a emocionálního ducha. Edmunds sází pružné, ale úsporné tóny přímo do černého.
COME BACK BABY – Ray Charles "dodal" další skladbu. Velmi přesvědčivé blues s mistrovsky vystřiženým kytarovým sólem. Skladbě by slušela delší stopáž, aby více vynikl její výraz. Velmi dobře uchopené a zahrané téma.
SHAKE YOUR HIPS – Mooreův bluesový standard Love Sculpture pojímají v ideální shodě mezi tzv. černošským a bělošským pojetím. Edmunds do rychlého tempa sází rychlé tóny se suverénní jistotou, jak ve zrychlovaných, tak úsporných pasážích.
BLUES HELPING – Závěrečná skladba je jedinou vlastní autorskou záležitostí tria Love Sculpture. Výtečná tečka nakonec, jako třešinka na dortu. Edmunds přesvědčuje, že britské elektrické blues není jen Clapton, Green a Taylor…, ale i on. S erudicí sobě vlastní rozvíjí kytarové téma do prostorného obrazce. Z pozadí slyšíme ponuré basové tóny a šustící činely bicích. Ryzí a velmi přesvědčivá ukázka elektrického blues par excellence!
Stylotvorné a podmanivé. Milovník daného žánru nebude protestovat. Ostatně,  je to hudba z doby, "kdy blues bylo králem" na britských ostrovech. Je v ní cit, vřelost a emoce. Dávám albu čtyři hvězdy, protože na příštím počinu se kapela posunula ještě o kus dál a ten rozdíl bych rád zvýraznil.
SKLADBY:
01. Stumble (King/Thmpson)
02. Three O'Clock Blues (King/Taub)
03. I Believe To my Soul (Charles)
04. So Unkind (James/Sehom)
05. Summertime (Gershwin/Heyward)
06. On The Road Again (Jones)
07. Don't Answer The Door (Johnson)
08. Wang-Dang-Doodle (Dixon)
09. Come Back Baby (Charles)
10. Shake Your Hips (Moore)
11. Blues Helping (Williams/Edmunds/Jones)
SESTAVA:
Dave Edmunds: kytara, klavír, varhany Hammond, sólový zpěv
John Williams: baskytara, vokály (3, 5, 6, 8), klavír (10)
Bob "Congo" Jones: bicí nástroje, zpěv (3, 5)
Blues Helping
Love Sculpture
Blues Rock,
Parlophone
1968
LP
11
CD - EMI /1999/