Box Set Universal Music Italia s.r.l. – 0602527319346  /2010/
Sensations' Fix patří mezi představitele poněkud experimentálnějšího směru italského rocku a tomu hlavnímu proudu, vyznačenému (velkou) trojkou PFM, Le Orme a Banco, byli vzdálení na míle daleko…
Skupinu založil koncem roku 1973 Franco Falsini, kterého doplnili ještě Keith Edwards a Richard Ursillo. Obsazení měla mezinárodní, ale sídlila a nahrávala nedaleko Florencie a tak je řazena (podobně, jako The Trip) k subžánru Rock Progressivo Italiano. Ovšem není to tak jednoduché, jak by se na první pohled zdálo. Sensations' Fix experimentovali s elektronikou a svým psychedelickým space rockem připomínali kapely typu Amon Düül II, Can, nebo Ash Ra Tempel. Od některých publicistů tak vyfasovali nálepku (italskej) kraut rock.
Díky velkorysé podpoře labelu Polydor, který kapele nabídl pětiletou smlouvu na šest dlouhohrajících alb, se Sensations' Fix mohli pustit do nahrávání a během roku 1974 vyprodukovali hned tři. Eponymní promo (pod špatně napsaným názvem) Sensation's Fix, debut Fragments of Light a jeho pokračování v podobě alba Portable Madness. To promo jsem zatím neslyšel, ale debut mám ve sbírce a tak si ho pojďme v krátkosti představit: 
Album Fragments of Light obsahuje jedenáct, vesměs docela krátkejch skladeb a celková stopáž desky nepřesahuje 39 minut. Téměř všechno jsou to instrumentálky a vokály jsou ke slyšení jen v psychedelické podivnosti Space Energy Age a v jediné, v podstatě "normální" písničce, Do You Love Me? 
Náplň alba by se dala rozdělit zhruba do dvou skupin. Tu první tvoří rozostřené, psychedelické koláže, uplácané z vesmírnejch chuchvalců a mlhovin. Bez nějaké struktury a jasně rozpoznatelného začátku a konce. Prostě koláže (např. Nuclear War In Your Brain, nebo Windowpax And The Stone Sender), které mě moc neba. Druhou skupinu tvoří skladby s výrazným, melodickým motivem a to už je jinačí kafe. Vypíchnul bych titulní, vymazlenou Fragments Of Light, nebo pod předvolbou číslo tři zašitou Music Is Painting In The Air. Tady Falsini dokazuje, že je nejenom schopným zvukovým kouzelníkem, ale aj kytaristou a jeho do vzduchu vymalované sólo je bezva.
Vrcholem alba je pro mě šest a půl minuty dlouhá Space Closure. Klávesy tady (nejspíš Moog) mají opravdu pěknej zvuk a motiv, které hrají, je chytlavej jak sviňa. Navíc do ní Edwards natloukl aj vynikající bicí. Oni to měli oba Falsiniho kumpáni docela těžké, kór na tomhle, v domácích podmínkách upečeném debutu. Moc prostoru nedostali a trochu výraznější baskytaru Richarda Ursilla vnímám až teprve v předposlední, přitom docela pěkné, Life Beyond The Darkness.
Album vznikalo v hodně skromnejch podmínkách a Falsini se s ním ve svém domácím studiu mordoval úplně sám. Polydoru přinesl už hotové dílo a tak je to vlastně jen kapánek lepší demo. Tomu odpovídá aj produkce a zvuk, kterej je sice autentickej, ale zároveň nic extra. Nicméně, poslouchat se to dá bez problémů.
Původní album vyšlo v relativně vysokém nákladu a tak je i dnes docela běžně k sehnání. Navíc jsou na trhu další dvě LP reedice z let 2013 a 2019. S cédéčky už je to krapet horší, protože poslední ofiko výlisky pocházejí z poloviny devadesátých let. Já jsem se dostal k originálnímu CD prostřednictvím box setu Progressive Italia gli anni ´70 vol. 4 z roku 2010 a jsem rád, že ho mám.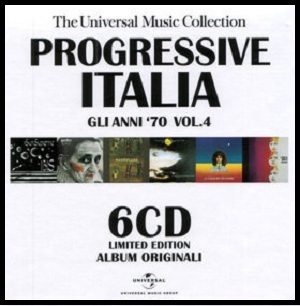 Pět z jedenácti skladeb se mi líbí víc, než zbytek a tak dám slabší trojku. Následující album Portable Madness je po všech stránkách lepší…
SKLADBY:
01. Fragments Of Light  (3:23)
02. Nuclear War In Your Brain  (3:36)
03. Music Is Painting In The Air (4:17)
04. Windowpax And The Stone Sender (2:27)
05. Space Energy Age  (3:51)
06. Metafel + Mefalac  (1:34)
07. Space Closure (6:28)
08. Music Without Gravity  (2:10)
09. Do You Love Me?  (2:51)
10. Life Beyond The Darkness  (3:42)
11. Telepathic Children  (3:35)
SESTAVA:
Richard Ursillo – Bass
Keith Edwards – Drums, Percussion
Franco Falsini – Guitar, Synthesizer 
Fragments Of Light
Sensations' Fix
Electronic, Prog Rock
Polydor
1974
LP
11
Box Set Universal Music Italia s.r.l. – 0602527319346 /2010/