"A když myšlenky přicházejí zcela beze slov, jejich čistota není ryzí."
Dva roky mi kdysi trvalo, než jsem se probořil – pronikl opakovanými poslechy tou slupkou a hudba, která zde je, i když na první poslech jí ve smyslu melodií možná moc není, se mi ukázala v celé své nádheře. Tady ještě hudba je, v porovnání třeba s albem …All that might have been… (2014). Dnes si tak toto CD "už jen" labužnicky vychutnávám – neobjevuji ho. 
Album v podstatě obsahuje jednu jedinou kompozici, trvající 42 minut, rozsekanou do menších, na sebe navazujících částí – čtrnácti skladeb. Podle časové délky by se možná více hodilo nehudební označení čtrnáct kousků.
Album je bez bicích, ty ale nechybí. Uslyšíme na něm kromě kláves a kytary Petera Hammilla dva jeho staré dobré známé – již zesnulého Stuarta Gordona se svými houslemi a vandergráfa Davida Jacksona, obsluhujícího samozřejmě saxofon a flétnu. Stuart Gordon (který mimochodem spolupracoval i s Porcupine Tree nebo s Peterem Gabrielem) vzpomínal, že jeho houslový výkon v emocionálně vypjaté instrumentálce Converse je jeden z jeho nejšílenějších, které kdy podal. "Je to ta nejpodivnější melodie, jakou jsem kdy musel hrát."
Záměrně podivně nervózní, neveselá atmosféra prostupuje celé album, ale na druhou stranu, jak napsal jeden literárně nadaný recenzent: "Jeho hosté mu pomáhají efektivně budovat tuto úžasnou tapisérii zářících barev, jemných nuancí a dynamických orchestrací s rozmanitými dotyky saxofonu a houslí."
Máme zde (na jednom albu) vandergraafovsky nervně šílenou Cretans always lie a zároveň klidnou, typicky hammillovskou baladu – Gone ahead. Po které mimochodem následuje melancholický doják Powef of speech, jehož melodie opravdu není pro nevyrovnané povahy nebo člověka se skleslou náladou. V této skladbě – Power of speech, odvádí obzvlášť skvělou práci David Jackson. Jeho zkrocený, poddajný saxofon násobí sílu a umocňuje, zvýrazňuje barvu skladby.
Kdyby texty tohoto CD slyšel Roger Waters, musel by zajásat, přemoci své ego a objektivně smeknout klobouk – tématem tohoto koncepčního alba jsou problémy s komunikací, jejího zkreslování, konflikty v komunikaci, z komunikace apod. Nicméně Peter se noří do mnohem hlubších vod…
Hammill používá vynikající, neotřelé, někdy těžko srozumitelné metafory, ostatně jako téměř vždy. Už název úvodní skladby je skvělý: When language corrodes. O textu samotném nemluvě.
Dotkneme se Babylónské věže, ve skladbě Babel zazní mimo jiné i slovní spojení "Slova za slovy/beletrie, hloupost a bajka/každá těhotná pauza mrtvého prozradí"… Babylónská věž, známá tím, že Bůh kvůli ní rozmělnil jeden lidský jazyk v řadu jiných, se tematicky přímo vybízela… Dostaneme se k řecké filozofii, jež je tématem jedné skladby: "Všechny mé myšlenky se tvořily zcela beze slov/ beze slova, dostanete obrázek?" Tohle je obzvlášť úžasné a nutí to k zamyšlení. Atd. atd. atd. A ono to všechno s hudbou drží pohromadě.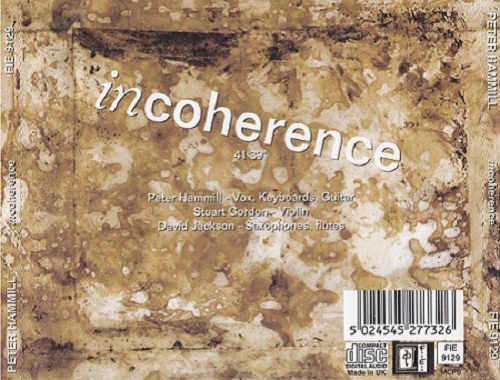 Peter Hammill stvořil další výborné album, plné velké poezie, ale stále také především hudby. Silné hudby. I po těch letech jsem stále lehce znepokojen těmi šimravými útoky na emoce, jakými jeho hudba na tomto albu umí překvapit.
SKLADBY:
Incoherence (41:39)
–01. When Language Corrodes (2:46)
–02. Babel (4:37)
–03. Logodaedalus (2:18)
–04. Like Perfume (1:32)
–05. Your Word (1:09)
–06. Always And A Day (2:09)
–07. Cretans Always Lie (3:25)
–08. All Greek (4:14)
–09. Call That a Conversation? (3:13)
–10. The Meanings Changed (1:57)
–11. Converse (2:10)
–12. Gone Ahead (5:40)
–13. Power Of Speech (2:42)
–14. When Language Explodes (3:46)
SESTAVA:
Peter Hammill – vocals, keyboards, guitar, producer
+
Stuart Gordon – violin
David Jackson – saxophones and flutes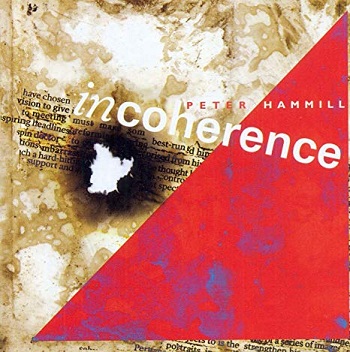 Incoherence
Peter Hammill
Prog Rock
Fie! Records
2004
CD
1 (14)