CD btf.it – VMCD116   /2006/
Astrolabio je druhým albem skupiny Garybaldi, obsahuje dvě skladby a na jejich zjednodušenej popis mi stačí dvě slova. Kytarové orgie…
Skupina Garybaldi pochází z Janova a debutovala v roce 1972 albem Nuda, ale už o dva roky dříve natočila jednu desku ještě pod názvem Gleemen. LP Astrolabio z roku 1973 vyšlo u firmy Fonit (LPQ 09075) a každou stranu původního vinylu vypl(e)nila jedna skladba. Přes dvacet minut dlouhá Madre di cose perdute a ještě o minutku delší Sette?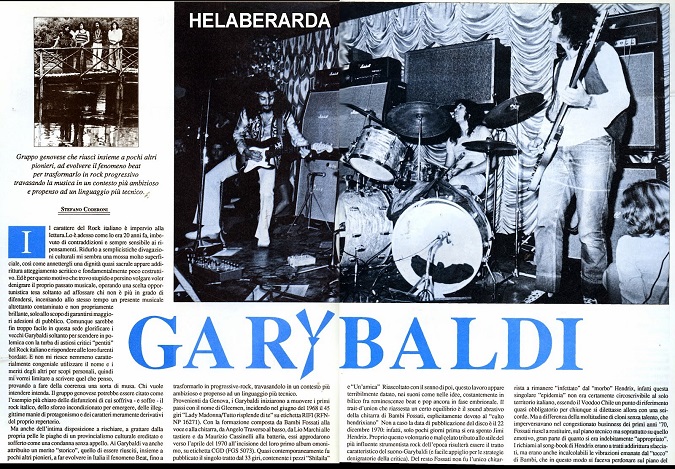 Na začátek je tady trochu elektronických (možná dokonce kytarových) efektů připomínajících cvrlikání ptactva a po nich už se začíná odvíjet úvodní část suity Madre di cose perdute. Zatím je to pomalé, klávesami podkreslené, melodické blues s civilním zpěvem baskytaristy Sandra Serry a první výraznější změny se dočkáme až v průběhu osmé minuty. Po krátkém hromobití se vyloupne velmi pěkný, téměř symfonický motiv a po něm už si vezme hlavní slovo "Bambi" Fossati. Jeho kytarové sólo (s vloženou improvizací) je určitě zajímavé, ovšem zároveň i pořádně dlouhé. Teprve v šestnácté minutě se znovu ozve onen výrazný, melodický motiv a ten už naznačuje blížící se konec. Nicméně, s výjimkou posledních šedesáti vteřin je to furt pryč, na jedno kopyto. Tedy jedno štiplavě ostré kytarové sólo za druhým…
První skladba byla natočena ve studiu a druhá nejspíš taky, ale pěkně "naživo", pro malou skupinu rodinných příslušníků a nejbližších přátel. Fossati se tak mohl naplno vyznat z obdivu k Jimi Hendrixovi a předvést své kytarové mistrovství, ale nevím, jestli to byl nejlepší nápad. Jednak tím trochu utrpěla produkce, ale hlavně obsah. Na suitě Madre di cose perdute si dal "Bambi" záležet, těch kytar tam nahrál hned několik a díky tomu zahustil zvuk. Ve skladbě Sette? se však musel obejít bez jakéhokoliv kytarového doprovodu a přizvukující klávesy nemají tolik prostoru, aby to mohly zachránit. Částečně improvizovaný jam je tak víceméně jedním, nekonečně dlouhým kytarovým sólem a je docela těžké udržet koncentraci po celých dvacet minut. Vlastně zpozorním jen u krátkého souboje kytary a kláves, ještě kratšího výstupu bicích a pak až v samotném závěru. To si Fossati neodpustí srandičku v podobě motivu, vypůjčeného z jedné známé dětské (tuším, že Vánoční) písničky a je to fajn.
Nemám nic proti kytarovým čarostřelcům a ještě před pár lety jsem na nich docela ujížděl. V domácí sbírce mám spousty cédéček od virtuózů typu Malmsteen, Satriani, Vai, Vinnie Moore, MacAlpine, Friedman, nebo Becker, jenomže jejich styl je jinej. Kór na deskách z osmdesátých a devadesátých let. Hendrix mi připadá moc drsnej, syrovej a s Garybaldi je to podobné. Ta bluesově laděná, improvizovaná sóla mi moc neseděj a po čtvrthodince mi v hlavě bzučí, jak ve včelíně.

Původní vinyl z roku 1973 je běžně k sehnání, ale levnej není a jeho cena se pohybuje kolem 150 Euro. První reedice na CD se album dočkalo v roce 1989, ale od té doby už jich vyšla celá řada. Ta moje vznikla ve spolupráci firem BTF a Vinyl Magic a je to pěkná, rozkládací vinyl replika z čtyřstránkovým bookletem a italským OBI stripem (Remaster Series).
Velmi dobrou suitu Madre di cose perdute hodnotím třemi hvězdičkami, ale jamu Sette? nemůžu dát víc, jak dvě. Průměr mi tak vychází na dvě a půl…
SKLADBY:
1. Madre di cose perdute (20:26)
2. Sette? (21:26)
SESTAVA:
"Bambi" P.N. Fossati – Chitarra, Chitarra Leslie, Voce, effetti Chitarra Cosmica
Maurizio Cassinelli – Batteria, Voce, effetti
Sandro Serra – Basso, Voce
+
Lio Marchi – Alle Tastiere 
Astrolabio
Garybaldi
Prog Rock
Fonit
1973
LP
2
CD btf.it – VMCD116 /2006/