Ritchie Blackmore je virtuózny rockový gitarista. Vedia to všetci, ktorí čo i len zavadili o jedinú pieseň starých Deep Purple alebo Rainbow, kde čierny búrlivák chytil svojho fendera do rúk a zabrnkal neuveriteľné riffy, ktoré vymyslel. Stačí spomenúť Smoke On The Water. Rýchle ruky alebo prsty sa mnohokrát zvečnili na jeho nahrávkach a právom patrí medzi najlepších gitaristov, ktorých poznáme.
Richard Hugh Blackmore (14.4.1945)
Ritchie Blackmore začal hrať na gitaru od svojich jedenástich rokov. Počúval vtedy Elvisa Presleyho a páčil sa mu jeho gitarista Scotty Moore. Svojho otca stále otravoval, až mu nakoniec kúpil akustickú gitaru Framus (1956). Zaplatil veľmi veľa. Stála jeho týždenný zárobok (vtedy asi 9 £). Otec vedel, že Ritchie stráca vždy rýchlo záujem, a preto ho prihlásil na hodiny gitary a preniesol významnú reč: Ak sa nenaučíš poriadne hrať na gitaru, rozmlátim ti ju o hlavu! Ritchie chodil na kurz klasickej gitary jeden rok a neskôr mu to veľmi pomáhalo pri hraní. Jeho prvými vzormi boli Buddy Holly a Duane Eddy, ale najvýznamnejším bolo pre neho vystúpenie speváka Tommyho Steela (nar. 1936) v televízii BBC. A potom…
Candice Night
Candice Lauren Isralow sa narodila 8. mája 1971 v americkom Hauppage, na Long Islande. Už ako štvorročná hrala v prvom divadle a učila sa hrať na klavír. Od svojich 12 rokov sa venovala modelingu a účinkovala v rôznych reklamách. Chodila na lekcie spevu a herectva. V 18-tich sa rozhodovala ako ďalej a vedela, že jej život bude spojený s hudbou. Začala písať texty, básničky a písala si denníky. Študovala žurnalistiku. Chcela pracovať v oblasti hudby, napr. nahrávacie štúdio, rozhlasová stanica a pod. Osud to zariadil inak. Candice spieva a hrá v Blackmore's Night na viacero renesančných nástrojov (shawm, cornamuse, rauchpfife, pennywhistle), zobcovej flaute, elektrické gajdy a tamburíne. Zámerne som ponechal anglické názvy nástrojov. Je textárkou skupiny, zložila zopár piesní, vydala dve sólové platne – Reflections (2011) a Starlight Starbright (2015) – spolupracuje s rôznymi hudobníkmi…
Blackmore's Night
Vznikli v roku 1997. Začiatok skupiny je omnoho skorší a bolo to asi takto. Candice Night pracovala pre miestnu rozhlasovú stanicu v New Yorku a požiadala Ritchieho o autogram v roku 1987. Autogram bol viac ako iba papierový a obaja začali spolu žiť o dva roky neskoršie. Svadbu mali v roku 2008. Vzájomným súzvukom zistili (nedopátral som sa kedy a kde), že majú radi starú renesančnú hudbu. V priebehu reunionu Rainbow v roku 1995 Candice pri nahrávaní ôsmeho albumu Stranger In Us All napísala štyri texty a pomohla s vokálmi. Na albume spieval Doggie White. Album mastroval v New Yorku náš slovenský Vlado Meller, ktorý je v USA hviezdnym zvukárom. Dvojica, zaľúbená do seba a renesačnej hudby, už počas "Cudzinca v nás" snovala plány na prvý spoločný album. Kúpil som si ho v 97-mom v rakúskom Simmeringu v Media Markte pár dní po vydaní a vôbec som netušil o čom to bude. Videl som nápis Blackmore's Night, neváhal a zaplatil som rakúskymi schilingami. Niesol názov Shadow of the Moon. Hodil som to doma do CD prehrávača a neveriacky počúval. Namiesto randálskej hardrokovštiny sa ozvala ľudovo-renesačná folklórno-akustická muzika. Že vraj Ritchie Blackmore? Ani nápad, blbosť. Po preštudovaní bookletu to bol naozaj on, neklamali. Tak som to schytil ešte raz a začal objavovať. Objavil som hudbu, ktorá síce vychádza z dávnej minulosti, ale skrýva v sebe súčasnosť. Páči sa mi to teraz a páčilo aj v roku 1997. Vtedy som si myslel, že som nejaký divný a v duchu som to odmietal. Dokonca som CD-čko zobral do Opusu a kamaráta zvukára som prinútil požičať si ho domov a vypočuť si ho. Vrátil mi ho o tri dni a povedal, že sa mu to páči. Takže som nebol len sám, aj jemu sa to páčilo. Boli sme dvaja. Odvtedy som si každý jeden album Blackmore's Night poctivo vypočul, niektoré mám na CD a ten posledný, Nature's Light, na LP.
Blackmore's Night – Nature's Light (2021)
Predslov
Candice Night: "Naša hudba je únikom od stresu a tlaku modernej doby. Vydajte sa s nami späť do čias, keď svet bol jednoduchší a bolo to kúzlo jednoduchých zázrakov, ktoré sa diali pred vašimi očami. Je to príbeh svetla a prírody, kde príroda bola skutočnou kráľovnou. Ak vo svojom svete stojíte na mieste, alebo ste utláčaní, vydajte sa tam, kde vás vedie srdce a oddýchnite si. Naberiete silu a znovu môžete začať. Niekto má svoje miesto na lúke, iný pri oceáne a niekomu stačí len slnečné teplo na tvári."
Strana A
1. Once Upon A December (3:09)
Prvá skladba je talianska ľudová pieseň Fuggi, Fuggi, Fuggi, ktorú aranžoval Ritchie. Pieseň mu priniesol Owain Phyfe z New World Rennaisance Band. Text napísala Candice. Začiatok je ako naša cimbálovka. To sa zmení na renesačnú hudbu v podaní akustických nástrojov. Rytmus piesne je veľakrát použitý v predošlých nahrávkach a dnes už skupina nemá možnosť vymyslieť niečo nové. Hrajú spolu už neuveriteľných 24 rokov a ich albumy sú podobné ako vajce vajcu. Vychádza to 2,5 roka na jeden album. Tento posledný vyšiel po šesť ročnej pauze. Candice spieva tak ako predtým, jej hlas je príjemný a dobre sa počúva. Nie je to bohvieaká speváčka, to mi vôbec nevadí. V kapele používa rôzne starodávne drevené píšťalové nástroje, ale dominantným je tamburína a jej podobné rytmusové hrkotalky. Nečakám preto nič nové a veľmi ani nedúfam. Zaujíma ma Blackmoreova hra na gitaru a celkové vyznenie tradičnej ľudovky. Taliansky temperament vôbec netuším a keby som nevedel, že nápad zobrali odtiaľ, radil by som na anglický kráľovský dvor. Pieseň je to pekná, dobre sa počúva a má výbornú atmosféru. Je to presný obraz slov, ktoré povedala Candice v rozhovore o novom albume. Stále sa opakujúci text s oslovením Poď môj drahý… a pokračuje v rôznych variáciách na podobenstvá vietor, ľad, svetlo, vánok, až sa dostáva k ďalekému Mesiacu niekedy v decembri. Je to príliš neurčité a vymykajúce sa realite, takže snáď iba naslovovzatý básnik by vedel, čo vlastne chcela blonďatá duša povedať. Ja som v koncoch. Nepotešil by som Candice Night, keby som chcel povedať obsah a to by mohlo pražiť slnko ako na Sahare, hoci text, ako vraví, napísala v zime sediac pri krbe a vonku mrzlo.
2. Four Winds (3:02)
Skladba, ktorá vyšla aj na singli. Je to razantná pieseň s veľmi dobrou melódiou. Od začiatku je to hitová vec, aj keď je samozrejme jasné, že to asi žiadne komerčné rádio veľmi často hrať nebude. Blackmoreovci sú s tým uzrozumení a už dávno sa zmierili s menšinovým žánrom a úzko špecializovaným publikom. Robia túto hudbu preto, lebo ju malú radi a chcú ju robiť. Cítim to z ich nahrávok. Text je znovu iba náznakový a nie veľmi špecifický, dá sa pochopiť až po Candicinom vysvetlení, povedala asi toto: Štyri vetry sú o dvoch ženách, Candiciných priateľkách, ktoré pozná od detstva. Prvú od 5 rokov a druhú od 10. Jedna odišla z Long Islandu a presťahovala sa do Kalifornie, kde môže žiť pri mori a sledovať delfíny a druhá sa vzdala mestského života a odišla žiť do lesa, kde pozorovala vlky. Našla tam splynutie s prírodou. Štyri vetry znamenajú štyri cesty a naznačujú absolútnu voľnosť, ale nás zároveň všetkých spájajú. Niečo, čo snáď potrebuje občas každý z nás. Je to optimistická a dobrosrdečná pieseň, jedna z najlepších na albume.
3. Feather In The Wind (4:30)
Pierko vo vetre je krásna pieseň. Už ten rýchly a dupavý rytmus je základom úspechu. Pieseň brnkal Ritchie na mandole (nemýľ si s mandolínou) v roku 2018 a bol to rok, keď ich opustili blízki ľudia. Candice zomrel otec a často sa jej zdalo, že ho niekde vidí a posiela jej odkazy. Ritchiemu blízky priateľ a ešte aj mačka, 16-ročná, ktorú mala Candice. Text skladby je doteraz najlepší a Candice ho nádherne napísala. Spieva o láske k blízkej osobe a vznášajúce pierko je unášané vetrom do diaľky, ale stále je tam nádej, že láska ostane a bude zachránená, všetko dobre skončí. Text: Všetky pierka vo vetre sú určené pre každého koho poznáš. Stále pokračujem a stále na teba myslím, bol si mojím pierkom vo vetre. Pierko je duša človeka. Skladba je pekne vystavaná a anglické gajdy (mám pocit, že ich počujem, ale môže to byť aj iný fúkací nástroj) sú príjemným spestrením. Akustická gitara, basová gitara a cinkavé bicie nástroje vytvárajú pekný zvuk. Nie som odborníkom na tradičné hudobné nástroje, ale pieseň sa mi páči.
4. Darker Share Of Black (inštrumentálna) (6:05)
Clivá inštrumentálna skladba. Husle sa predierajú dopredu. Iba zborový éterický vokál sa pridáva do smutnej skladby. Je to pieseň, ktorá sa vymyká dosiaľ počutému. Organ pridáva kostolný starodávny zvuk a prvýkrát je počuť plné bicie. Činely sú však niečím zahltené, neprišiel som na dôvod, prečo to tak urobili. Ritchie vstupuje do sóla a toto už nie je renesančno-folková skupina. Je mi jasné, že po šiestich rokoch sa musel prejaviť jeho bigbítový zmysel, ale kľudne by som túto pieseň zamenil za nejakú inú. Názov piesne bol vymyslený až po zložení skladby. Ritchie je veľkým obdivovateľom Bacha a rád skúša niečo nové a neopozerané. Skladbu pôvodne hral pod názvom Air On AG String a melódia sa trošku podobala na známu pieseň A Whiter Shade Of Pale od Procol Harum, ktorá vychádza tiež z Bachovej hudby. Pre podobnosť nazval skladbu podobne – Darker Share Of Black. Vyšla už na ich predposlednom albume All Our Yesterdays ale mal pocit, že bola nedokončená, a tak ju znovu nahral.
5. The Twisted Oak (4:18)
Ďalšia perla z Prírodného svetla. Pôvodne nemecká pochodová pieseň Wir sind des Geyers schwarzer Haufen. Krásne upravená, s výbornou atmosférou. Perfektná hra Ritchieho a ešte krajší rozcítený spev Candice. Anglická verzie je textovo na hony vzdialená od pôvodnej nemeckej, tam je to o roľníckej vojne a tu o načúvaní prírode. Pieseň začína pekným textom: Skrútený dub má veľa príbehov, nikto ich nepočúva, ale ja áno a to je dobre… Candice spieva o veľmi starom strome, ktorý je blízko ich domu a jeho konár je skrútený. Je to reálny materiálny úvod do piesne, ktorá je naozaj dobre podaná. Zvuk nie je iný ako doposiaľ. Stretol som sa aj s recenziou tvorby skupiny, kde recenzent v podstate nahnevane hodnotil ich stagnáciu. Nie som nikdy proti posunu vpred a mám rád, ak skupina sa posúva dopredu. Tu mi to vôbec nevadí a som rád, že ostávajú tým, čím sú. Ritchie vždy vykúzli niečo nové a hoci sa zdá, že je to to isté, nemyslím si. Starú pieseň urobí tak, že starú pomaly nespoznáte. Treba len poctivejšie a pozornejšie počúvať.
Strana B
6. Nature's Light (4:30)
Titulná pieseň albumu. Neprekvapivo nás svojou slávnostnou atmosférou zavedie na kráľovský dvor a ľahko si predstavím otváranie brány a príchod kráľa i kráľovnej na nádvorie hradu. Všetko je slávnostné a nič nenarúša atmosféru. Začiatok skladby je mohutný a pomaly sa zvoľní, aby Candice mohla zaspievať text piesne: Tam v tíšine žiaria tiché chvíle, vidím v tvojich očiach ich trblietanie, v momentoch sú zázraky a ak v ne veríš, vieš, že pomôžem ti vidieť ich… Svetlo, ktoré je dominantným prvkom celého albumu a je životodarným pojítkom, je zámerne spojené s kráľovnou, aby majestátnosť bola dokonaná. V texte je: Zdravím kráľovnú do sveta, ktorý som nikdy nevidela a hviezd, ktoré neboli nikdy tak jasné. Všetko na slávu Svetla prírody.
7. Der Letzte Musketier (inštrumentálna) (4:58)
Pieseň začína nejasným minútovým organovým úvodom. Potom nastupuje Stratocaster v Ritchieho rukách. Melódia začína byť pod kontrolou gitarového virtuóza. Kapela v bluesovom rytme doplní rockovú skladbu. Gary Moore by mohol dupkať nohou a určite by mu zakýval hlavou: Dobre, maestro. Ritchie Blackmore hral v skupine Three Musketeers/Die Drei Musketiere (1964), iný zdroj uvádza 1965, v nemeckom Hamburgu pred Deep Purple. V skupine hral ešte Arvid Andersen (basa), príbuzný Hansa Christiana Andersena, a Jimmy Evans (bicie). Obaja už nežijú. Ostal už iba sám a preto má pieseň názov "posledný muškatier" a názov je v nemeckom jazyku. Arvidovi a Jimmymu poslal odkaz a keď sa na neho zhora pozerajú, vraví, že to bola skupina, v ktorej hral najradšej. Vtedy hrali do tanca a trojčlenná skupina v tej dobe bolo niečo výnimočné.
8. Wish You Were Here (2021) (5:04)
Keď som v rakúskom Simmeringu držal v rukách ich prvé CD Shadow Of The Moon, určite som nemohol tušiť, že táto skladba bude o 24 rokov na ich poslednom albume, ktorý doteraz vydali. Môj kruh sa symbolicky uzavrel. Pieseň bola vtedy a aj teraz pekná a melodicky dobre urobená. Skladba je pôvodne od švédskej skupiny Rednex a zložil ju Teijo Agélii-Leskelä. Veľký hit v apríli 1995. Ritchiemu sa páčila a urobili cover. Zrejme ju sem dali zámerne. Text je jasný: Chcem, aby si tu bol, chýba mi tvoj smiech, chýba mi tvoj úsmev, kiež by si tu bol… Wish You We Here je skladba, ktorú vždy na koncertoch hrávajú, vyšla aj na ich vianočnom albume Winter Carols (2006) a v novej úprave má výraznejší spev a lepší aranžmán.
9. Going To The Faire (4:34)
Optimistická pesnička. Zložil ju Holanďan Tielman Susato (presný dátum jeho života nie je známy, asi 1510-1570, zomrel v Stockholme). Dobrá nálada vyteká z pohára. Časovo je text posunutý do jarných mesiacov, všetko je v rozpuku, všetko jasné, svietivé a dobrosrdečné. Tak ideme na jarmok. Nemusíme riešiť ako a na čom bude kapela hrať, je to dopredu dané. Čím starší nástroj počujeme, tým je to reálnejšie. Renesančná doba života a hudby. Blackmore sa trochu stratil v ostatných muzikantoch a Candicinej tamburíne. Dlho však neotáľa a pripája sa k ostatným. Presadzuje sa v nespievanej časti piesne. Text je iskrivý a svetlý: Modrá obloha, tvoje oči a ja som znovu stratená, poľné kvety v slnečnom kúpeli, začína nový deň. Všetky zvony zvonia: Ideme na jarmok! Ide o typicky rýchlu skladbu, ktorá má priniesť dobrú náladu. Úpravy klasických piesní v Blackmoreovej úprave sú často len podobou pôvodnej melódie.
10. Second Element (6:05)
Záverečná pieseň stráca nádych renesačno-barokovej hudby. Je to moderný sound pomalej skladby. Pôvodne spievala Sarah Brightman (album Dive, 1993), zložili Frank Peterson, Thomas Schwarz a Matthias Meissner. Začína Blackmore na akustickej gitare, Candice spieva príjemným hlasom a odvíja prvé slová textu. Skladba stále naberá na intenzite, pridávajú sa nástroje. Po peknom refréne začína Ritchie veľmi pekné sólo na elektrickej gitare. Finále je každou sekundou rýchlejšie a je to výborný záverečný song. Text je oslavou životodarnej vody. Je obrazný a spája reálne veci, prírodu, svetlo, oheň, mesiac, slnko s vodou, ktorá všetko spája. Je to voda, ktorá je s nami stále po celý čas. Voda je ten Second Element.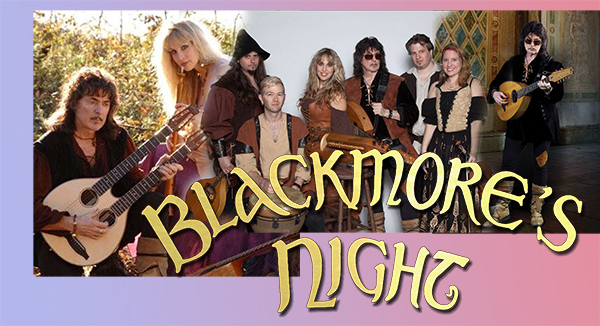 Na záver musím zhodnotiť album, ktorému som sa tentokrát venoval. V prvom rade je to iné, iná hudba, akej sa venuje tento rockový server. Pokladal som za dôležité nezabudnúť na rockového génia, ktorý sa zvláštnou súhrou náhod, alebo smerom osudu, ktorý mu bol vopred daný, dostal až sem. Jeho hra na gitaru je stále skvelá a vzdávam mu hold a vážim si ho. So svojou manželkou Candice už roky tvoria a sprostredkúvajú nám hudbu, ktorá je od základu čistá, mierumilovná, pokojná, pekná a dobrá. Nie je v tom žiadny náznak iskrivých a nepekných momentov. To je v dnešnej dobe skôr zázrak. Tým, že svojou hudbou vyjadrujú návrat ku krásam života, návratu k prírode, normálnemu a pokojnému životu bez závisti, nenávisti a zlých vášní, nedá mi inak ako zhodnotiť ich Nature's Light štyrmi hviezdičkami. Pozorný poslucháč sa iste vráti aj k preštudovaniu hudobných nástrojov, ktoré skupina používa. Ja som to urobil a poviem vám, že je to v mnohom poučné (hurdy-gurdy, domra, mandola) a rozšírite si svoj hudobný obzor o nepoznané renesančné inštrumenty, ktorých história je v mnohom veľmi zaujímavá.

Blackmore's Night:
Ritchie Blackmore – acoustic and electric guitars, mandolq, hurdy-gurdy, nickelharpe
Candice Night – vocals, harmony vocals, Woodwind (All Renaissance And Medieval Woodwinds), tambourine
Earl Grey of Chimay – bass, rhythm guitar
Bard David of Larchmont -keyboards, backing vocals
Troubadour of Aberdeen – percussion
Scarlett Fiddler – violin
Jim Pappalardo – backing vocal (track 10)
Lady Lynn – backing vocals
Autumn Blackmore a Rory Blackmore -backing vocals ( track 9)
Joan Marion DeBiase – cover artwork
Alexander Mertsch – design
Ritchie Blackmore – executive-producer
Brad Vrance – mastered, Red Mastering Studios
Eike Freese – mastered vinyl
Pat Regan – sound engineer, orchestral arrangements
Nature's Light
Blackmore's Night
Folk, World
Ear Music
2021
CD, LP
10
LP, e-a-r music 0215550EMU /2021/