Irští souputníci (namátkou vyberu) Deep Purple Fruupp, jsou dalšími typickými představiteli z obrovské řady art-rockových kapel, vzniknuvších na počátku sedmdesátých let. I oni disponovali obrovským skladatelským potenciálem, které souhra náhod a možná i osudu, zavedla do hlubokého propadliště hudebních dějin.
Ve svých začátcích perfektně našláplá kapela, explodovala hned při svém vstupu na scénu, s debutním albem Future Legends. V krátkém sledu následovali další dvě alba a po čtvrté desce byl všemu rázem utrum. Být štěstěna nakloněna na jejich stranu, mít v zádech velký a schopný management (podobně jako třeba D. P.), který by je dokázal dravěji prodrat do podvědomí fans a zajistil jim i dostatek koncertů, možná by je dnes znal celý svět, podobně jako některé jejich velké kolegy z branže.
Pokud byl pro někoho debutní materiál příliš divoký, věřím, že si rád zgustne na poněkud klidnější, avšak skladatelsky podobně vypiplané trojce The Prince of Heaven's Eyes.
Začátek desky je bombastický, květnatý a možná až příliš poetický. V úvodu bych přivítal dráždivější song, než je místy hodně pastorálně idealizovaný It's All Up Now. Fruupp dospěli a uklidnili se, v půli se píseň naštěstí trochu rozjede a skrz všechny ty aranžérské finesy, vynikne také zpěvnější motiv a výraznější melodie. Druhá Prince Of Darkness už jede v typicky Fruuppovských kolejích. Nápaditost a stylová bezbariérovost made in Fruupp. Paráda. Ještě víc free – (jazzová) je instrumentální trojka Jaunting Car – její pohádková nálada se krásně hodí k motivu obalu alba. Na pozici čtyři se ukrývá další zlatý hřeb desky, skvělými melodiemi napěchovaná píseň Annie Austere. Do podobné kategorie náleží ještě Seaward Sunset, jejíž nadpozemskou auru dotváří andělský hlásek patřící něžnému pohlaví. Poslední The Perfect Wish obsahuje několik hudebních výpravných motivů a spousty aranžérských fíglů, jako třeba decentní kytarovou a vzápětí také klavírní melodii, přehrávanou hned v úvodu skladby.
Fruupp jsou zárukou kvality. Jejich život sice trval jen krátce, zato dal světu kupu skvělé muziky.
SKLADBY:
1. It's All Up Now (7:20)
2. Prince of Darkness (3:48)
3. Jaunting Car (2:23)
4. Annie Austere (5:14)
5. Knowing You (2:46)
6. Crystal Brook (7:58)
7. Seaward Sunset (3:08)
8. The Perfect Wish (9:49)
SESTAVA:
Vincent McCusker – kytara, zpěv
Stephen Houston – klávesy, hoboj, zpěv
Peter Farrelly – baskytara, flétna, zpěv
Martin Foye – bicí, perkuse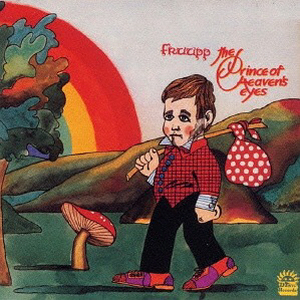 The Prince Of Heaven's Eyes
Fruupp
Progresívní rock
Dawn
1974
8