2CD Vinyl Magic ‎– VM CD 102   /2005/
Jednoalbumová obskuritka z kraje sedmdesátých let a zároveň hodnotnej sběratelskej kousek v jednom. Původní výlisek alba Il lungo cammino dei Raminghi patří mezi deset nejraritnějších nahrávek italského progresivního rocku a jeho cena tomu odpovídá, pohybuje se až v nekřesťansky vysokejch číslech. V současné době by byl k mání (ve stavu VG) za 1750€, ale i za 2900€ ve stavu Near Mint. A tomu říkám ranec. Naštěstí tu jsou vinylové reedice z let 1998 a 2015 a ty už jsou dostupné aj pro obyčejného smrtelníka. Prvního vydání na CD se album dočkalo zásluhou korejského labelu M2U Records (2003) a druhého (a zatím posledního) díky Vinyl Magic v roce 2005. I to už je však dneska relativně vzácné a trvalo dlouho, než jsem ho sehnal…
Kolem data vydání je trošičku zmatek, např. blog John's Classic Rock uvádí rok 1971, ale většina zdrojů – včetně discogs – se shoduje na roku 1972. Podle mého názoru je ta nahrávka však opravdu starší a odpovídal by tomu aj její obsah. Její vydání nejspíš zdržely problémy s trochu se cukajícím a ne zrovna nejpružnějším vydavatelem, kterému se zdál nahranej materiál málo komerční. Ale to už jsou jen spekulace.
Obsahově jde o typickej produkt rychle se vzmáhající italské rockové scény. Slyšet je tu jak doznívající psychedelie šedesátých let, tak hard rockové výboje inspirované slavnějšími vzory z britských ostrovů. Nechybí prvky art rocku, ale ani italské pop music. K tomu si připočítejme vášnivé vokály v italštině (tak trochu tyjátr) a máme tady protoprog jak vyšitej. Nedosahuje sice úrovně podobně koncipovanejch debutovejch alb skupin Formula Tre, Osanna, nebo Panna Fredda, ale má co nabídnout. Třeba hned úvodní, ambiciózní a pořádně rozmáchlou Donna hai ragione tu. Její stopáž přesahuje devět minut a nacházím tady vše, co mě na italské scéně přitahuje a co mám rád. Štiplavou, kyselinu prskající kytaru, zkreslenej zvuk prastarých varhan a výbornou melodii podanou s takovým zápalem, až se tomu musím smát. Franco Mussita zpívá, jako kdyby udeřila jeho poslední hodinka a dává do toho úplně všechno. Jako kdyby to měla být jeho poslední písnička v životě…
…ale naštěstí není a aj následující La nostra verità má něco do sebe. Její rytmus je sice jednoduchej až hamba, ale baví mě jak neurvalé vstupy hlučnejch kytar, tak – a především – neskutečné divadlo předvádějící Mussita. A platí to i u skladeb Cose superate a Partire. Obě jsou setsakramentsky chytlavé a v refrénu druhé jmenované cítím ještě zvolna doznívající šedesátá léta. Hardrockovej kolovrátek Every Day Jesus si to frčí podle jedné, dokolečka se opakující šablony. Třikrát sborem zazpívané "Every Day Jesus" následují krátké instrumentální výstupy kytary, varhan, bicích aj baskytary. Taková do zblbnutí se opakující, jednoduchá předváděčka, ale má to svý kouzlo. Tak trochu do symphonic rocku se tlačící Non moriremo mai má zajímavé klávesové rejstříky, podobné, jako v úvodní Donna hai ragione tu. Ovšem vysoké, falsetem zpívané vokály tomu dávaj korunu a při jejich poslechu mi hned naskakujou jména podobně znějících Laser, Odissea, nebo J.E.T.
Předposlední Buio mondo nero e giallo překvapí ukázkovou kakofonií v úvodu skladby. Jojo, tady je nad slunce jasné, že tohle nebude žádná selanka. Spíš horor. Hardrocková pecka si to šine v klopýtavém rytmu a sóluje se tu – a kvílí – o 106. Jaký rozdíl v porovnání se závěrečnou Guarda tuo padre, která se tu musela ocitnout nějakým nedopatřením. To je popík nejhrubšího zrna, kterej by do svého repertoáru mohli zařadit aj Eva s Vaškem a vůbec nic by se nestalo. Krok stranou, nebo úlitba vydavateli?
Rozkládací mini vinyl replika od Vinyl Magic je nádherná a může se pochlubit nejenom pěknou obálkou a zpracováním, ale aj výbavou. Šestnáctistránkovej booklet obsahuje texty písniček, biografii kapely a spoustu raritních fotografií. Aby ne, když na její výrobu dohlížel i samotnej Franco Mussita.
Jako extra bonus je tu ještě CD s dosud nepublikovaným koncertem z roku 1975. Z alba Il lungo cammino dei Raminghi je tu ke slyšení jediná věc a ještě k tomu ta úplně nejhorší – Guarda tuo padre. Ovšem jinak by se to dalo považovat za revival band kolegů z branže Formula Tre, protože jak písničky Non è Francesca, tak Dies irae pocházejí z jejich debutového alba, vydaného v roce 1970. Velmi zajímavou položkou je skladba Mi svegliai al mattino, která se v přepracované verzi a pod názvem Zora objevila na stejnojmenném albu kultovních Antonius Rex. To, že s nimi Mussita (především s Antoniem Bartoccettim) spolupracoval, bylo veřejným tajemstvím a zde leží konečně i důkaz. No a za zmínku určitě stojí aj třináct minut dlouhá a na skvělejch, jazzem křísnutejch sólech vystavěná Felicità. Jen tak mimochodem, i ona obsahuje fragmenty z výše uvedeného alba Antonius Rex, na kterém se převtělila v temnou Necromancer.
Zvuk CD je vyloženě bootlegovej, ale poslouchat se to dá. Ostatně, doma mám aj horší, např. Live 1972 skupiny Campo di Marte.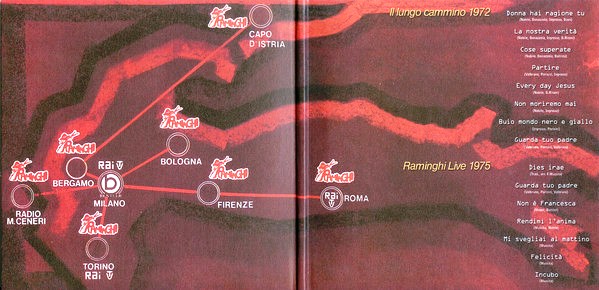 Je fakt, že po obsahové stránce to není žádnej zázrak a běžnej fanoušek by nad tím nejspíš ohrnul nos. Tohle album je vyloženě pro milovníky a sběratele italského rocku a myslím, že jeho hodnota s přibývajícími léty jenom poroste. Hudbu bych ohodnotil jako běžnej italskej standard, s několika výbornými momenty tak za tři a kousek. Ovšem za nádhernej obal, pěkné zpracování a výjimečně obsáhlej booklet tu půlhvězduli milerád přihodím.
SKLADBY:
1. Donna hai ragione tu (9:27)
2. La nostra verità (2:52)
3. Cose superate (3:36)
4. Partire (2:51)
5. Every Day Jesus (3:34)
6. Non moriremo mai (3:54)
7. Buio mondo nero e giallo (5:10)
8. Guarda tuo padre (4:15)
Live 1975 :
1. Dies irae (6:37)
2. Guarda tuo padre (3:27)
3. Non è Francesca (6:19)
4. Rendimi l'anima (5:02)
5. Mi svegliai al mattino (8:55)
6. Felicità (13:13)
7. Incubo (7:47)
SESTAVA:
Franco Mussita – bass, vocals
Angelo Sartori – keyboards
Angelo Serighelli – guitar
Romeo Cattaneo – drums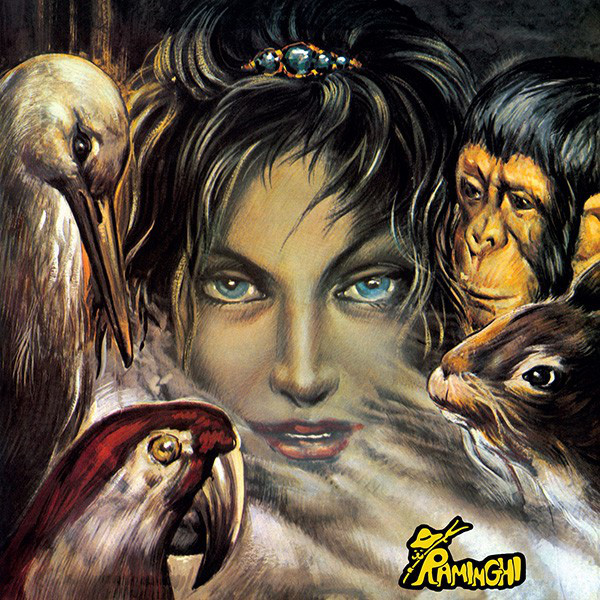 ...Il Lungo Cammino Dei Raminghi
I Raminghi
Prog Rock
Bentler
1972
LP
8
2CD Vinyl Magic ‎– VM CD 102 /2005/