VM 2000 – VM CD 011   /2002/
Křehké a melodické album v starosvětsky půvabném, pastorálním stylu. Svou něžnou a romantickou atmosférou připomíná debuty Pierrot Lunaire, nebo Celeste a ze zahraničí například Genesis z období Selling England By The Pound…
Skupina Errata Corrige pochází z Turína a působila v letech 1974, až 1977. Začínala jako (údajně) bezejmenné trio, pak pokračovala ve čtyřech, ale jméno si dala teprve potom, co původního kytaristu Cardellina nahradil Mike Abate. V průběhu let natočila dvě dema, Da mago a musicista a Saturday il cavaliere. To bylo dokonce v angličtině, ovšem ke smlouvě na desku nevedlo a tak padlo rozhodnutí natočit si ji ve vlastní režii. Jen jako dokument doby a památku pro sebe a pár nejbližších přátel. Začátkem roku 1976 se tak opravdu stalo zásluhou společného známého Gualtiera Gatta, kterej tou dobou otevíral nahrávací studio G7. Skupina v něm natočila pět písniček a sotva půl hodiny dlouhé album Siegfried, il drago e altre storie bylo na světě. Vyšlo sice jen v minimálním nákladu čítajícím 500 kopií, ale aspoň, že tak. Původně jich totiž mělo být jen deset, ale vylisování desítky, nebo pětistovky kusů prý vyšlo takřka na stejné peníze.

Semiakustická a flétničkou ozdobená Viaggio di saggezza (Cesta moudrosti) mi připomíná nejenom debutové album Pierrot Lunaire, ale i Gattch ze Slovenska a nejspíš to bude díky důraznému pianu a jazzem šmrncnutým bicím. Je to pěkná písnička, ovšem to lepší bude teprve následovat…
… a potvrzením mých slov budiž následující, téměř deset minut dlouhá suita Del cavaliere Citadel e del drago della foresta di Lucanor (Rytíř Citadel a drak z lesa Lucanor). Romantická, do pěti strof (Volání, V lese, Drak, Uteč Citadeli!, Návrat do vsi) rozepsaná storka s celou řadou vrcholných okamžiků a překvapivých změn. První kapitola – il richiamo – jenom tak prošumí (má sotva čtyřicet vteřin), ale v té druhé – nelle foresta – už si vychutnávám jemné, falsetem zpívané vokály, flétničku a šmrdlající cello. Kouzelným momentem je energická a komplet instrumentální il drago, ozdobená výšivkami hřejivých kláves ála Genesis. Melodickými motivy tady Errata Corrige rozhodně nešetří a rozhazujou je kolem sebe plnými hrstmi. Čtvrtá kapitola – fuggi Citadel! – se vrací k jemnější poloze z úvodu skladby a text "fuggi Citadel, dentro la foresta" si pokaždé zpívám spolu s kapelou. Postupně se doplňující vokály a souhra akustických kytar nemají chybu a nemlich to samý se odehrává i v závěrečné ritorno al villaggio.
Jeden si ani nestačí utříbit myšlenky a vstřebat dojmy a je tu další prvotřídní kousek, sedm minut dlouhá Siegfried (leggenda). Pečlivě vystavěná píseň s opojnou melodií, bohatým aranžmá (cello, flétna, klávesové nástroje, pochodový buben) a zajímavou instrumentální vsuvkou. Nejrockovější a v nadneseném slova smyslu nejostřejší položkou na desce je čtvrtá Siegfried (mito), s dechberoucím výkonem bubeníka Guida Giovina a poslední skladbou na původním vinylovém albu byla svůdná, symphonic rocková krasavice Dal libro di bordo dell'Adventure (Z deníku "Dobrodružství").
Cédéčko od VM 2000 nabízí ještě dva bonusy, skladbu Saturday il cavaliere ve studiové a "živé" verzi. Studiová podoba je bezva a s obsahem desky si v ničem nezadá. Jedinou změnou je zpěv v angličtině a jinej zvuk bicích. Její původ neznám, ale s největší pravděpodobností půjde o matroš ze stejnojmenného dema. Ovšem live snímek je v mizerné kvalitě a tak je to spíš takovej dokument, bez kterého bych se klidně obešel.
Všechny skladby na desce složil Marco Cimino, o produkci se postaral kytarista Mike Abate a samotný nahrávací proces s mixem si vzal na starost bubeník Guido Giovino. Klobouk dolů, protože to hraje opravdu dobře a že nejde o záznam s profi produkcí bych nepoznal.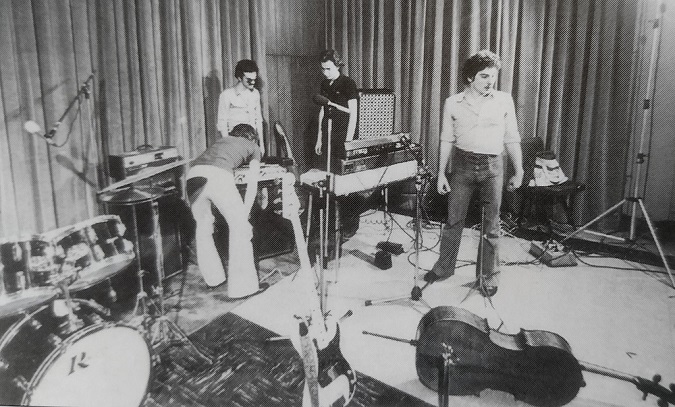 Originální vinyl z roku 1976 je velmi vzácnej a v současné době ho nikdo nenabízí, ale naštěstí je tady pár jeho reedic. První cédéčka vydal v roce 1989 Vinyl Magic a to dokonce ve dvou variantách, s bledě modrým a později i růžovým obalem. Nejdostupnější však bude verze od VM 2000, kterou jsem kupoval před nějakými čtyřmi lety a nebyl problém. Ta je v klasickém jewel boxu a kromě kotouče obsahuje ještě osmistránkovej booklet s texty a několika fotografiemi.

V roce 1992 vydala společnost Mellow Records CD Mappamondo, které by mělo obsahovat materiál z prvních dvou demokazet a pár skladeb zaznamenaných před definitivním rozpadem skupiny v roce 1977. Z mého pohledu zajímavějším se zdá být titul Siegfried, il drago e altre storie ve verzi z roku 2015. Ve studiu se sešla kompletní sestava Errata Corrige, která s pomocí několika dalších hostů nahrála celou desku znova. Vyšlo to u labelu Black Widow Records a to jak na vinylu, tak v balíčku CD+DVD. Neslyšel jsem, neviděl, ale uvažuju o ní…
1. Viaggio di saggezza (2:41)
2. Del cavaliere Citadel e del drago della foresta di Lucanor (9:56)
a) il richiamo
b) nella foresta
c) il drago
d) fuggi Citadel!
e) ritorno al villaggio
3. Siegfried (leggenda) (7:16)
4. Siegfried (mito) (4:51)
5. Dal libro di bordo dell´Adventure (5:47)
CD bonus tracks:
6. Saturday il cavaliere (8:09)
7. Saturday il cavaliere – live 1976 (11:33)
Mike Abate –  Guitars (Fender & Martin), Vocals
Marco Cimino – Piano, Synthesizer (Eminent Solina, Elka Strings, Steelphon), Organ (Crumar), Cello, Flute
Gianni Cremona – Bass (Gibson), Vocals
Guido Giovino – Drums, Vocals
Siegfried, Il Drago E Altre Storie
Errata Corrige
Prog Rock
EC
1976
LP
5
VM 2000 – VM CD 011 /2002/