CD AMS Records – AMS 254 CD  /2018/
Delikátně jemný a velmi emocionální prog – folk – rock s trochou vemlouvavého zpěvu v italštině. Prim hrají akustické kytary, flétny, piano a božskej mellotron, rytmus tvrdí elektrická basa. Klasickejch bicích je tu velmi málo, to spíš krásně zvonivejch cingrlátek a perkusí…
Celeste mají u fanoušků italského progresivního rocku takřka kultovní status a jejich eponymní debut (později se pro něj vžil název Principe di un giorno) z roku 1976 se v různých RPI žebřících objevuje na těch nejvyšších příčkách. Rád se inspiruji "Top stovkou" na Progarchives a tam se v současné době pohybuje na jednadvacáté pozici, výš než debutová alba Alphataurus, nebo Biglietto per l'inferno. Je pochopitelné, že už od prvního seznámení s ním jsem toužil mít ho ve své domácí sbírce, ale dlouho se mi to nedařilo. V našich e-shopech album nebylo a prakticky každá z jeho celkem pravidelně vycházejících reedic byla fuč dřív, než jsem se stačil rozkoukat. Mrzí mě hlavně 4CD box set 1969-1977: The Complete Recordings z roku 2010, ale co už. Není každej den posvícení. Nakonec se mi zadařilo až v roce 2018, díky v té době aktuálnímu výlisku od AMS a jak tak koukám, jsou na trhu již dva další. V tom samém roce vydané SHM-CD od Belle Antique a vymazlená edice z roku 2020. Tu, s názvem  Principe di un giorno – The Definitive Edition, vydali Mellow Records a obsahuje spoustu bonusového materiálu navíc.
Album Celeste se nahrávalo v roce 1974, ale u maličkého vydavatelství Grog vyšlo až o dva roky později a aby toho nebylo málo, všechny skladby na něm uvedené vznikly už v roce 1973. Původní verze se natáčely dokonce v angličtině, se zpěvem Nikki Burton a na mé edici jsou dvě z nich jako bonusy (Far White Halo a Prince Of One Day). Můžu tak porovnávat a můj verdikt je jasnej – zaplaťpánbůh za italštinu a charismatickej přednes Ciro Perrina. To je úplně jinej level…
Originální albová verze měla 36 minut a obsahuje sedm skladeb jemných tak, že i to nejjemnější italské cappuccino bledne závistí a chutná, jak cikorka. Hudební publicisté si v recenzích často pomáhají přirovnáním k těm nejdelikátnějším kouskům z debutového alba King Crimson (I Talk To The Wind, Epitaph a částečně i Moonchild) a dalo by se s tím souhlasit. Jistá podoba tady je, především díky tunám mellotronu a těžko popsatelné, tajuplné atmosféře. Z italské scény bych album přirovnal k prvním dvěma deskám Premiata Forneria Marconi a debutům Alusa Fallax, Pierrot Lunaire, nebo Reale Accademia di Musica.
Že to bude nevšední zážitek mi bylo jasné už při poslechu úvodní Principe di un giorno, ale mou nejoblíbenější se stala teprve následující a přes osm minut dlouhá Favole antiche. Mellotron spustí melodii závratnou tak, až z ní dostanu třesavku a jakmile se přidá Ciro Perrino se slovy "Sali, voli, senti, vivi intorno a te cantano danzano…" beru za kliku a štráduju si to rovnou do progrockového nebe. Smekám rádiovku, protože tohle se kapele opravdu povedlo a ano, chvílema jako kdybych šoupal nohama u dvora Karmínového krále.
První strana původního vinylu končí kratší a vůbec ne špatnou skladbou Eftus. V porovnání s předcházejícími veledíly sice působí docela nenápadně, ale než se stačím trochu uvolnit a v hlavě si přebrat a srovnat myšlenky, přichází další, již třetí vrchol v podobě pohádkově krásné Giochi nella notte. Prvních šest minut je komplet instrumentálních a defilé kouzelně barevných, hudebních motivů mi připomíná soundtrack k dětskému fantasy filmu. Atmosféra skladby je nakažlivě pozitivní a nenaruší ji ani krátká, folkově laděná vsuvka na jejím konci. Vysoko nastavenou laťku se kapele daří udržet i v dramatické La grande isola (vrchol č.4), po které následuje pastorálně klidná a něžná písnička La danza del fato. Nu, a sotva minutku dlouhá drobnůstka L'imbroglio je už jen krátkým a veselým outrem…
Na mém vydání jsou ještě tři bonusy, Far White Halo (La danza del fato) a Prince Of One Day (Principe di un giorno) v původních verzích, se zpěvem Nikki Burton v angličtině. Podle krapet horšího zvuku soudím, že to jsou jen pracovní verze, ale nechť. Jak už jsem uvedl na začátku recenze, vokál Ciro Perrina mi sedí daleko líp a posledním přídavkem je z hlubin archivu vyhrabaná instrumentálka Fireflies In The Grass.
Rozkládací mini vinyl replika od AMS je luxusní a stala by se ozdobou každé rockové sbírky. Na přední straně sněhobílého obalu není nic, než nápis Celeste, zadní obsahuje tracklist, sleeve-note a čtyři fotografie. Uvnitř obálky je pohádková kresba (stejná, jako na potisku CD) a podrobnosti ke třem bonusovým skladbám. Nechybí ani osmistránkovej booklet, který obsahuje deset archivních fotografií a povídání od Cira Perrina v italštině i angličtině.
Takových desek moc nevzniklo a dneska už se netočí vůbec. Jak ten plnej počet moc nedávám, tak tady bych i přidal…
Lato A
01. Principe di un giorno – 6:12
02. Favole antiche – 8:18
03. Eftus – 4:17
Durata totale: 18:47
Lato B
04. Giochi nella notte – 8:11
05. La grande isola – 5:04
06. La danza del fato – 3:56
07. L'imbroglio – 1:06
Durata totale: 18:17
Giorgio Battaglia – basso, chitarra, pedal steel guitar, xilofono
Mariano Schiavolini – chitarra, violino
Ciro Perrino – percussioni, flauto, mellotron, voce
Leonardo Lagorio – pianoforte, Fender Rhodes, flauto, mellotron, sax alto, sassofono tenore, spinetta, eminent, sintetizzatore, ARP
AMS 254 CD  bonus tracks:
08. Far White Halo – 2:56
09. Prince Of One Day – 4:32
10. Fireflies In The Grass – 3:23
Giorgio Battaglia – basso
Mariano Schiavolini – chitarra acustica
Ciro Perrino – percussioni, flauto
Leonardo Lagorio – flauto
Marco Tudini – flauto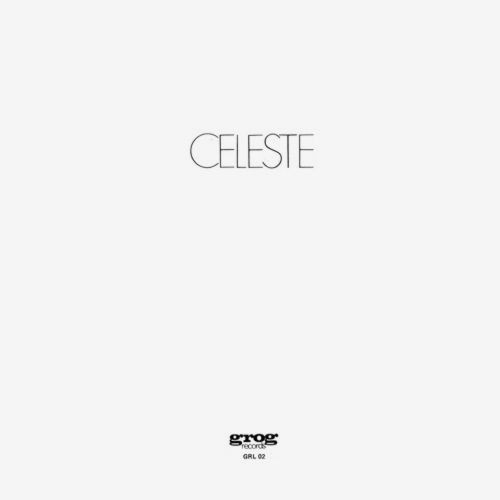 Celeste
Celeste
Prog Rock
Grog Records
1976
LP
7
CD AMS Records – AMS 254 CD /2018/