CD Sony Music ‎– 88875000902 /2014/
Debut Pierrot Lunaire (1974) mě chytil na první dobrou a já věděl, že ho musím mít ve své domácí sbírce, ale nebyl k sehnání a nakonec se mi to podařilo až díky poslední reedici od Sony Music, z roku 2014. Hudbu na albu bych popsal jako atmosférickou, zasněnou a křehkou, s prvky folku, klasiky a jazzu. Poněkud neobvyklé je jenom minimální využití bicích nástrojů, ale ty semiakustické skladbičky v sobě mají tolik kouzla, že se bez nich dost dobře obejdou. Ostatně, Pierrot Lunaire v tom nebyli sami a jen o pár let později přivedli podobnej styl k dokonalosti Celeste…
Skupinu Pierrot Lunaire (Náměsíčný pierot), pojmenovanou podle stejnojmenného hudebního díla Arnolda Schönberga z roku 1912, založili spolužáci z římské "Tacitus Classical High School" Gaio Chiocchio a Arturo Stalteri. Potom, co se k nim připojil ještě kytarista Vincenzo Caporaletti, se jim podařilo podepsat smlouvu s maličkým labelem It, pro který v roce 1974 natočili svůj eponymní debut. Firma nechtěla investovat moc peněz a album vznikalo v napjaté atmosféře a skromných podmínkách, ale na konečném výsledku to není znát a dnes bývá mnohými odborníky řazeno mezi nejlepší nahrávky tzv. druhé vlny italského progresivního rocku.
Na úvod je tady okouzlující instrumentálka Ouverture XV, která má hodně blízko ke classical, či symfonickému rocku. Akordy akustické kytary udržujou rytmus a v nádherné, tak trochu slavnostní melodii se v pěkných vyhrávkách vystřídají piano, spinet a syntezátor. Je to výbornej vstup, na kterej navazuje neméně pěkná, folk rocková píseň Raipure. Akustické kytary drnčej jak o závod, vokály se proplétají ve zvučných dvojhlasech a pěknými sóly přispějí Stalteri na piano a Caporaletti na elektrickou kytaru. V prvních dvou peckách si Pierrot Lunaire nastavili laťku pekelně vysoko a tuto úroveň se jim daří držet i v následující  Invasore. Atmosféra skladby je o něco tíživější, tóny sitáru jí přidávají punc etnické hudby a svůj prostor poprvé dostávají i zemité bicí.
Čtvrtá Lady Ligeia je podmanivou instrumentálkou s repetitivní rytmickou figurou, do které vyhrávají piáno a dvanáctistrunka s přizvukujícím syntezátorem. Po poněkud zadumané a méně výrazné Narciso přichází dvojice akustickejch instrumentálek,  Ganzheit a Verso il lago. Předpokládám, že dobře posloužily jako přemostění mezi oběma stranami původního vinylového alba, ale to už se těším na jeho další vrcholy v podobě po sobě jdoucích, folkrockových krasavic Il re di Raipure a Sotto i ponti. Ta první je takovou malou, pozitivními emocemi přetékající Ódou na radost a druhá, díky své stavbě a stopáži 7:22, určitě nejambicióznější a nejvíc "prog" položkou celého alba.
Tajuplným dojmem působící skladbu Arlecchinata charakterizujou pěkné vyhrávky na piano a mluvené slovo, které doplňuje éterický vokál hostující Laury Buffa. Z následující folkové balady La saga della primavera prýští smutek a melancholie a závěrečnou tečku za celou deskou píše nervní a hlučná instrumentálka Mandragola. Bez té bych se tedy klidně obešel a můj dojem nevylepší ani konejšivé tóny akustické kytary v samotném závěru skladby.
Je to vynikající album, ale firma se k němu zachovala poněkud macešsky a na jeho propagaci nedala ani liru. O nic lepší to nebylo ani s koncerty, protože všichni tři kluci (ve věku 16 – 20 let) hráli hned na několik nástrojů najednou a k živé prezentaci na desce zaznamenaných písní bylo zapotřebí výpomoci hostujících hudebníků. To všechno stálo další peníze a tak není divu, že těch koncertů bylo nakonec asi tak šest…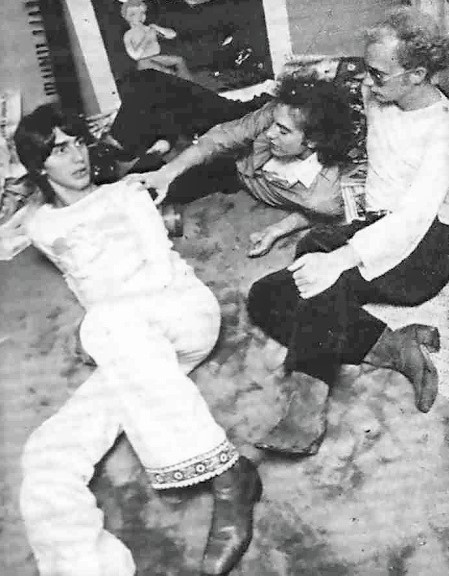 Co bylo dál? Druhé album Pierrot Lunaire, Gudrun, se natáčelo v letech 1975-76. Jeho vydání bylo naplánováno na září 1976, ale došlo k nějakým prodlevám a na trhu se tak objevilo až o rok později (It – ZPLT 34000). Tou dobou již v sestavě skupiny nefiguroval Vincenzo Caporaletti, kterého nahradila sopranistka Jacqueline Darby. Zvuk Pierrot Lunaire se posunul k daleko avantgardnějšímu pojetí a jeho uchopení vyžaduje k podobným experimentům vstřícného a otevřeného posluchače.
Po albu Gudrun se skupina rozešla, ale v polovině devadesátých let Caporaletti a Chiocchio reaktivovali její studiovou podobu a začali pracovat na novém materiálu. V roce 1996 však Gaio Chiocchio podlehl srdečnímu infarktu a k nahrávání další desky už nikdy nedošlo.
Původní album vyšlo ve striktně omezeném nákladu a dnes je prakticky nedostupné. Na discogs by byl jeden kousek k mání, ovšem za cenu 900 Euro a to už je tedy slušná raketa. S CD reedicemi to taky není žádná sláva a nejdostupnější bude ta od Sony, z roku 2014. Čtyřstránkovej booklet obsahuje reprodukci původní obálky a tracklist, zadní strana obalu CD ještě obsazení a portréty členů skupiny.
Je to vynikající album, které ve svém osobním žebříčku stavím pořádně vysoko a menší výhrady bych měl jen ke skladbám  Mandragola, Ganzheit a Narciso. Nejvyšší známku tasím relativně zřídka a "nerad" a nedám ji ani v tomhle případě. Čtyři a půl.
SKLADBY:
01. Ouverture XV (3:19)
02. Raipure (4:45)
03. Invasore (4:21)
04. Lady Ligeia (2:39)
05. Narciso (5:13)
06. Ganzheit (2:33)
07. Verso il lago (0:53)
08. Il re di Raipure (3:47)
09. Sotto i ponti (7:22)
10. Arlecchinata (3:25)
11. La saga della primavera (3:38)
12. Mandragola (2:15)
SESTAVA:
Arturo Stalteri – pianoforte, organo, voce, spinetta, eminent, celesta, percussioni
Vincenzo Caporaletti – chitarra acustica, chitarra classica, chitarra 12 corde, chitarra elettrica, basso, batteria, flauto
Gaio Chiocchio – sitar, mandolino, voce, chitarra, hammond, cimbali, timpani
+
Voce femminile in "Arlecchinata" Laura Bufa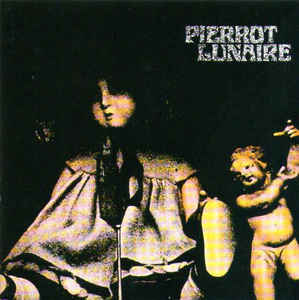 Pierrot Lunaire
Pierrot Lunaire
Folk Rock, Art Rock, Avantgarde, Prog Rock
It
1974
LP
12
CD Sony Music ‎– 88875000902 /2014/