CD Vinyl Magic – VM027   /1991/
Americký prozaik a básník Edgar Allan Poe má po světě zástupy oddaných čtenářů, ovšem nemlich to samý jméno si vybrala i jedna obskurní italská kapela z poloviny sedmdesátých let…
Skupina pochází z městečka Ornago (napůl cesty mezi Milánem a Bergamem) a její kořeny sahají někam do roku 1967, ale tehdy to byla partička nezletilců ve věku 11-12 let, která si říkala Angelo and the Spacemen. Když to frontman Angelo v roce 1969 zabalil, ostatní pokračovali v hraní, ale už pod novým jménem E. A. Poe. Zpočátku se zdokonalovali na převzatém repertoáru a do úplného zblbnutí brousili covery Led Zeppelin, Grand Funk Railroad, nebo Deep Purple, ale postupem času došlo i na vlastní tvorbu korunovanou čilou koncertní aktivitou.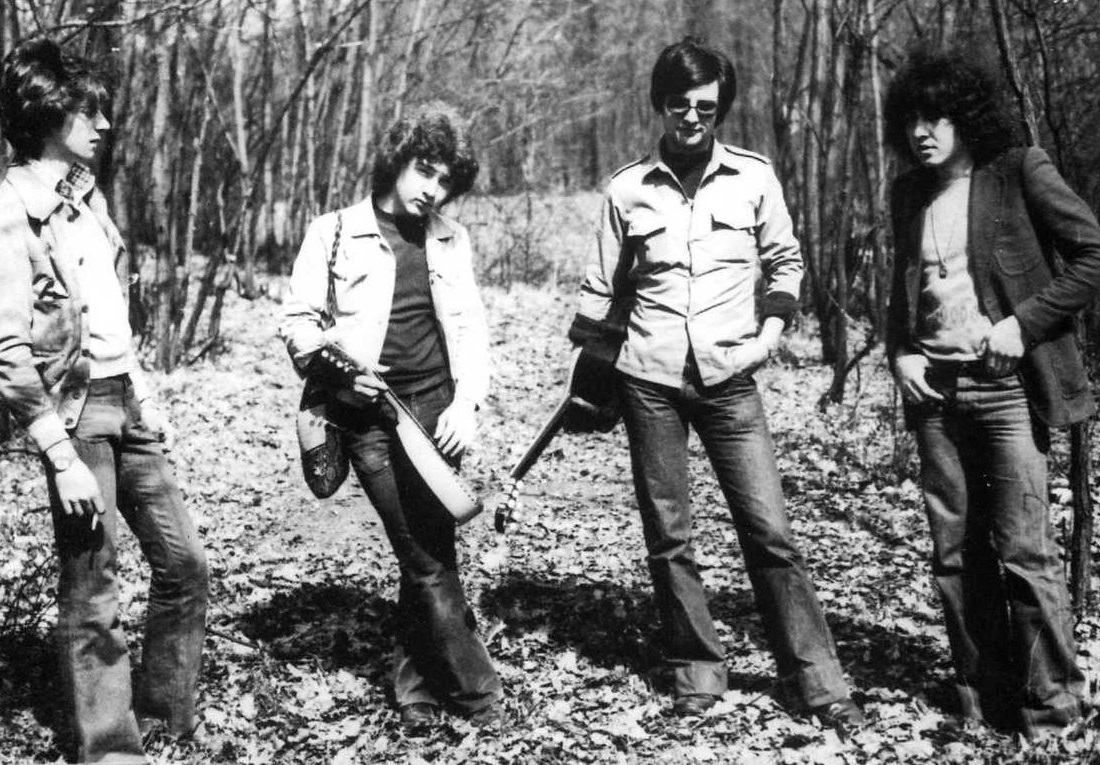 Album Generazioni (Storia di sempre) skupina natočila v září 1974 pro label Kansas, ale vyšlo v mizivém nákladu a bez odpovídající promotion, takže úplně zapadlo. V roce 1976 skupině vyšly ještě dva singly, jeden s předělávkami části soundtracku k filmu "Čelisti" a druhý se zpěvákem Lucou Simonellim. O rok později, krátce před podepsáním nového nahrávacího kontraktu s firmou Sony se kapela rozpadla a do povědomí hudebních fanoušků se znovu dostala až s prvními reedicemi ze začátku devadesátých let.

Sedmipoložkové a sotva 35 minut dlouhé album Generazioni (Storia di sempre) skupina nahrála v Miláně a musely jí na to stačit tři dny. Moc se s tím nemazala a je to znát, ale co na tom. Nedostatky v produkci nahradila temperamentem, vášní a entusiasmem, se slušnou porcí neodolatelných melodií navrch. Zpěv v italštině je podmínkou a celé mi to připomíná podobně zapomenuté projekty Laser (Vita sul pianeta), Ricordi d'Infanzia (Io uomo), nebo J.E.T. (Fede, speranza, carità). Nehledě na to, že placky E. A. Poe, Laser a Ricordi d'Infanzia mají hodně podobné introdukce a tím společným prvkem je dramatickej monolog…
Prologo (Úvod) je, až na ten výše uvedenej monolog v první polovině skladby, energickou instrumentálkou s řádně splašenou rytmikou, prvky jazzu a sprškou kytarových sól. Následující a vzrušující Considerazioni (Úvahy) nabízí zajímavej průběh a členitější stavbu s řadou překvapivých změn. A zvuků. Klávesy v úvodu skladby bzíkají takřka kosmicky, ovšem psychedelická atmosféra pomalu houstne a na závěr už je to pořádnej bugr s kytarou drsnou, jak truhlářská rašple.
První baladou je sotva dvě a půl minuty dlouhá Per un'anima (Pro duši). Svým způsobem jednoduchá, ale křehká a kouzelně melodická písnička zahuštěná klávesovou polevou. Zpěv i melodie mi tady připomínají Le Orme z roku 1972, nebo debut kapely Pierrot Lunaire. Tečkou za první stranou původní vinylové desky je do classical rocku fušující skladba Alla ricerca di una dimensione (Hledání jedné dimenze). S parádními hammondkami a několika vysoce energickými laufy.
Chmurná a zvolna se odvíjející Ad un vecchio (Starému muži) na nebohého posluchače dopadá, jak rány osudu a překvapivě svižná, instrumentální vsuvka budiž jen chvilkou oddychu před nevyhnutelným údělem. Znáte souputníky Biglietto per l'inferno a jejich funerální majstrštyk L'amico suicida? Tak tohle je něco podobného…
Druhou pomalou a Pierrot Lunaire připomínající písničkou je La ballata del cane infelice (Balada o nešťastném psovi). Hodně prostoru tady má mandolína, která skladbě dodává středomořskej esprit a je to taková pěkná náplast na moji rozbolavělou duši. Na podobné vlně se vyváží i závěrečná Generazioni (Generace), ovšem postupem času dostává grády a symfonickej šmrnc. Album tak končí docela optimisticky a hlavně – ve velkém stylu.
Nutno dodat, že ještě začátkem devadesátejch let to byla anonymní kapela s neznámým obsazením, které se podařilo – díky nadšení hudebních archeologů – odtajnit až časem. Dnes už je ta situace jiná a nějaké ty střípky informací z historie E. A. Poe se dají různě posbírat. Těm, které by to zajímalo bych doporučil výbornej rozhovor na stránkách psychedelicbabymag, z května 2022. Kapelu zpovídal Klemen Breznikar a je to prvotřídní a velice zajímavé čtení s řadou vzpomínek a historických podrobností.
Původní vinylové album na značce Kansas (5300 503 A) vyšlo v minimálním nákladu (údajně 500 kopií) a dnes patří k největším raritám italského progresivního rocku. V současnosti by byl na discogs jeden kus na prodej, ovšem za – ehm – 7000 Euro. Nedávno však vyšlo (2017, 2022) několik asfaltovejch reedic a ty by mohly být pořád ještě k mání. S cédéčky je to bída, já to svoje dostal teprve před pár týdny a je to omšelé, poškrábané vydání Vinyl Magic se základním čtyřstránkovým bookletem z roku 1991. Zvuk má průměrnej a v tišších pasážích je slyšet praskot a lupance. Originální pásy jsou nejspíš navždy ztracené a tak je to udělané ze starého vinylu, ale to není nic tak neobvyklého. Kór u takhle starejch obskurit…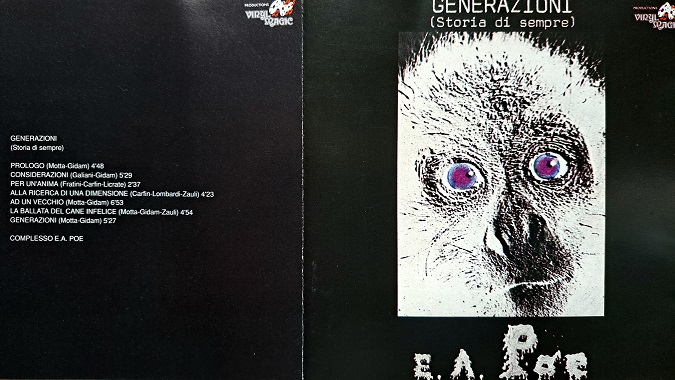 SKLADBY:
1. Prologo  (4:48)
2. Considerazioni  (5:29)
3. Per un'anima  (2:37)
4. Alla ricerca di una dimensione  (4:23)
5. Ad un vecchio  (6:53)
6. La ballata del cane infelice  (4:54)
7. Generazioni  (5:27)
SESTAVA:
Giorgio Foti (voce, tastiera)
Beppe Ronco (chitarra)
Lello Foti (batteria)
Marco Maggi (basso)
Generazioni (Storia di sempre)
E. A. Poe
Prog Rock
Kansas
1974
LP
7
CD Vinyl Magic – VM027/1991/