CD Vinyl Magic – VM057  /1995/
Při zběžném pohledu na discogs to vypadá na další italskou jednohubku, po které nezbylo nic než jedna deska a několik singlů. Ovšem při podrobnějším ohledání už to není tak jednoznačné… 
J.E.T. (často psáno i jako Jet) pocházej z Janova a vznikli z trosek stejnojmenné kapely, ve které působili – a teď se podržte – i pozdější členové popové superstar Ricchi e Poveri. Obnovená sestava debutovala v roce 1971 singlem Vivere in te, se kterým se zúčastnila rozhlasové soutěže Un disco per l'estate. Ten, i následující singly Non la posso perdonare a Il segno della pace z roku 1972 byly ještě melodickými písničkami s hitparádovými ambicemi, ovšem její první velké album Fede, speranza, carità znamenalo radikální obrat v hudebním směřování a je typickým produktem rychle se vzdouvající progressive rockové scény. Ovšem už o dva roky později přišel další veletoč, když si tři ze čtyř původních členů změnili jméno na Matia Bazar a nastartovali dlouhou a úspěšnou kariéru na poli pop music.
J.E.T. tedy zabodovali na obou stranách barikády. Jejich jediné album je dodnes vyhledávanou a bigbíťáky velebenou progress rockovou raritou a jako Matia Bazar je milují posluchači středního proudu…

Koncepční album Fede, speranza, carità vyšlo v roce 1972 a mohlo by posloužit jako učebnicovej příklad reprezentující subžánr "rock progressivo italiano". Chcete po mě jeho nejcharakterističtější (brr, to je slovo) rysy ? Tedy dobrá : energie, důraz, vášeň a cit, s koňskou dávkou přívětivejch melodií navrch. A pochopitelně v italštině. První strana původní vinylové desky obsahovala dvě delší skladby o délce kolem jedenácti minut, druhá pak tři kratší – což v konečném součtu hodilo na italské poměry nadstandardních čtyřicet minut. A nadstandardní je nejenom celková stopáž, ale aj obsah, kterej bych popsal jako energickej heavy prog, s prvky symphonic rocku a – ehm – popu. Jiskřivé kytary s doprovodem zkreslených varhan odkazují na britskou školu, ale melodie a falzetem zpívané vokály jsou čistě italské. Oni maj tu kantilénu v krvi a místy je to pěknej tyjátr, ale to já rád…
Texty jsou (údajně) jakousi křesťanskou agitkou, ale italsky neumím ani zbla a tak je neřeším. Užívám si hudbu a ta je jednoduše skvělá. Prolínání agresivních a melodramatických ploch je ukázkové a díky četným změnám nálady, rytmu a tempa to pěkně odsejpá. Vypíchnul bych aspoň titulní pecku Fede, speranza, carità, která nabídne jak hutnej hard rock, tak to melodrama a pak ještě její veličenstvo Sinfonia per un re. To je vznešenost sama. Chválím i velmi dobrej, nabasovanej a přesto pěkně čitelnej oldschoolovej zvuk v široširém stereu, protože to u italských alb nebývá zrovna pravidlem. Někde jsem zachytil informaci, že se to natočilo během šesti dnů na čtyřstopej magnetofon a jestli je to pravda, tak klobouk dolů, protože to hraje opravdu dobře.
J.E.T. ukázali směr a prošlapali cestu kapelám Alphataurus, Museo Rosenbach, Semiramis, nebo Biglietto per l'inferno. Byli možná ještě trochu "dřevní" a ne tak dokonalí, ale první. Nebo skoro první…
Původní album vyšlo na značce Durium a mělo celkem unikátní rozevírací obal, s výřezem v přední straně a uvnitř vlepenou imitací broušeného poháru. Grafici se na něm docela vyřádili. Nejnovější reedice na LP je z roku 2010 a měla by být ještě relativně snadno k sehnání. S cédéčky už je to však trochu horší. Poslední vydání z roku 2005 (BMG Japan) je vyprodané, ale splašit z druhé ruky – byť ne úplně lacino – se dá. Moje reedice od Vinyl Magic (1995) neobsahuje nic, než umolousanej čtyřstránkovej booklet s několika černobílými fotografiemi, ale jsem šťastnej, že ji mám.

SKLADBY:
Lato A
1. Fede, speranza, carità – 10:56
2. Il prete e il peccatore (Fede) – 11:11
Lato B
3. C'è chi non ha (Speranza) – 6:36
4. Sinfonia per un re (Carità) – 8:00
5. Sfogo – 3:42
SESTAVA:
Carlo Marrale – chitarra , voce
Piero Cassano – tastiere
Aldo Stellita – basso , violoncello , vibrafono , marimba
Renzo Cochis – batteria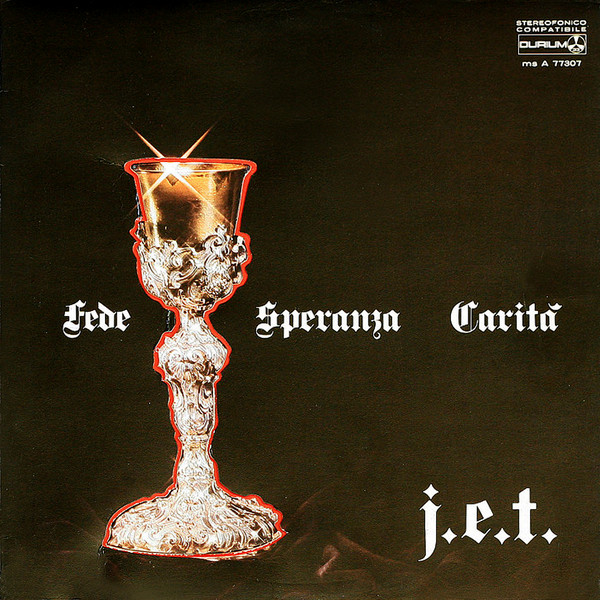 Fede Speranza Carità
J.E.T.
Prog rock
Durium
1972
LP
5
CD: Vinyl Magic - VM057  /1995/