Zcela opomenutá britská kapela hrající přitom posluchačsky chytlavý artrock pohybující se podél spojnice Yes – Genesis – Camel. Velebné a barvité tóny kláves Andyho McCrorieho-Shanda evokují Banksovu práci v Genesis (cca období A Trick Of The Tail), melodická a zpěvavá kytara Danea Stevense připomene Andyho Latimera z Camel a jeho skřivánčí falzet má hodně společného s Jonem Andersonem z Yes. K tomu chóry, spousta chytlavých melodií, aranžérská pompa – prostě vše, čeho si mnozí vyznavači klasického prog-art-rocku raných 70. let tak cení. No, a dnes Druid, až na pár čestných výjimek, v rockových encyklopediích nenajdete, jako by neexistovali.
Příběh Druid je tak povídáním o nenaplněných snech a tužbách. Snad každý někdy zažil pocit zmařených nadějí, kdy to už už vypadalo, že se na něho konečně usmálo štěstí, aby zlomově, ve chvílích vrcholné euforie, zjistil, že všechno je jinak. Tak přesně toto kdysi potkalo Druid, kteří v roce 1974 s převahou zvítězili v prestižní talentové soutěži Melody Makeru, získali nějaký ten dukát a hlavně nahrávací smlouvu u EMI, což jí mnohé další začínající party mohly jen a jen závidět.
I pokračování story bylo stále jako ze snu. Krátce po vítězství pronajímá EMI v červenci 1975 v sheppertonských filmových ateliérech studio pro nahrávání debutového alba. Vše se jevilo OK: za zády velký label, k tomu patronát slovutného Melody Makeru, nové nástroje, zesilovače a další muzikantské vybavení, po boku producent Robert Harris, jinak též tvůrce tehdy jediné britské rockové TV show The Old Grey Whistle Test. K tomu mládí, nadšení, elán… jednoduše pohádka.
Sharpley a kytarista Dane Stevens byli přáteli od školních let v Berkhamsteadu. Počátkem roku 1971 začali spolu s baskytaristou Neilem Brewerem muzicírovat v místních putykách. A již v roce 1973 pokoušeli štěstí v soutěži MM, ale pohořeli v kvalifikaci.
Po již zmíněném vítězství přenesli Druid své aktivity do Londýna, kde pravidelně hráli hned na dvou hospodských pódiích – v Brecknocku a u Lorda Nelsona. Najali si manažéra Larryho Westlanda, který jim doporučil obohatit sound přibráním hráče na klávesové nástroje. Tím se stal Andrew McCrorie-Shand, který právě externě dokončil The London College of Music a hrál s různými kapelami v okolí lázní Leamington. Druid si poslechnul na jednom z vystoupení, líbili se mu, nabídku přijal. Westland mezitím zúročil nadšení porotce Roberta Harrise a požádal jej o produkování připravovaného debutu.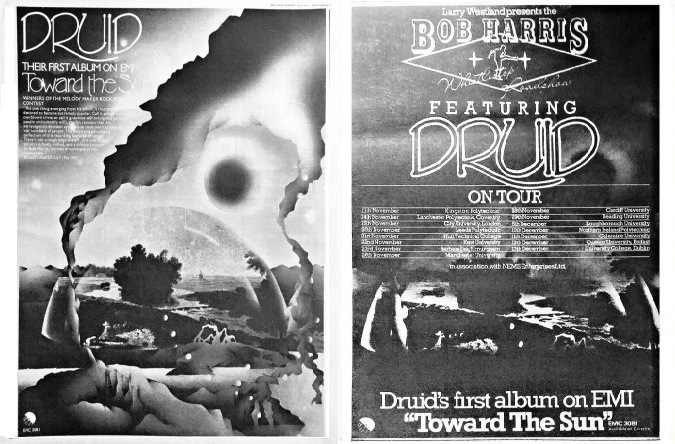 Stáli uprostřed rekvizit, zbylých po natáčení filmu "Lisztomania", hráli pro hosty sezvané firmou k oslavě zahájení nahrávání a byli si jisti, že stojí na počátku dlouhé a skvělé hudební kariéry. Vždyť před pouhým rokem se třásli spolu s třinácti jinými začínajícími kapelami ve vyřazeném železničním depu, kde Melody Maker uspořádal finále soutěže rockových a folkových talentů, sponzorované asociací výrobců hudebních nástrojů. Porotě, mj. s Royem Woodem a editorem Melody Makeru Rayem Colemanem, předvedli Druid dva songy – Shangri-La a Toward The Sun (oba lze nalézt na debutovém albu).
Mimo arbitrů se akce zúčastnilo více než 200 rozdováděných příznivců jednotlivých kapel. Vybičovaná atmosféra připomínala chvílemi fotbalový mač. Vítězství Druid však bylo natolik přesvědčivé, že všichni – i fans soupeřů – je přijali bouřlivým potleskem. Bubeník Cedric Sharpley byl navíc oceněn extra cenou jako nejlepší hudebník celého klání.
Potíže s obalem Toward The Sun zpozdily vydání debutového alba až na konec léta 1975. Tím nebyl problémům konec. Spousta lidí z branže jim začala dávat najevo, že jsou prý protekčními dítky Boba Harrise, EMI a Melody Makeru, a že se ke všemu dostali příliš snadno.
Projevila se i další odvrácená strana vítězství v soutěži organizované Melody Makerem. Konkurenční hudební tisk Druid programově ignoroval. Radio One je zase nehrálo kvůli tomu, aby je někdo nenařkl, že hrají muziku, kterou produkoval jejich disc-jockey. Také se objevilo podezření, že do TV pořadu The Old Grey Whistle Test se dostali opět jen díky Harrisovi. Ten se nakonec musel ostře ohradit v tisku a producenta show Michaela Appletona přesvědčit o kvalitách Druid tím, že mu věnoval výlisek jejich alba; ortel šéfa byl jasný: žádná protekce, ale jen a jen kvalita.
V roce 1975 Harris zorganizoval pro několik kapel letní turné s názvem Whistlestop, odehrávající se na vysokoškolských kolejích, Druid se však v té době rozhodli vymanit ze svěrací kazajky dítek štěstěny a dospět. Pro své druhé album Fluid Druid se produkce ujali sami ve spolupráci se zvukovým technikem Paulem "Rockette" Hardimanem. Po jeho dokončení následovalo obvyklé propagační turné.
Bylo však již pozdě, opona se trhla a na hudební scénu se přiřítil punk. A ten smetl všechno, usedlé těžkotonážní dinosaury i teprve lehce ochmýřená artrocková mláďata v rozletu. Druid končí, aniž by kdy pořádně začali.
Muzikantská štěstěna se v časech budoucích usmála na Cedrika Sharpeye, který se připojil k představiteli futuristického synth-popu Garymu Numanovi, bývalému členovi novátorských Tubeway Army, a nahrál s ním obě jeho nejslavnější studiová alba Pleasure Principle (1979) a Telekon (1980). Objevil se i na live kouscích Living Ornaments 1979 a Living Ornaments 1980 vydaných v roce 1981. Dále se podílel na LP skupiny Dramatis a jejím singlu Love Needs No Disguise (v UK #33). Protože na něm spolupracoval i Gary Numan, nejčastěji se v encyklopediích objevuje pod jeho heslem.
Andrew McCrorie-Shand epizodně spolupracoval s Curved Air, Sally Oldfield, naplno se věnuje skládání hudby pro dětské TV seriály, mj. Teletubbies a Rosie & Jim, jehož poslední čtyři série uváděl Neil Brewer coby majitel loďky Ragdoll. V epizodě Recording Studio (1998) si zahráli spolu…
DISKOGRAFIE:
1975 – Toward The Sun (EMI – EMC 3081) A
1976 – Fluid Druid (EMI – EMC 3128) B
OBSAZENÍ:
Neil Brewer – baskytara A B
Andrew McCrorie-Shand – klávesy A B
Cedric Sharpey – bicí A B
Dane Stevens – kytary a zpěv A B
a
sbor z The Royal College of Music B
Jaromír Merhaut pro Rock+ 2010
P.S.: Druid na Tidalu. Do profilu se bohužel připletli interpreti stejného názvu, obě alba lze ale snadno identifikovat a poslechnout v CD kvalitě, obě ve verzi Warner, 2003.