Album Sacrifice od Black Widow jsem objevil podle úspěšného singlu Come To The Sabbat, který se stal hitem a počátkem sedmdesátých let byl hojně přehráván na rockových diskotékách. Byl název kapely odvozen od pověstného pavouka, anebo se za ním skrývalo podhoubí tajemného satanismu? Tímto problémem jsme si tehdy s kamarády lámali hlavu. Blízko nádraží jsem objevil malý stánek s fotografiemi zpěváků a skupin, kapela s názvem Black Widow se zde objevila na černokněžnické fotografii, na níž ležela v rakvi nahá mladá žena a kolem ní v dlouhých hábitech stáli se svíčkami v rukou vlasatí hudebníci, kteří dokreslovali ponurost celého výtvarného záměru. Je pochopitelné, že zjistit, jak zní nejenom uhrančivý hit, ale celé album, bylo předmětem mého zesíleného zájmu. Klasický vinyl nebyl v daných časech k dostání a postupem let byl můj zájem o Black Widow překryt náporem dalších a dalších kapel. Až později, v dobách CD, jsem objevil tento titul za směšnou cenu 150 Kč ve Slevách a rozpomněl jsem se na dávnou touhu sblížit se s touto kapelou a tak si teď album retrospektivně vrátím do dávných souvislostí.

IN ANCIENT DAYS – Dlouhý tón kostelních varhan v úvodu, do kterého se připojují tlumené baskytarové tóny. Entrée jako vystřižené z raných pinkfloydovských časů navozuje vážnou až pochmurnou atmosféru. Hammondky nabývají pevnější sound s mírným dozvukem. Šílené tremolo připomene Vanilla Fudge s téměř zborcenou harmonií a zcela nečekaně se objevuje zvuk akustické kytary i bučivý saxofon. Sólový zpěvák se jmenuje Kip Trever a vstupuje do hry energickým hlasem. Není svou barvou nijak výjimečný, ale má ve výrazu jakýsi neklid. Taky zde máme mellotron, jako by vyskočil z Moody Blues a harmonická struktura se podřizuje vyjadřovanému obsahu zpívaného textu. Psychedelická atmosféra prostupuje skladbou od začátku až do konce, čeřená občasnými bubenickými breaky. Možná zde někdo vypozoruje i odér Van Der Graaf Generator, i když o tom nejsem tak stoprocentně přesvědčen, protože hudba progrockových věrozvěstů je pomalejší a prokomponovanější. Dobové hudební asociace se v úvodu hodně snoubí a jsem zvědav, co bude následovat. 
WAY TO POWER – kytarista Jim Gannon otvírá skladbu akustickou kytarou, k níž se připojují dusající bicí s baskytarou a velmi čitelný saxofon Clivea Jonese. Skladba má docela jasnou melodickou linku a dá se oholit na holou kostru. Skladatelsky nic převratného, ale přesto jsou aranžérské postupy docela zajímavé a propojování vokální složky s instrumentací se děje v dobré shodě. Gannon vymění akustickou kytaru za elektrickou a v mezihře nabídne neurastenické kytarové sólo podporované wah wah pedálem. Fade-out se utápí v nekonečnu s ozvěnou.
 COME TO THE SABBAT – Bicí nástroje Clivea Boxe mají šamansko obřadní nátěr. Hypnotická rytmická formule se opakuje za podpory Jonesovy flétny a tajemného sborového zpěvu, který akcentuje poslední hlásku. Unisono baskytary Boba Bonda a Jonesovy flétny má mírně jethrotullovský náboj, ale spíš v té staroanglické melodice. Konečně přichází nekonečné – "Come come, come to the sabbbat, come to the sabbah" – což postupně graduje a uvolňuje patřičné emocionální šílenství neartikulovatelnými výkřiky. Skladba se stala jednoznačným hitem kapely nejen na singlu (jak už bylo řečeno), ale i na samotném albu.
CONJURATION – Podobně závažné téma přináší i další píseň, v níž se bicí rozbíhají ve výrazných úderech, do kterých vstupuje další instrumentace. Treverův hlas dramaticky vyzpívává obsah skladby s takovým zanícením, jakoby zachraňoval veškeré lidstvo zhýralého světa. Patřičný patos, rytmicky zdůrazňovaný a doprovázený flétnou i klarinetem v dlouhých tónech, uvádí posluchače do podivného vytržení. Zvuk mellotronu a zpívaného hlasu lze vysvětlovat různě. Dramaticky, varovně, jako zaklínadlo a tajemný obřad, anebo jako dvorský hradní ceremoniál před monarchou, který zachmuřeně pozoruje svoje poddané, vydané mu na milost a nemilost. Přiznám se, že pochybnosti mě neopustí až do konce skladby, s čím to mám co do činění.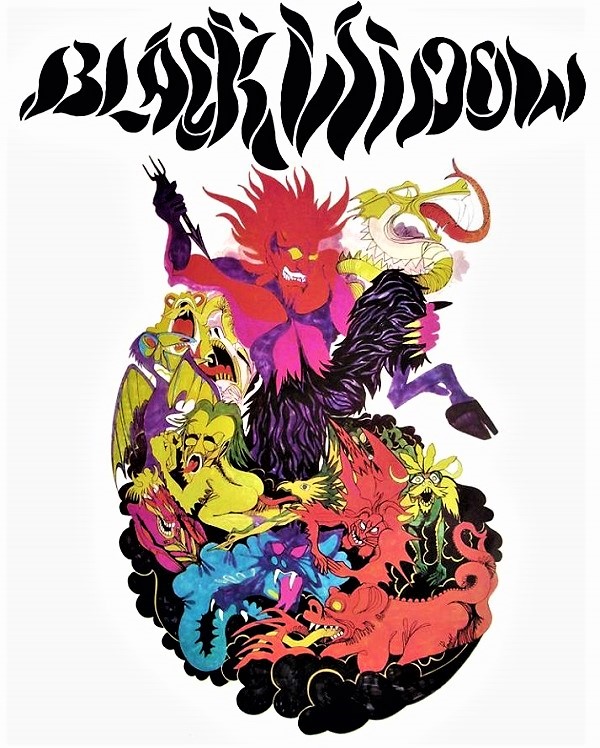 SEDUCTION – Elektrická kytara, jemně ohýbaná wah wah pedálem za podpory mellotronu, nám nabízí Treverův hlas ve zvláštní harmonické podobě. Skladba se odvrací od klasické rockové struktury. Až příchod saxofonu, zrychleného unisona baskytary, bicích a ostatní instrumentace přináší nečekanou změnu. Tohle ovšem není konečné překvapení, protože přichází ještě třetí část kompozice, která svou atmosférou není daleko od jazzových kontemplací a latinizované bossanovy. Taylor vloží docela podmanivé sólo na hammondky, čímž skladba získá jakýsi předobraz art rocku. Viditelná snaha Jima Gannona napsat "závažnější téma" a vzdálit se klasické podobě zpívané písně, je zřejmá, ale v dané době ještě nedovařená, přesto nadějná.
ATTACK OF THE DEMON – Rytmicky důraznější a propracovanější skladba, ve vokální struktuře operující s postupy pozdních šedesátých let, ale instrumentace jaksi přešlapuje namístě. Třebaže kapela vykazuje výtečnou souhru, o čemž není pochyb, všechno je ještě jakoby stále trochu "nedonošené" a nevyzrálé, tak ani nepřekvapí, že řada jiných, v té době startujících, kapel musela Black Widow zmasírovat. Poměrně zajímavé a zvukově výrazné party hraje baskytarista Bond. Treverovy pokusy vložit do mezihry jazzový scat mi za podpory ostatních nástrojů připadají sice zajímavé, ale zatím ve fázi experimentu a hledání nazdařbůh, třebaže prolínání nástrojového parku nezní vůbec špatně.
SACRIFICE – Závěrečná skladba začíná vpravdě ďábelským nástupem bicích nástrojů. Opakující se schéma rockového riffu ve stylu boogie je příležitostí pro baskytaru a flétnu za doprovodu prostorového vokálu. Myslím, že Jethro Tull, podobně jako třeba Skin Alley by přece jenom Black Widow strčili do kapsy. Také vokál Kipa Trevera mi, bez podpory sborů, připadá trochu zúžený a nevýkonný. Ovšem rhythmandbluesové opakující se schéma baskytary, hammondek s podporou bicích dává šanci flétně a daný riff je rozvíjen do psychedelického oparu. Skladba je prostorem pro instrumentální kouzlení Clivea Jonese na flétnu a Zoota Taylora na hammondky – tu se vzepne k výtečnému výkonu a jako varhaník ukazuje, že není žádné béčko. Rhythm and blues a jazz má v krvi, také smysl pro experimentální postupy. Myslím, že Black Widow si ponechali hlavní objem energie do poslední skladby a ta jim v mých očích hodně pomáhá zvýšit si reputaci při hodnocení. Je strhující, vypjatá a plameny z ní šlehají hodně vysoko, ať už pod nimi topí Satan nebo obávaný pavouk. Clive Box hraje strojově přesně a několika breaky zvíří šlapající postupy až do patetického vyústění.
Album Sacrifice nezní špatně. Nemyslím si, že by to byl pronikavě zázračný hudební počin, který jsem neslyšel v různých asociacích od jiných skupin, ale i tak je zde co poslouchat a vnímat. Jim Gannon, jako hlavní skladatel, se na kytaru neprojevuje nijak zvlášť nápadně, což mě trochu překvapilo. Srovnávání Black Widow s Black Sabbath a Jethro Tull mi připadá hodně odvážné. Spíš jako derivát Skin Alley, ale hudební chutě a představy mohou být různé. Byl jsem rozhodnut udělit albu tři hvězdičky, ale poslední skladba mě hodně přesvědčila a tak jim (s odřenýma ušima) jednu hvězdičku přidám. 
SKLADBY:  
1. In Ancient Days (Jim Gannon) 7:40
2. Way To Power (Jim Gannon) 3:58
3. Come To The Sabbat (Jim Gannon/Clive Jones) 4:56
4. Conjuration (Jim Gannon) 5:45
5. Seduction (Jim Gannon) 5:38
6. Attack Of The Demon (Jim Gannon) 5:37
7. Sacrifice (Jim Gannon) 11:10

SESTAVA:
Kip Trever – vocal
Jim Gannon – guitar
Bob Bond – bass
Zoot Taylor – organ, piano
Clive Jones – sax, flute, clarinet
Clive Box – drums, percussion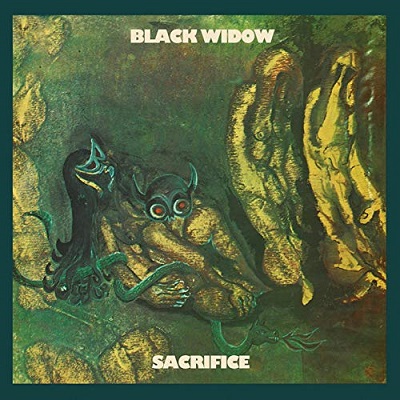 Sacrifice
Black Widow
Prog Rock, Psychedelic Rock
CBS
1970
LP
7
CD - Castle Classics /1992/