2CD '71-'75, Warner Music Italia Srl – 5050467-7070-2-3  /2005/
Skupina Delirium vznikla v roce 1970 a o rok později debutovala půvabným, folkrockově laděným albem Dolce acqua. Po něm odešel na sólovou dráhu charismatický flétnista a zpěvák Ivano Fossati, kterého nahradil hráč na flétnu a saxofon Martin Frederick Grice. Druhá LP deska, Lo scemo e il villaggio, se na trhu objevila v roce 1972 a po ní si Delirium vybrali krátkou oddechovou pauzu. Potřetí a na dlouhou dobu naposledy se přihlásili v roce 1974 albem III, s podtitulem Viaggio negli arcipelaghi del tempo…

Stejně, jako první dvě desky je i "trojka" koncepční, ovšem s pro našince těžko rozklíčovatelným poselstvím. Jsou to takové filozofické úvahy o cestách v čase a podstatě lidského pokolení, ale těžko říct. Údajně je ten koncept pěkně vysvětlenej uvnitř rozevíracího obalu originálního alba, jenomže já ho poslouchám z 2CD kompilace (s alternativní obálkou) a tak mám holt smůlu. První, co mě při poslechu desky napadlo je to, že Delirium zvážněli. A přitvrdili. Časy melodickejch a v dobrém slova smyslu chytlavejch písniček jsou pryč a jedinou, starší tvorbu připomínající skladbou je čtvrtá Dio del silenzio.
Nemůžu říct, že by to byl přímo jazzrock, ale těch prvků jazzu je tady docela dost. Především v některejch rytmech a také v podobě klávesových, nebo saxofonových sól. Ovšem občas dojde – docela překvapivě – i na smyčcové aranžmá, které je poprvé slyšet hned v úvodní, baladicky koncipované písničce Il dono. Je pěkná, ale ruku na srdce, tomu nejlepšímu z produkce Delirium se nevyrovná. Schválně jsem si projel tracklisty několika kompilací, kterých má skupina na kontě docela dost a na žádné z nich jsem ji nenašel. A to už o něčem svědčí.
Titulní Viaggio negli arcipelaghi del tempo s bezprostředně navazující, osm minut dlouhou instrumentálkou Fuga n. 1 jsou progrockovými skládačkami se spoustou klávesových, flétnových, nebo saxofonových sól. Vždycky jsem měl daleko raději flétnu, ale Martin Grice se pohybuje především v sametově hebkých polohách a tak mě tady to ságo vůbec neruší. Mojí nejoblíbenější skladbou je čtvrtá Dio del silenzio, kterou končila první strana původního vinylového alba. Kouzelnej flétnovej motiv, půvabná melodie a charismatickej zpěv z ní dělají adepta na jeden z největších šlágrů skupiny vůbec. Tohle jsou Delirium tak, jak je mám rád.
Nejtvrdší a zároveň nejdrásavější písničkou na desce je La battaglia degli eterni piani a to hlavně díky důrazným tahům smyčců a pochodovejm bicím v první polovině a ještě v samotném závěru skladby. Ovšem rychlá vsuvka s beglajty elektrické kytary a sólující flétnou je výborná, o tom žádná. À propos, ona je to také snad první skladba skupiny s větším vkladem elektrické kytary vůbec, protože na prvních dvou deskách jsou slyšet pouze akustické. Šestá Un uomo je jenom takovou krátkou drobnůstkou, s břinkajícím klimprem, nakřáplým zpěvem a doprovodem smyčcového tělesa. Na úplnej závěr si Delirium připravili dvě instrumentálky – energickou, funky pumpující (aj s krátkým sólem bicích nástrojů) Viaggio n. 2 a líbezně melancholickou Ancora un'alba. Do té skupina propašovala i motiv ze skladby Dio del silenzio a je to pěkná tečka za příběhem i deskou.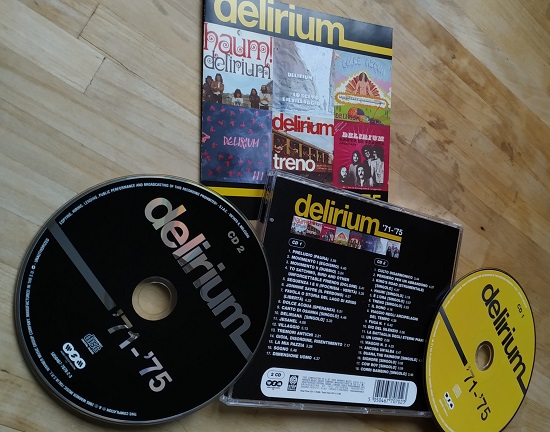 Do svého rozpadu v roce 1975 skupina stihla protočit sestavu a nahrát několik singlů. Na 2CD kompilaci '71-'75 se vešly hned čtyři, ale za zmínku stojí jen docela pěkná instrumentální skladba Buana, The Rainbow. Zbylé tři už jsou komercí nejhrubšího zrna, které tvorbu kapely staví do špatného světla a jako takové neměly snad raději vůbec vzniknout.
Je to dobré album, po instrumentální stránce dokonce velmi dobré, ale jeho dva předchůdci se mi líbí podstatně víc. Jak debut Dolce acqua, tak LP Lo scemo e il villaggio jsem ohodnotil čtyřkou, tady to bude silná trojka.
SKLADBY:
1.  Il dono – 4:17
2.  Viaggio negli arcipelaghi del tempo – 4:45
3.  Fuga n. 1 – 7:40
4.  Dio del silenzio – 2:55
5.  La battaglia degli eterni piani – 6:42
6.  Un uomo – 2:06
7.  Viaggio n. 2 – 4:33
8.  Ancora un'alba – 2:33
SESTAVA:
Martin Frederick Grice – sax, flauto, voce
Mimmo Di Martino – chitarra acustica, voce
Marcello Reale – basso
Peppino Di Santo – batteria, voce
Ettore Vigo – tastiere
III (Viaggio Negli Arcipelaghi Del Tempo)
Delirium
Prog Rock
Cetra
1974
LP
8
2CD '71-'75, Warner Music Italia Srl – 5050467-7070-2-3 /2005/