Box Set Universal Music Italia s.r.l. – 0602527121765 /2009/
Italští Jumbo vznikli v roce 1970 a během šesti let své hudební kariéry vydali tři singly a stejný počet studiových alb. Jak bezejmenný debut, tak následující DNA (obě z roku 1972) už jsem tady hodnotil a tak si pojďme představit i to poslední a zároveň nejambicióznější: Vietato ai minori di 18 anni? (Nezletilým do 18 let zakázáno?). Placka vyšla v roce 1973 u Philips Records a obsahuje osm skladeb v celkové délce 44 minut. Prakticky veškerou hudbu složil a otextoval frontman Alvaro Fella a pustil se do témat vskutku kontroverzních: homosexualita, prostituce, masturbace, alkoholismus a to v tehdejší poměrně konzervativní společnosti znamenalo jediné – potíže s cenzurou, následované zákazem vystupování v rádiu i televizi.
Už během úvodní Specchio je jasné, že blues/hard rocku charakteristickému pro první dva albové zářezy definitivně odzvonilo. Přibylo nejen elektrických kytar, ale i kláves a zvuk tak patřičně "zmohutněl". Skladba samotná má přes sedm minut a obsahuje dlouhou, až někam do symphonic rocku přesahující instrumentální p(m)asáž. V tvorbě Jumbo něco dosud neslýchaného. Co však zůstalo stejné, je pořádně drsný a nas..ný vokál. Alvaro "Jumbo" Fella má dynamit v hrdle a řve, jako turek od okurek. Nepřipraveného posluchače tady čeká nevyhnutelný šok…
Změnil se nejenom hudební styl, ale i přístup ke kompozici jednotlivých skladeb. Většina je jich delších, velmi členitých a tvoří takové (mini) suity poskládané ze zdánlivě nekompaktibilních dílků. V Come vorrei essere uguale a te je slyšet renesance, jazz, italská lidovka, ale také splašené vsuvky provázené "břesknými tóny svěžích trubek" a podobně je na tom čtvrtá Via larga. Úvod jak z nějakého kabaretu vystřídá folk a v závěru intenzivní nářez s řevem kodiaka…
Zní to bláznivě, ale funguje to a první polovina alba se mi opravdu líbí. Ovšem následující Gil, to už je oříšek. Přímo kokosovej. Spolu s kapelou si tady vrzlo i několik hostů, z nichž bezesporu nejznámějším je Franco Battiato a je to avantgarda na entou. Disharmonickej blázinec, který postrádá hlavu aj patu a něco takového na mě působí dost destruktivně. A do konce alba to není o moc lepší – jak skladby Vangelo?, tak 40 gradi působí poněkud nesourodě a tady nepomůže svěcená voda, ani mellotron. Prvky avantgardy se tady prosazují víc, než by mi bylo – bohužel – milé. Leze to do mě jak do chlupatý deky a zážitek z poslechu se ne a ne dostavit. Závěrečnou No! tak vnímám div ne jako vysvobození.
Cédéčko mám doma už řadu let, ale moc často se k němu nevracím. A když jsem si ho teď z recenzentských důvodů několikrát za sebou připomněl, tak se tomu ani moc nedivím. První polovinu alba hodnotím čtyřkou, tu druhou za (slabší) dvě. Jak debut, tak (především!) následující DNA jsou prostě lepší…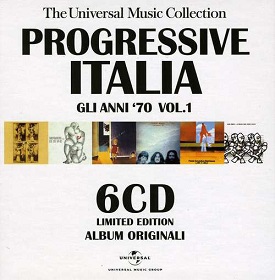 Původní album je docela drahé a jeho cena se pohybuje za hranicí, přesahující 200 Euro. Na trhu je však dostatečnej počet jeho reedic a případnej zájemce by neměl odejít z prázdnou. Můj kotouček je součástí box setu "Progressive Italia Gli Anni '70 Vol. 1" a papírovej futrál neobsahuje víc, než reprodukci původní obálky, sestavu a tracklist. Ovšem zvuk má excelentní.
SKLADBY:
Lato A
1. Specchio – 7:22
2. Come vorrei essere uguale a te – 7:45
3. Il ritorno del signor K – 1:55
4. Via larga – 4:58
Durata totale: 22:00
Lato B
5. Gil – 7:12
6. Vangelo? – 5:39
7. 40 gradi – 6:41
8. No! – 2:18
Durata totale: 21:50
SESTAVA:
Alvaro "Jumbo" Fella – voce, chitarra acustica, piano elettrico, organo, sax
Sergio "Samuel" Conte – tastiere
Dario Guidotti – chitarra acustica, flauti, armonica, sistro, chitarra, voce
Daniele "Pupo" Bianchini – chitarra acustica, basso
Aldo Gargano – mellotron, campane, sistro
Tullio Granatello – batteria, timpani
Ringraziamo le "vibrazioni" di Franco Battiato (VCS 3), Lino "Capra" Vaccina (tabla e percussioni), Angelo Vaggi (mini-moog) e Fat´s Gallo (slide guitar) che hanno suonato con noi in Gil.
Vietato Ai Minori Di 18 Anni?
Jumbo
Prog Rock
Philips
1973
LP
8
CD - Box Set Universal Music Italia s.r.l. – 0602527121765 /2009/