Po angažmá v birminghamských klubech, včetně vyhlášeného nočního podniku Rum Runner na Broad Street v centru města, studiovkách Kingdom of Madness (natočený materiál se svého vydání dočkal u Jet Records až po dvouletém zrání) a Magnum II (pod producentským dohledem Leo Lyonse, bývalého basáka Ten Years After), živáku Marauder (záznam večera v londýnském klubu Marquee z 15. prosince 1979) a předskakování při turné Whitesnake, Blue Öyster Cult, Def Leppard, Krokus i dalších birminghamských rodáků Judas Priest, se přiblížil zásadní zlom v historii kapely.
V roce 1980 klávesáka Richarda Baileyho nahradil Mark Stanway, s nímž během třinácti podzimních dnů v londýnském Town House Studios připravili materiál na novou desku s kansaským producentem Jeffem Glixmanem. Závěrečný mix v Clarkinově režii však nabral bezmála dvouleté zpoždění, album tak nakonec vyšlo až v únoru 1982!
Spor mezi dvěma původně zvažovanými názvy On The Edge Of The World a The Spirit vyhrál třetí vzadu Chase The Dragon, což zamotalo hlavu i autorovi obalu, jímž byl americký malíř a ilustrátor v oblasti sci-fi a fantasy Rodney Matthews: "Vycházel jsem z toho, že nahrávka se bude jmenovat The Spirit a bude mít rozevírací obal, nakonec ale bylo všechno jinak…," pravil umělec, v hudebním světě proslulý dalšími nevšedními díly; vedle opakované spolupráce s Magnum (tituly The Eleventh Hour, On A Storyteller's Night a Princess Release And Broken Arrow) třeba zmínit alba No Mean City (Nazareth) či Metromania (Eloy, plus britské verze Planets a Time To Turn).
Logo souboru protentokrát ozdobil mečem, vsazeným do prvního "M" v jeho názvu – snad aby byl po ruce na obranu před nekonečnými hordami nepřátel, kterým je pompézní tvorba trnem v oku. A právě Matthewsův obal se dvěma hrozivými dinodraky v bizarní krajině s futuristickým hradem přitáhl moji pozornost k formaci, jejíž předchozí počiny mi v tisícileté vodě atraktivních titulů, jež přinášely pražské burzy, v čase vydání unikly. Nakonec jsem je také vylovil, přesto z prvních desek Magnum dávám přednost třetí studiovce Chase The Dragon.
Obsahuje osmero důkladně proaranžovaných písní v podání vyrovnané pětice muzikantů, kteří své instrumentální ambice vložili ve prospěch celku. Catley se na albu představí ve skvělé hlasové formě a Clarkinův výkon je vynikající i bez oslňujících kytarových partů. Rytmika bezchybně šlape a vzletné klávesové plochy dotvářejí typický sound nadýchaný jak domácí knedlík. Žádné honění vlastního ega, ale týmová práce – termín, jehož obsah dokáže tahle hudba naplnit beze zbytku, ať už se odehrává pod vlajkou melodického, pompézního či stadionového rocku, AOR nebo pod úplně jiným heslem. Vždy spolehlivě vyčistí mysl a osvěží duši.
Pravda, baštou pomprockové scény zůstala Severní Amerika, pánové Catley a Clarkin však dokázali přesvědčit, že okázalost může působit nenuceně a přirozeně i v evropském podání. Nejvzletnější čísla Soldier Of The Line, The Spirit a Sacred Hour se stala pevnou součástí koncertního setlistu, album proniklo do britské Top 20 (#17) a posloužilo jako předloha pro další vydařená a ještě vydařenější pokračování.
SKLADBY:
A1. Soldier of the Line 4.15
A2. On the Edge of the World 4.21
A3. The Spirit 4.16
A4. Sacred Hour 5.28
B1. Walking the Straight Line 4.54
B2. We All Play the Game 4.02
B3. The Teacher 3.22
B4. The Lights Burned Out 4.27
Autorem všech skladeb je Tony Clarkin, aranže Magnum
Nahráno: V roce 1980 v Town House Studios, Londýn
Mix: Axis Sound Studios, Atlanta, Georgia, USA
Zvuková režie: Jeff Glixman
Asistence: Steve Prestage
Produkce: Jeff Glixman
SESTAVA:
Tony Clarkin – sólová a akustická kytara, zpěv
Bob Catley – sólový zpěv
Wally Lowe – basová kytara, zpěv
Mark Stanway – piano, elektrické piano, cembalo, syntezátor, varhany Hammond, clavinet
Kex Gorin – bicí, perkuse, cymbál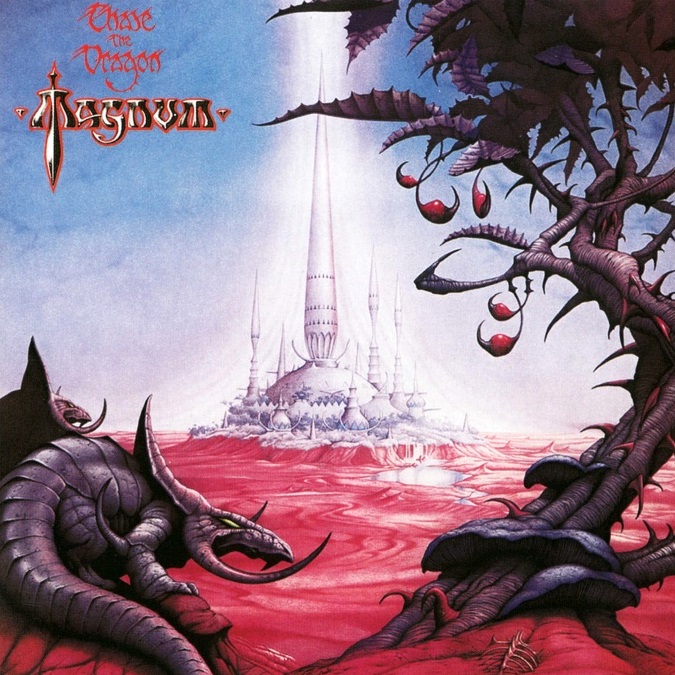 Chase the Dragon
Magnum
AOR
Jet Records
1982
LP
8