V poslednej dobe som prišiel na chuť južanskému rocku. Kedysi dávno som objavil Black Oak Arkansas s Jimom Dandym, Lynyrd Skynyrd, Atlanta Rhytm Section, ZZ Top, ale mal som radšej hard rockové skupiny z Anglicka.
Čo vlastne ten južanský rock je? Teraz hrám múdreho, ale kľudne ma zrušte, ak si myslíte niečo iné. Už názov napovedá, že tento rockový druh hudby vznikol v južných štátoch USA (napr. Florida, Georgia, Alabama, Kentucky, Mississippi, Arkansas, Oklahoma, Texas) a má v sebe prvky, booggie, blues, rhytm and blues, country a nesie v sebe silné korene prostredia, kde vznikol. Začiatky môžeme datovať do 60-tych rokov minulého storočia. Koniec múdrosti.
Môj hudobný jazýček váh sa naklonil smerom za Atlantik a začala sa mi páčiť harmónia dvoch gitár, pestrá hudobná forma, kde dominujú nástroje a hráči, ktorí na nich vedia hrať, si vychutnávajú jamovanie a pridávajú skladačku sekundových hudobných nápadov. Nakoniec pred rokom som objavil "novú" južanskú kapelu Blackberry Smoke. Neskôr som zistil, že skupina už existuje dvadsať rokov.

Blackberry Smoke sa sformovali v roku 2000 v americkom meste Atlanta, štát Georgia. Meno skupiny im vymyslel Chris Robinson, spevák The Black Crowes a nemá hlbší význam. Svoje miesto na výslní si vypracovali neustálymi koncertami po Amerike so známymi skupinami južanského rocku, ale aj napr. s výbornou country zostavou Zac Brown Band. Hlavným členom kapely je Charlie Starr, gitarista a spevák, skladateľ, ktorý sa podieľa skoro na všetkých skladbách.
Skupina prerazila svojím tretím albumom The Whippoorwill, ktorý vyšiel v auguste 2012 a v Bilboarde bodoval na 40. mieste. Predtým vydali v roku 2003 debut Bad Luck Ain't No Crime, tvrdý južanský rock a v roku 2009 Little Piece of Dixie v štýle južanský rock a country music. Skupina v prvých rokoch, ako je vidieť, nebola veľmi aktívna vo vydávaní albumov.
Blackberry Smoke – The Whippoorwill
/2012/
The Whippoorwill sa líši od prvých dvoch albumov tým, že nie je tak tvrdý, má jemnejší zvuk, spája viacero štýlov, piesne sú melodické, vyhýbajúce sa siahodlhým sólam. Je omnoho lepší ako ich predchádzajúce platne. Ponúka 14 piesní a dve koncertné nahrávky. Keď sa niekto chce zoznámiť s tvorbou skupiny, toto je základný kameň. Krkolomný názov platne je po vtáčikovi, podobnom lastovičke, ktorý sa zriedkavo vidí, lebo svojím hnedým strakatým sfarbením splýva s pozadím (les, stromy apod). Živí sa hmyzom a jeho počty klesajú. Je ho síce málo vidieť, ale o to viac počuť, spieva však iba večer, alebo nadránom. V Amerike dostal názov podľa spevu, jeho trilkovanie znie ako whip-poor-whill. Je nakreslený na obale platne. Whippoorwill = Lelek americký. V južných štátoch Ameriky nežije vo veľkom počte a v našich končinách žije napríklad lelek lesný. V Amerike a aj v Európe sa s ním spájajú rôzne povery.
1. Six Ways To Sunday
Rocková otváracia pieseň albumu zložená Charlie Starrom s rôznymi obmenami textu, ako chce milovať šiestimi spôsobmi ženu až do nedele. Klasická odrhovačka s plným zvukom skupiny, každý hráč hrá svoj part bravúrne a výsledok znie na jednotku. Je to posun od Lynyrd Skynyrd v zvukovej rovine do 21. storočia, kde môžete objavovať vždy niečo nové. A hrajú moje obľúbené dve gitary, ktoré sa vzájomne dopĺňajú a provokujú sa k odpovedi. Občas vystupuje do popredia klavír a rytmyčák núti poslucháča pridať sa do rytmu. Výborný klavír perličkuje v skladbe rytmus a Starrov hlas, nie veľmi výrazný a priebojný, spieva svoje "cesty v milovaní do nedele" v dobrej a oduševnenej nálade. Ako keby všetko do seba zapadlo, celkový dojem budí náznak, že budeme počuť dobre zohranú päticu muzikantov. Zvuk nahrávky je výborný a páči sa mi rozloženie nástrojov v stereobáze, ale vnímam aj hĺbku priestoru v nahrávke. Takto má znieť štúdiová kvalita zvuku.
2. Pretty Little Lie
Skladba sa rozbieha pokojnejším rytmom. Melódia je ľúbivejšia a je to singlová vec. Znova životný jednoduchý príbeh v texte. Pekné malé klamstvá sa skloňujú v rôznych variáciách. Gitary sú v tejto piesni dominujúce s masívnou podporou kláves. Bicie s basou v jednoduchších rytmoch sa pridávajú zase k celej a plnej stene v pozadí. Bubeník neváha používať činely, ktoré vlastne v celej skladbe neprestanú cinkať.
3. Everybody Knows She's Mine
Charlie Starr všetkých presvedčí, "Že všetci už vedia, že je moja" a nemusí sa vôbec hanbiť za tuto pieseň. V texte sa prirovnáva k boroviciam v Georgii, muškátovému vínu, ale tiež k horúcemu južnému letu. Je to optimistická pieseň s dobrou náladou a znovu s dobre šliapacou skupinou. Celá kapela vytvorí pocit, že hrajú preto, že táto hudba sa im páči a naozaj je ťažké niekoho dať do popredia.
4. One Horse Town
Malé mestečko Lanette v rannom svitaní. Akustická gitara so Starrovým spevom. Tu je to skladba, kde je cítiť starých Eagles, hoci zvuk je jemnejší a nie agresívny. Všetci hrajú s citom a nikto sa nechce tlačiť dopredu, hoci je v skladbe veľmi veľa vyhrávok a každý z muzikantov spestruje svoje hranie perličkovaním. Refrén a celá skladba je dobrá, náladová vec priam si pýtajúca kamión jazdiaci po celej Amerike. A opak je pravdou. Starr je v texte 23 ročný ženatý starý muž, s dvoma synmi v bejzbalovom tíme a to môže byť jediná vec, ktorá ich dostane von z mesta, lebo on im nemá čo ponúknuť a malé mestečko je ich konečnou stanicou. Iba že by použil sedlo a koňa? Pieseň si zobrala základy z country a blues, istým spôsobom je odlišná od skladieb na tomto albume, ale skupina ponúka peknú a zábavnú vec.
5. Ain't Much Left Of Me
Začiatok je pomalý, aby sa skupina rozbehla do rýchlejšieho tempa. Refrén je zase chytľavý a zvuk je tvrdší a temnejší. Sólo na gitaru s podporou kláves, potom zvoľnenie, nástup spevu a zase plný zvuk. V piesni je veľa smútku, nešťastia, biedy, ale aj keď je situácia zlá, predsa je pre čo žiť, aj keď už veľa z neho neostalo. Je to spievané posolstvo o tom, že sa nikdy nevzdávajte a vstaňte, aj keď už nie je sila. V niektorých textoch skladieb sa často vyskytuje slovo "Lord" (pán), čo asi svedčí o spevákovej viere.
6. The Whippoorwill
Titulná skladba albumu. Je to pomalá skladba, bluesová, s južanskými prvkami rocku a country. Charlie Starr píše svoje texty v obrazoch a dajú sa vysvetľovať všelijako. Je v nich láska dobrá aj zlá, rôzne emócie, smútok, smiech, rezignácia a vystúpenie z biedy. Je určite veľkým handicapom, že ich neviem úplne a presne chápať, lebo som príliš ďaleko od južanského prostredia a významy mi jednoducho unikajú. Text piesne: "Prechádzať životom spravodlivo ako keby ma kazateľ postavil na cestu do Jericha, bosý a usmievavý stojaci pri klavíri…" Význam: Cesta do Jericha, alebo Jeruzalemská cesta je najdlhšia púť na svete a spája rôzne náboženstvá, národy, kultúry a predstavuje vzájomnú toleranciu a uznávanie životných štýlov. Čo to presne znamená v texte neviem. Text v časti, kde sníva o tom, že bude počuť spievať lelka, ten zaspieva jeho pieseň a bude ho volať jeho menom, on zahanbene skloní hlavu, mi nedáva celkom zmysel. Ale keď sa to snažím pochopiť, vyjde mi text: snívam, že budem počuť lelka spievať o tom, že zaspievala moju pieseň a ona na mňa volala mojím menom, ale ja som zahanbene sklonil hlavu. Význam sa zmení a zrazu je to pieseň o láske, ktorú prezradí whippoorwill. Starrove texty sú niekedy v hádankách, inokedy priame a jasné, drží sa textovo pravidiel južanského rocku, aj keď on hudbu Blackberry Smoke tak nevidí a definuje to ako zmes rocku, country a southern rocku. Už len pre túto textovú ukážku nie je hudba Blackberry Smoke na jedno počutie. Je nutné si viackrát počúvanie zopakovať a až vtedy sa dá objaviť skryté posolstvo a krása hudby v ich podaní. Titulnej skladby sa to týka asi najviac z celého playlistu LP. Nebudem skladbu hudobne popisovať, lebo verím, že si ju každý vypočuje a urobí si svoj názor sám. Sme v ére možností – pusti si skladbu The Whippoorwiill na Youtube.
Text a preklad:
The Whippoorwill
Going through life the righteous way
Prechádzam životom, spravodlivou cestou
The only way so the preacher would say
Jediným spôsobom, ako by kazateľ povedal,
You put me on the Jericho road
že si ma postavil na cestu do Jericha
Barefoot and smiling, standing there by the piano
Bosý a usmieval sa, stál tam pri klavíri
Well, I dreamed I heard that Whippoorwill sing
No, snívam, že som počul, že lelek bude spievať
Yeah, she sang my song and called me by name
Áno, spievala moju pieseň a volala ma menom
Well, I hung my head in shame, oh yeah
No, zahanbene som zvesil hlavu, ach áno,
You sewed my years together like a patchwork quilt
ty si mi zašil spoločné roky ako patchworková perina,
Your bougainvillea's bloom it'll never wilt
tvoja popínavá kvetina zakvitla, nikdy nezanikne
The lessons I remember and some that I forgot
Ponaučenia, ktoré si pamätám, a niektoré, ktoré som zabudol,
Are precious and pure now, like the one honeysuckle drop
sú vzácne a čisté ako jedna kvapka zimolezu.
Well, I dreamed I heard that Whippoorwill sing
No, snívam, že som počul, že lelek bude spievať
Yeah she sang my song and called me by name
Áno, spievala moju pieseň a volala ma menom
Well, I hung my head in shame, oh yeah
No, hanbou som zvesil hlavou, ach áno,
I'm gonna sing my song with the Whippoorwill
Budem spievať túto pieseň s Whippoorwillom
In a sweetheart harmony
V sladkej vysokej harmónii
Though I know just what went with her
Aj keď viem, čo s ňou šlo
She's always here with me
Vždy je tu so mnou
She's always here with me
Vždy je tu so mnou
Well, I dreamed I heard that Whippoorwill sing
No snívam, že som počul, že whippoorwill bude spievať
Yeah, she sang my song and called me by name
Áno, zaspievala moju pieseň a zavolala ma menom
Well, I dreamed I heard that Whippoorwill sing
No, snívam, že som počul, že Whippoorwil bude spievať
Yeah, she sang my song and called me by name
Áno, spievala moju pieseň a volala ma menom
I'm starting all over again
Začínam odznova
Yes, I'm starting all over again
Áno začínam odznova
Treba viac niečo dodávať? Myslím si, že nie. Hudba a text povedia všetko.
7. Lucky Seven
Šťastných sedem. Starr v texte opisuje svoj život, ktorý nie je ľahký a úplne čistý, ale verí, že má šťastné číslo 7, ktoré ho dostane tam, kde nie sú problémy, tancuje tak ako si píska, možno sa do neba nedostane, pre zlé veci, ktoré robí, ale ak sa chceš rýpať v jeho živote, nebude to ľahké. Je to veselo-trpké a je to jednoduchšia skladba. Nezaprie však v sebe južanský drive a obrazy tancujúcich na ich koncerte. Na týchto nahrávkach je prekvapujúce to, že máte kopec nových vecí a stále niekto vystúpi v sóle a presadí svoj nástroj. Pritom všetci hrajú výborne a snáď v nahrávke nie je jediná chyba.
8. Leave A Scar
Spanilá rockova jazda v rezkom tóne, country blues na plný plyn. Riffujúce banjo skladbe dodáva cveng a núti poslucháča pridať sa. Všetci sa ženú za trilkujúcim strunovým nástrojom. Starr pridáva spev a dotvára pocit, spieva: "Všetko čo po sebe zanechám, je stará gitara, nemôžem zmeniť svet, ale nechám tu jazvu. (All I leave behind me is a ragged old guitar.I may not change the world but I'm gonna leave a scar)." Vždy po slove "scar" nastáva útok gitary na ucho poslucháča a túto skladbu začnete mať radi. Je to odpaľovačka.
9. Crimson Moon
Hard rock v prvých sekundách, potom mierna romantika s textom o dvoch mladých ľuďoch, ktorí hľadajú prvú lásku pod "Crimson Moon". Básnický náznakový text v rockovej skladbe. Skladba sa spomalí, potom sa rozbehne, sólo s meniacimi sa nástrojmi v popredí. Starr spieva príbeh piesne, sloha je pomalá, refrén je hardrockový.
10. Ain't Got The Blues
Do skladby je pridaný efekt gramofónovej ihly. Hlas skreslený do obdobia 1940-1950. Potom začína celá skupina v plnom zvuku, dominuje kopák, klavír, k Starrovi sa pridávajú vokalisti. Stará vec v tradičnom starom šate, v novom podaní, asi všetci sa vracajú ku svojím vzorom z minulého storočia.
11. Sleeping Dogs
Tak toto je vec, ktorú treba počuť. To snáď sa nedá lepšie zahrať a nahrať. Nálada ako stvorená na dobré a príjemné veci. Svätá pravda v Starrových slovách: "A lepšie je nechať spiace psy ležať, pretože o chvíľu pochopíte prečo. (And you better let the sleeping dogs lie,Soon you gonna understand why)." Aranžmán piesne je jednoduchší, ale o to pôsobivejší. Jedna z top na platni.
12. Shakin' Hands With The Holy Ghost
Dve gitary krásne kreslia melódiu, stále viac a viac sa mi to páči. Rezká pesnička s chytľavým refrénom. Rytmus je podporovaný dobrými bicími, do popredia vystupuje rytmický bubon a dve harmonizujúce gitary Charlieho Starra a Paula Jacksona si zahrajú v sóle. Skladba opäť vkráča do refrénu a znovu to, čo som už spomínal predtým, občas hodí niekto do pľacu vyhrávku, síce len na sekundu, ale stojí to za to.
13. Up The Road
Pomalá, smutná pieseň, o prehre, ale aj o víťazstve. Aj keď prehráš, vždy nájdeš niečo, čo Ťa posunie dopredu. "(You may not have the winnin' hand, But you ain't got to fold.) Nemusíš mať ruku, ktorá vyhrá, ale teba to nezloží." Charlie Starr smutným hlasom spieva za doprovodu klavíra a jemným pritakávaním kapely, aby sa vzápätí presadila naplno v citlivom prednese smutnej piesne, klavír je podporovaný klávesmi, gitary majú pauzu a zvuk je popový. Normálna "americká" skladba. V hodnotení 2 LP som menoval najviac Charlieho Starra a raz Paula Jacksona, ale len preto, že je frontman a je najviac počuť. Skláňam klobúk pred trojicou hudobníkov, ktorí s nimi hrajú, menovite Richarda Turnera, Brita Turnera a Brandona Stilla.
+ 3 Bonusy/EU vydanie
14. Country Side Of Life
Cover verzia od skupiny Wet Willie /štát Alabama/ z roku 1974. Originálny zvuk nahrávky zodpovedá 70. rokom, niečo ako Dobbie Brothers v southern uhladenom rocku. Country Side Of Life v podaní Blackberry Smoke je o inom. Basou je hraná ústredná melódia, ženské vokály spríjemňujú spev /tak ako originál/, trošku funky zvuk, klávesy s basou, sprievodná gitara prilepšuje drive skladby. Všetci sa odviazali v rytme, dýcha to životom.
15. Pretty little Lie (Live)
Koncertná nahrávka singlovej skladby z albumu. Je vidieť, že skupina to zvláda aj naživo. Zvuk je zahmlenejší, ale vedia to, má to viac života a na koncerte musia byť naozaj dobrí a nikto nemôže odchádzať nespokojný. Všade cítim, že hrajú s radosťou a pre ľudí. Nie je to umelé a nie je to hrané z povinnosti.
16. Six Ways To Sunday (Live)
To isté platí aj v tejto skladbe hranej "live" ako o "pekných malých klamstvách" o niekoľko riadkov vyššie. Mám radšej štúdiové nahrávky, kde môžem oceniť, alebo pokarhať všetkých zúčastnených, ale živá ukážka atmosféry na koncerte, kde skupina podáva slušný výkon, je vhodným bonusom navyše.

Tretí album Blackberry Smoke je výborná doska, ktorá nikoho nemôže uraziť. Je to dobrý odrazový mostík na poznanie skupiny. Ich ďalšie albumy – Holding All The Roses /február 2015/, Like An Arrow /október 2016/ Find A Light /apríl 2018/ – sa už okamžite zaraďovali na popredné miesta rebríčkov a nič iné neostáva, ako s napätím čakať, čim znovu prekvapia. Aj keď to nie je myslené doslova, lebo skupina typu Blackberry Smoke má cestu jasnú a predom známu, záleží len na kvalite ich vydaných platní. Chlapci sa snažia, aby nezneli rovnako a zvyšujú kvalitu skupiny.
ZOSTAVA:
Charlie Starr – lead vocals, guitar, pedal steel, banjo
Richard Turner – bass guitar, vocals
Paul Jackson – guitar, vocals
Brandon Still – piano, organ
Brit Turner – drums, percussion
NOTES:
Blackberry Smoke, Clay Cook, Matt Mangano, Zac Brown – producers.
Matt Wallace, Mike Fraser – mixing.
Stephen Marcussen – mastering.
Trey Wilson – production coordinator.
HODNOTENIE:
album celkom – 4 hviezdičky z 5;
zvuk nahrávky – 4,5 hviezdičiek z 5;
album v mojej duši – 4 hviezdičky z 5.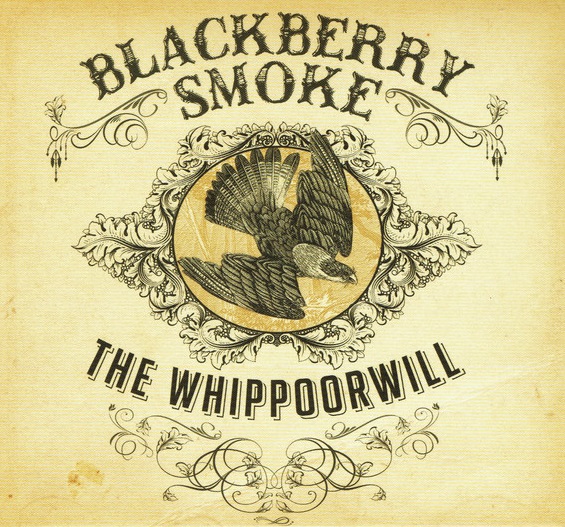 The Whippoorwill
Blackberry Smoke
Southern Rock, Country Rock
Southern Ground Artists
2012
LP
16
2 LP, limitovaná EU reedícia, Earache ‎– MOSH511LPX /2018/