CD Mellow Records – MMP 286  /1996/
Jediné album Vincenza Capuana vyšlo v roce 1975 u tehdy teprve začínající společnosti Divergo a potom až o jedenadvacet let později (na CD) prostřednictvím labelu Mellow. Je to album prakticky neznámé, přehlížené a tak ho můžeme s klidem zařadit do zástupu zaprášenejch zapomenutostí a rarit…
Obálka alba Storia mai scritta patří k těm poněkud matoucím. Enzo byl sice od pohledu sympaťák, nicméně na rockera bych ho netipoval ani náhodou. Myslel bych si, že je to nějakej popík, v lepším případě folk, ale kdepak. On je to spíš klávesově orientovanej symphonic prog, s dlouhými instrumentálními pasážemi a mým uším lahodící, zvukomalebnou kulisou. Koncepční album obsahuje jen jednu rozsáhlou kompozici rozdělenou na osm částí, ale Capuanův zpěv je slyšet pouze v úvodní In forma di vita a závěrečné Il buio. Zbytek je komplet instrumentální.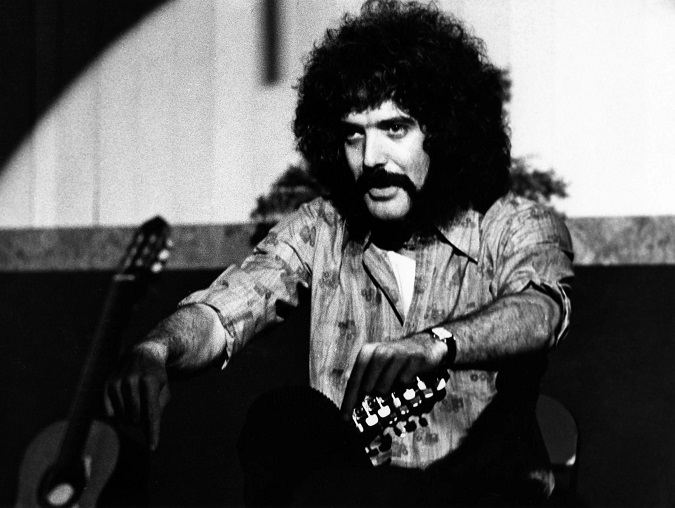 Hudbu složil Capuano, ovšem pod texty je podepsanej jistej Mario De Luigi jr. Enzo nahrál akustické kytary a něco kláves, se zbývajícími klávesovými nástroji a aranžmá mu pomohl Mario Panseri a posledním do party se stal bubeník Giovanni D'Aquila. Deska se nahrávala ve studiu Mondial Sound v Miláně, hotová byla 8. dubna 1975 a ještě téhož roku vyšla u labelu Divergo, pod katalogovým číslem DVAE 002.
Je to klidné, melodické album které neurazí a to ani přes popové tendence, které na něm čas od času problesknou. Úvodní In forma di vita by asi mohla nejednoho odradit (taky jsem skuhral a vrčel, že to není žádnej rock a ať se s tím jdou vycpat), ovšem to by byla škoda. Už od následující La nuova stagione to začíná být docela zajímavá muzika, i když ani na chvíli nepřekročí hranici příjemné zvukové kulisy, nebo – chcete li – podkresu.
Nemůžu říct, že bych se u desky přímo nudil, ale je těžké se na ten poslech nějak soustředit. Vesměs se někdy v průběhu čtvrté Risveglio přistihnu u toho, že myslím na něco docela jiného a proberou mě až ruchy v závěru šesté La natura dentro. Je to zlomovej okamžik, protože navazující, osm minut dlouhá Memoria patří k nejlepším položkám celého alba. Závěrečná Il buio se pomaloučku rozplyne v ruchu velkoměsta a osmatřicet minut dlouhá placka skončí dřív, než bych řekl švec…
Zajímavé je i to, co bylo pak. U muziky Capuano sice zůstal, ale věnoval se především filmovým soundtrackům a hudbě k animovaným seriálům pro děti. Vedle toho studoval zpěv a nakonec se stal úspěšným operním zpěvákem. Enzova diskografie tak vedle alba Storia mai scritta  obsahuje i několik CD s operní hudbou a na YouTube jsem narazil rovněž na jeho kanál s klipy z různých představení. Musím uznat, že mu to zpívalo zatraceně dobře.
Vydání od Mellow Records je v klasické plastové krabce a kromě červeného kotouče neobsahuje nic, než kopii obalu původního vinylového alba. Zadní strana krabky nabízí ještě sestavu s tracklistem, ale to už je opravdu všechno. Zvuk CD je ovšem dobrej a nejenom ze sběratelských důvodů jsem rád, že ho mám. Za tři.
SKLADBY:
1. Parte I: In forma di vita (7:58)
2. Parte II: La nuova stagione (2:27)
3. Parte III: Volo nella notte (4:30)
4. Parte IV: Risveglio (3:50)
5. Parte V: Dal tempo vissuto (1:28)
6. Parte VI: La natura dentro (5:10)
7. Parte VII: Memoria (8:04)
8. Parte VIII: Il buio (3:31)
SESTAVA:
Enzo Capuano – canto, chitarra 12 corde, chitarra classica, synthesizer
Mario Panseri – piano, organo, synthesizer, archi elettronici
Giovanni D'Aquila – percussioni
Storia Mai Scritta
Enzo Capuano
Symphonic Rock, Prog Rock
Divergo
1975
LP
1
CD Mellow Records - MMP 286 /1996/