Mogwai je škótska skupina, zaraďovaná k štýlu "post-rock" (inštrumentálny rock, bez spevu). Vznikla v r. 1996 v Glasgowe. Ich hudba je charakteristická dlhými gitarovými inštrumentálkami s výrazným dynamickým kontrastom, melodickou basovou linkou, častým používaním skreslenia a rôznych zvukových efektov.

V r. 1991 začali spolu hrať dlhoroční priatelia Stuart Braithwaite a Dominic Aitchison, o štyri roky neskôr prizvali bývalého spolužiaka Martina Bullocha. Názov skupiny Mogwai si dali podľa príšeriek z filmu Gremlins. Mogwai v čínštine znamená duch diabla alebo diabol.
Skupina debutovala vo februári 1996 so singlom Tuner/Lower. Koncom roka dostali ocenenie hudobného magazínu za singel Summer a podobne na začiatku r. 1997 za skladbu New Paths to Helicon. V dobe, keď nahrali výborný EP album 4 Satin, prišiel do skupiny Brendan O'Hare. Spolu nahrali debutový album Mogwai Young Team, ktorý vyšiel v októbri 1997 a dosiahol 75. priečku v UK Albums Chart. Krátko na to O'Hare odišiel a venoval sa svojmu projektu Macrocosmica and Fiend.
V r. 1998 vydali 2-diskovú kolekciu remixov Kicking a Dead Pig, potom o niekoľko mesiacov EP No Education = No Future (Fuck the Curfew). Pred nahrávaním druhého albumu Come On Die Young prizvali do skupiny Barryho Burnsa. Burns už predtým s nimi odohral niekoľko koncertov na flautu alebo príležitostne na klavír. Album vyšiel v r. 1999 a dosiahol v britskom rebríčku 29. miesto. V štúdiu i na koncertoch hrával s nimi na husliach ich priateľ, škótsky muzikant Luke Sutherland.
Skupina mala niekoľko rokov zmluvu s glasgowskou indie značkou Chemikal Underground, potom ich nahrávky distribuovali spoločnosti Matador v USA a Play It Again Sam vo Veľkej Británii. Neskôr založili vlastnú značku Rock Action Records.
V r. 2001 sa album Rock Action vyšplhal na 23. miesto v rebríčku, čo bolo najvyššie umiestnenie z ich diskografie. O rok neskôr vydali EP My Father, My King, v r. 2003 vyšiel titul s ironickým názvom Happy Songs for Happy People, v r. 2005 vydali výber live nahrávok Government Commissions: BBC Sessions 1996-2003. Štúdiový album Mr. Beast (2006) je relatívne mäkší, s úbytkom progresívnych prvkov.
V r. 2006 skupina nahrala hudbu k filmu Zidane: A 21st Century Portrait, soundtrack vyšiel o rok neskôr. Tiež v r. 2006 spolupracovali s Clintom Mansellom na soundtracku k filmu The Fountain (Fontána).
Na konci leta 2008, v spolupráci s Roky Ericksonom, vydali EP Batcat a to ohlásilo novú štúdiovku The Hawk Is Howling, nahratú s producentom Andy Millerom.
V roku 2009 vytvorili dokument o post-rocku, Introspective. Na rok 2010 Mogwai ohlásili ich prvý koncertný film Burning (réžia Vincent Moon), premiéru mal na Glasgow Film Festival vo februári 2010, predával sa v boxe s live albumom Special Moves. Film aj album obsahujú ich koncerty v Brooklyne počas amerického turné v r. 2008/2009.
V januári 2010 vydražili v aukcii klavír, na ktorom hral Burns počas svetového turné 2006-2007 a výťažok darovali postihnutým zemetrasením na Haiti. Tiež v apríli 2011 darovali skladbu do projektu Peace na podporu Amnesty International.
V septembri 2010 Mogwai opustili distribučnú značku Matador Records a na predaj nahrávok v Severnej Amerike podpísali zmluvu so spoločnosťou Sub Pop. Dňa 27.10.2010 Mogwai ohlásili siedmy štúdiový album Hardcore Will Never Die, But You Will (produkoval Paul Savage, ako aj ich debut). Vyšiel 14.2.2011 a v Británii dosiahol 25. miesto v UK Albums Chart. Neskôr v r. 2011 na značke Sub Pop vydali EP Earth Division s dovtedy nevydaným materiálom, nahratým počas "Hardcore session".
V r. 2012 vyšiel remixový album A Wrenched Virile Lore, sú na ňom remixy skladieb z albumu Hardcore Will Never Die, But You Will.
Dňa 19.7.2013 zahrali v Manchestri prvýkrát soundtrack k filmu Zidane: A 21st Century Portrait. Bolo to v rámci turné po Veľkej Británii.
Vydanie 8. štúdiového albumu Rave Tapes ohlásili na 28.10.2013. Vyšiel až 20.1.2014, v USA o deň neskôr. V UK album charts dosiahol 10. priečku a v apríli 2014 to bol najviac predávaný vinyl v UK.
Nasledovala EP platňa Music Industry 3. Fitness Industry 1. (1.12.2014).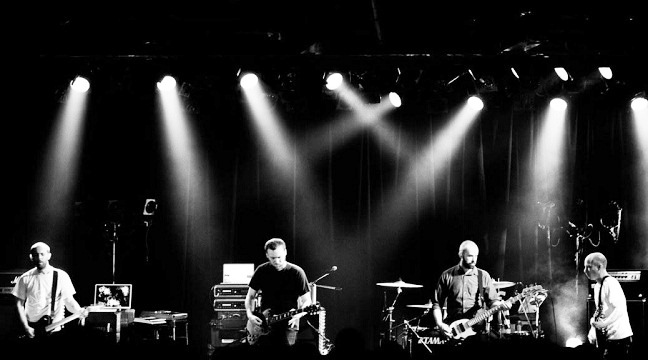 V júni 2015 Mogwai oslávili svoje 20. výročie sériou kvalitných koncertov vo V. Británii a Írsku. 23. októbra boli poctení retrospektívnym boxom Central Belters (3CD alebo 6 LP).
Dňa 15.11. gitarista John Cummings opustil skupinu, aby sa mohol venovať vlastným projektom.
V tomto roku Mogwai dodali hudbu k dokumentárnemu filmu ich priateľa Marka Cousinsa, Atomic, Living in Dread and Promise. Soundtrack prepracovali a vydali ako nový album Atomic (1.4.2016).
Nasledovalo rozsiahle koncertné turné, ktoré odštartovali 1. mája 2016 v Rakúsku a pokračujú v západnej Európe a Japonsku.
DISKOGRAFIA
Štúdiové albumy
1997 – Mogwai Young Team
1998 – Kicking a Dead Pig – Mogwai Songs Remixed
1999 – Come On Die Young
2001 – Rock Action
2003 – Happy Songs for Happy People
2006 – Zidane: A 21st Century Portrait (soundtrack)
2006 – Mr Beast
2008 – The Hawk Is Howling
2011 – Hardcore Will Never Die, But You Will
2013 – Les Revenants
2014 – Rave Tapes
2016 – Atomic

Live albumy
2006 – Government Comissions: BBC Sessions 1996-2003
2010 – Special Moves
2011 – Mogwai – iTunes Festival London 2011
Plus štyri kompilačné albumy, množstvo singlov a EP.
ZLOŽENIE SKUPINY
V súčasnosti
Stuart Braithwaite – guitar, vocals (1995–súčasnosť)
Dominic Aitchison – bass, guitar (1995–súčasnosť)
Martin Bulloch – drums (1995–súčasnosť)
Barry Burns – guitar, bass, keyboards, synthesizer, flute, vocals (1998–súčasnosť)
Zakladajúci členovia
Brendan O'Hare – keyboards, guitar (1997)
John Cummings – guitar, laptop (1995–2015)
Príležitostná spolupráca, výpomoc na koncertoch
Luke Sutherland – violin, guitar, vocals (1998–súčasnosť)
James Hamilton – drums (koncertný záskok za Martina Bullocha) (2011-2013)
Scott Patterson – guitar (koncertný záskok za Johna Cummingsa) (2015)
Oficiálna web stránka Mogwai.