Už velmistrovské zahájení Funeral Empire s pre-metalovým riffem naznačí, nakolik že se personální změny v kapele odrazí v muzice samotné. Zpívající kytarista i klávesák Ollie Halsall se ukáže být pro jádro Tempest Hiseman/Clarke tou nejlepší volbou, což plně prokáže v každém songu druhé studiovky, která představuje jedinečnou kombinaci úderného rocku s prvky progrese, psychedelie, 60's popu i špetkou jazzu.
Halsallem přibroušená verze beatlesovské Paperback Writer je tím nejlepším poděkováním Geoffu Emerickovi, jak se o něm lze dočíst i v bookletu alba, skočná funkovice Stargazer zas perlou (ne)ztracenou mezi ostatními drahokamy, z nichž nejtřpytivějším je hardrockový epos Dance To My Tune, který z pestrého rozjezdu a něžnosmutné mezihry ve střední části dospěje ke strhujícímu závěru, v němž rytmická sekce Halsallovi slouží jako trampolína pro jeho kytaru.
Titulní blues-jazzový song s příjemně poklidnou atmosférou ozdobí pianový doprovod, v jediném společném díle dvojice Halsall/Hiseman se zpěvným názvem Yeah Yeah Yeah, jež patřilo mezi nejoblíbenější koncertní čísla Tempest, bicmen připomene, čeho že by byl schopen, kdyby situace žádala. Rozdává razítka na potvrzení o dokonalosti alba se stejnou vervou, s jakou u nás politici předávali řády jednomu zasloužilému strýci z daleké Kanady, o němž ještě včera neměli ani tucha.
Album ale pokračuje čarokrásnou fantazií Waiting For A Miracle, v níž dá pro změnu Clarke vědět i o svých pěveckých kvalitách, a vrcholí přívalovou bouří Turn Around, která symbolicky dává vyniknout všem.
Názorný příklad schopností všech zainteresovaných je vhodně zvolenou tečkou za výjimečným rockovým albem, které je tím nejlepším odkazem Ollieho Halsalla, bo nezaslouženě přehlížený titul si v ničem nezadá s nejlepšími kusy v podání vzývaných Cream, či The Experience Jimiho Hendrixe.
Turn Around!!!
SKLADBY:
A1. Funeral Empire (Ollie Halsall) 4.25
A2. Paperback Writer (Lennon/McCartney) 2.30
A3. Stargazer (Clarke/Bottomley) 3.36
A4. Dance To My Tune (Clarke/Bottomley) 7.50
B1. Living In Fear (Ollie Halsall) 4.19
B2. Yeah Yeah Yeah (Halsall/Hiseman) 3.40
B3. Waiting For A Miracle (Ollie Halsall) 5.18
B4. Turn Around (Clarke/Bottomley) 6.12
Nahráno: Air Recording Studios, Londýn (říjen-listopad 1973)
Zvuková režie: Geoff Emerick
Produkce: Gerry Bron
Design přebalu: Fabio Nicoli
Fotografie: Fin Costello
SESTAVA:
Jon Hiseman – bicí, perkuse
Ollie Halsall – kytara, Moogův syntezátor, piano, zpěv
Mark Clarke – basová kytara, zpěv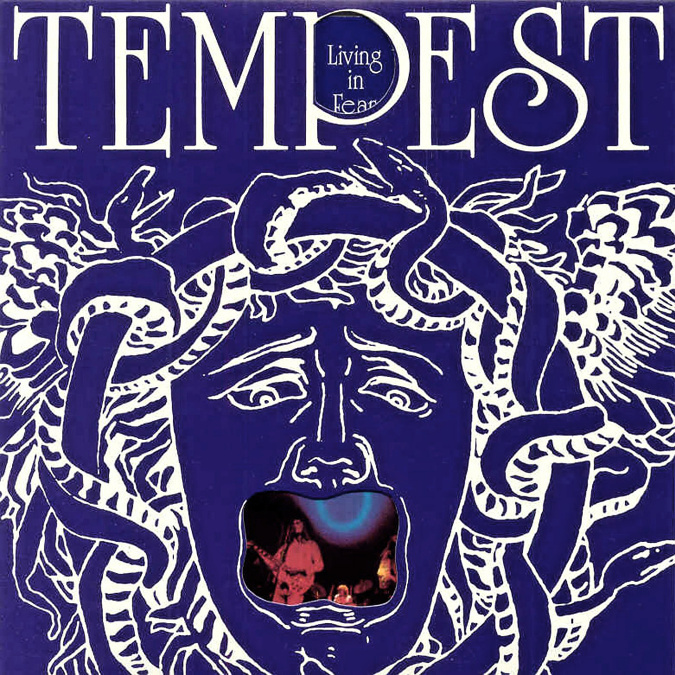 Living In Fear
Tempest
Hard Rock
Bronze Records
1974
LP
8