Ačkoliv sdílím snad nejrozšířenější názor na naprosto zásadní význam prvních šesti alb "klasiků" Black Sabbath a jejich postavení v diskografii skupiny, na rozdíl od většiny k nim počítám také sedmý počin, "Technical Ecstasy".
Nakonec – rovněž on je společným dílem původní sestavy Iommi, Osbourne, Butler a Ward, byť vztahy v kapele měly dávno k ideálu zatraceně daleko… (Další nahrávka už představuje jakousi agónii první etapy existence Sabatů, kdy kapela, po odchodu Osbourna z jejích řad, nachystala nový materiál s Davem Walkerem (dříve například Fleetwood Mac a Savoy Brown) u mikrofonu, aby se pak Ozzy vrátil, horkou jehlou ušil se zbytkem členů zcela jiné a prapodivné album, které jen prodloužilo předsmrtné křeče a o chvíli oddálilo nevyhnutelné.)
Ale zpět k Technické extázi…
Ano, souhlasím, že daleko větší (technické i netechnické) vytržení skýtá poslech jiných kusů z diskografie "sabatích černokněžníků", na druhou stranu se zde nachází dost velmi silných skladeb, jež ční vysoko nad průměr; a ty slabší zase níž než k němu neklesají (s jedinou nepatrnou výjimkou)…
Kdybych měl z první sedmičky vyhodit jednu desku, budu hodně dlouho váhat, nejspíš však nakonec zvolím "Vol 4", místo "Technical Ecstasy".
Hned úvod, svižná pecka "Back Street Kids", nemá chybu.
Potom následuje "typická sabaťárna" "You Won't Change Me", výborná jak hudebně, tak textově.
Velký "přešlap" je (podle mne) Billem Wardem nazpívaná "It's Alright"; tahle skladba, ač není vůbec špatná, mi na album naprosto nepasuje a působí tu značně rušivě. Vyřadil bych ji i za cenu zkrácení hrací doby z necelých 40 minut na 36.
"Gypsy" už zase šplhá kvalitativně vzhůru, a byť naprostých výšin nedosahuje, přesto vyčnívá nad následující (jen stěží nadprůměrnou) "All Moving Parts (Stand Still)", stejně jako nad "Rock 'N' Roll Doctor"; tu ještě sráží její děsný zvuk…
Pak ale přichází na řadu vynikající balada "She's Gone" (jejíž předělávku "Lásko, voníš deštěm", se skvělým textem Jaromíra Nohavici, našinci znají z repertoáru Marie Rottrové). Mám ji raději než (také povedenou) "Changes" z "Vol 4" a řadím ji po bok "Solitude" z "Master Of Reality" či "Planet Caravan" z "Paranoid".
No a teď je ke slyšení to nejlepší, přesně podle pravidla "to nejlepší nakonec" – "Dirty Women". Přes sedm minut dlouhá píseň, do puntíku splňující všechny požadavky na vrcholný produkt nejvyšší kvality, značky Black Sabbath.
Čtyři excelentní skladby, jedna "pouze" nadprůměrná, jedna podprůměrná a dvě průměrné – dohromady to dává velice zdařilé album, za něž by mnohé spolky byly víc než vděčné (tehdy i dnes); u Iommiho smečky jsme si však zvykli na poněkud silnější nahrávky…
1. Back Street Kids (3:49)
2. You Won't Change Me (6:44)
3. It's Alright (4:06)
4. Gypsy (5:12)
5. All Moving Parts (Stands Still) (5:06)
6. Rock 'N' Roll Doctor (3:35)
7. She's Gone (4:57)
8. Dirty Women (7:09)
Tony Iommi – guitar
Ozzy Osbourne – vocals
Geezer Butler – bass
Bill Ward – drums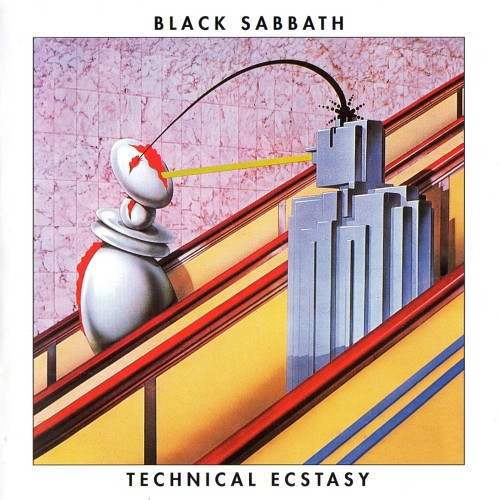 Technical Ecstasy
Black Sabbath
Hard rock
Vertigo
1976
LP
8