V roku 1973 sa islandskej kapele podarilo vydať jediný album, vo vlastnej réžii a náklade tisíc kusov. Nahrával sa v Dánsku. O jeho vzniku a okolnostiach, kto všetko sa o to pričinil, si môžete prečítať v tunajšom profile Icecross. 
Ak si uvedomím, že skupina si zaplatila jednodňové nahrávanie a stihla zvečniť svoju tvorbu do drážok, s úctou sa skláňam pred schopnosťami týchto muzikantov! Tí Veľkí z branže jeden mesiac iba ladili svoje nástroje. A dnes to musí "zachraňovať" akýsi pán Wilson.
Islanďania ponúkli 8 skladieb z vlastnej dielne, spievané v anglickom jazyku. Po hudobnej stránke to vnímam ako hard rock. Experti, platení i amatérski, sa predbiehajú k prirovnaniam ich tvorby k množstvu interpretov, pritom padajú mená ako Black Sabbath i King Crimson, ďalší ju rovno odporúčajú fanúšikom Leaf Hound, Blue Cheer, Elias Hulk, Iron Claw, Jerusalem, Necronomicon, Hairy Chapter, Incredible Hog, Dust, Pentagram a podobne. Ako sa vraví, každá minca má dve strany – iní tvrdia, že prirovnať to k sabatovine môže iba ten, kto si Iommiho družinu nikdy poriadne nevypočul. Potencionálny záujemca si však musí vytvoriť vlastnú mienku.
Na úvod tu máme rezkú rockovicu Wandering Around. V polovici si bubeník strihne aj krátke sólo. Tu by sa patrilo dodať, že Ásgeir Óskarsson sa nečinil pri skladaní repertoáru albumu Icecross, ale zato mu dodal taký rukopis, že aj najväčšie hviezdy vtedajšieho hardrockového neba by sa od neho mali čo učiť. Ako to raz spomenul pri jednej našej debate kolega Snake – ten chlapec akoby za bicími celý čas sóloval. Fantázia! A skutočnosť, že ho neskôr o spoluprácu požiadali aj jazzoví hudobníci, asi nie je náhodná. Samozrejme, ani v najmenšom nechcem znížiť výkon jeho kolegov Axela a Ómara. Obaja sa pričinili o hutný a temný zvuk, pri base dokonca s využitím husľového sláčika. Spev je rovnako fajn, ich spoločný prejav k tejto hudbe pasuje.
Solution je zadoomaná záležitosť. Gitara sóluje ostošesť, basa sa rovnako nechce dať zahanbiť a Ásgeir si "búcha" to svoje. A takto to funguje na celej platni. Pomalá A Sad Man's Story štartuje akustickou gitarou a svojou troškou do mlyna prispel aj zvukový inžinier Tommy Seabach, ktorý skupine s nahrávkou pomáhal v kodaňskom štúdiu Rosenberg. Pekná balada.
Za vrchol albumu považujem Jesus Freaks, v strednom tempe sa vlečúcu a zároveň najdlhšiu pieseň tejto kolekcie, aj keď o tomto primáte rozhodujú iba sekundy. 1999 nabrala vitamíny od dvojky. V podobnom duchu sa nesie i Scared, v druhej časti Icecross trochu zvýši tempo, zabudne na spev a sóluje ako o život. Nightmare pridá na rýchlosti a záverečnú záležitosť The End by som atmosférou prirovnal k úvodu.
Prvú polovicu platne vnímam ako silnejšiu, nič to však nemení na mojej celkovej náklonnosti k nahrávke ako takej. Výborné dielko!
Dodatok:
V roku 2013, pri príležitosti 40. výročia od vydania albumu, prišla americká firma Rockadrome s prvou oficiálnou dotlačou LP a prvým oficiálnym vydaním diela na CD. Stalo sa tak s požehnaním skupiny. Záslužný počin, o tom žiadna pochybnosť. Osobne mi však v priloženom texte chýbajú spomienky a vyjadrenia samotných hudobníkov.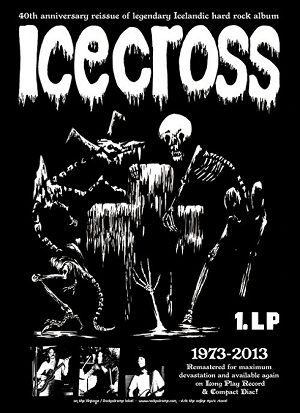 SKLADBY:
1. Wandering Around (Axel Einarsson) 3:25
2. Solution (Ómar Óskarsson) 5:36
3. A Sad Man's Story (Ómar Óskarsson) 2:49
4. Jesus Freaks (Axel Einarsson) 5:44
5. 1999 (Axel Einarsson) 5:00
6. Scared (Ómar Óskarsson) 3:58
7. Nightmare (Axel Einarsson) 4:53
8. The End (Axel Einarsson) 5:38
ZOSTAVA:
Axel Einarsson – leslie electric & acoustic guitars, vocals
Ómar Óskarsson – bass, acoustic guitar with bow, vocals
Ásgeir Óskarsson – drums, percussion, backing vocals, bass (A Sad Man's Story)
+
Tommy Seabach – keyboards (A Sad Man's Story)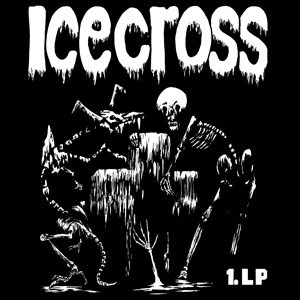 Icecross
Icecross
hard rock
Icecross Records
1973
LP
8
CD - Rockadrome, 2013