CD Mercury ‎– UICY-94525  /2010/
Albem Uomo di pezza si Le Orme vytesali pomník, ovšem nesmrtelnost jim zajistila až teprve následující placka Felona e Sorona, z roku 1973. Z té se v Itálii postupem času vyklubala takřka posvátná kráva a národní kult…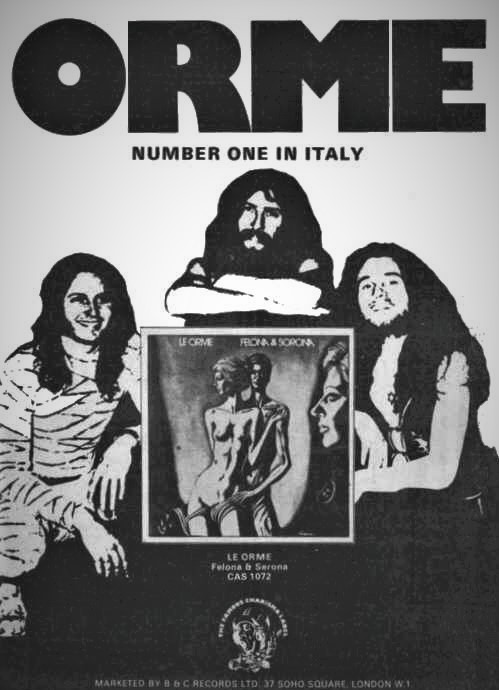 Obě alba jsou si docela podobná jak po stránce zvukové, tak kompoziční a je pro ně charakteristické střídání jemných, vytříbeně melodických pasáží a energickejch laufů. Texty spojuje koncepční storka popisující příběh dvou planet, které se otáčejí kolem sebe, aniž by kdy přišly do vzájemného styku. Felona září a vzkvétá, ovšem temná Sorona je domovem morovejch ran a katastrof. Na té bych žít nechtěl, nicméně v druhé polovině příběhu se role obou planet obrátí.
Úvodní Sospesi nell'incredibile je vynikající, dramatickou kompozicí, která nabízí všechny ingredience gulášku Rock Progressivo Italiano (RPI) pěkně po kupě. Ze začátku pěkně zhurta a po klidnější části, vroucně odzpívané Aldem Tagliapietrou přichází dlouhá instrumentální p(m)asáž. Pagliuca střídá rejstříky kláves a Michi Dei Rossi do toho mlátí, až lítají třísky, aby se v závěru skladby nadechl i ke krátkému bubenickému sólu. Myslím, že tady si fanoušek progresivního rocku přijde opravdu na své…
Následující, sotva dvě minuty dlouhá Felona začíná zvonkohrou a je to kouzelná, optimistickým dojmem působící písnička s akustickou kytarou, úsporně hrajícími perkusemi a třepetavou flétnou. Klavírem podepřená, melodramatická La solitudine di chi protegge il mondo se bez perkusí obejde úplně, aby se vzápětí překlopila do intenzivní masírky L'equilibrio, vyšperkované orgasmickou instrumentální vsuvkou. Tou končila první strana původního vinylového alba, ovšem zároveň patří i k jeho vrcholným okamžikům.
Pochmurná Sorona svým obsahem vystihuje podstatu příběhu a vytváří dokonalej protipól optimismem sršící skladbě Felona. Hudebně se toho v ní zas tak moc neděje a v následující Attesa inerte to není o moc lepší. Začíná pěkně, symfonicky, ale brzy přejde v podivnej experiment s kostrbatou vokální linkou a hypnoticky monotónním rytmem. Krapet pompézní a téměř instrumentální Ritratto di un mattino je už zase příjemně melodická a třešničkou na dortu je atmosférické kytarové sólo navrch. Předposlední All'infuori del tempo je pěkným završením celého příběhu, ale na úplnej konec je tu ještě splašená instrumentální palba Ritorno al nulla.
Mám dojem, že první polovina desky je lepší té druhé a Felona e Sorona jako celek nedosahuje kvalit předcházejícího alba Uomo di pezza. Ovšem tři hvězdy jsou málo a tak ji ocením stejně, jako Collage. Po té však sáhnu častěji a s větším gustem…
SKLADBY:
Side 1
1. Sospesi nell'incredibile – 8:43
2. Felona – 1:58
3. La solitudine di chi protegge il mondo – 1:57
4. L'equilibrio – 3:47
Side 2
5. Sorona – 2:28
6. Attesa inerte – 3:25
7. Ritratto di un mattino – 3:29
8. All'infuori del tempo – 4:08
9. Ritorno al nulla – 3:34
SESTAVA:
Tony Pagliuca – keyboards
Aldo Tagliapietra – voice, bass, guitars
Michi Dei Rossi – drums, percussions 
Felona E Sorona
Le Orme
Prog Rock
Phillips
1973
LP
9
CD Mercury ‎– UICY-94525 /2010/