CD Virgin ‎– 8 39079 2 /1991/
Za to, že mám ve sbírce i tohle album může zpackanej dopis Ježíškovi. Jednoho pošmourného dne koncem roku 2012 jsem byl drahou polovičkou opakovaně vyzván, abych dal dohromady seznam svejch přání a protože se mi do toho zrovna moc nechtělo, rychle jsem sesmolil pár jmen, papír odevzdal příslušné instituci a dál se o to nestaral. A to byla chyba. Měl jsem tam totiž (mimo jiné) i dva tituly od kapely Banco del Mutuo Soccorso, jmenovitě Banco a Darwin. Jenomže v diskografii kapely jsou obě tato alba zastoupena dvakrát a já dostal zrovna verze, o které jsem nestál. Banco s plachetnicí na obalu, z roku 1983 a remake alba Darwin, se škaredým fialovým coverem, z roku 1991. O té prvně jmenované už jsem tady nedávno psal a teď tedy ještě pár slov k té druhé, (r)"evoluční"…
Nevím, jestli měl tenkrát (začátkem devadesátejch let) boss BMS Vittorio Nocenzi dlouhou chvíli, nebo chtěl jenom oživit zájem o postupně uvadající skupinu, ale rozhodl se pro remake legendárního alba Darwin! (1972). Po dvaceti letech znovu a lépe, s využitím nejmodernějších technologií a hraček. Svolal dohromady kapelu, pozval pár hostů a výsledek se mi zrovna vrtí v přehrávači. Zvuk to má pěknej, barevnej a křišťálově čistej, ale atmosféra je nějaká divná. Studenej zvuk digitálních syntezátorů ji celkem spolehlivě zabíjí a nepomáhaj tomu ani naprogramované (byť velmi komplikované) bicí, využité v několika skladbách. Album je sice o nějakejch sedm minut delší, ale téměř notu po notě stejné s původní verzí, Francesco Di Giacomo zpívá s bravurou a nádherně, ale celé se mi to zdá kapánek sterilní a chladné.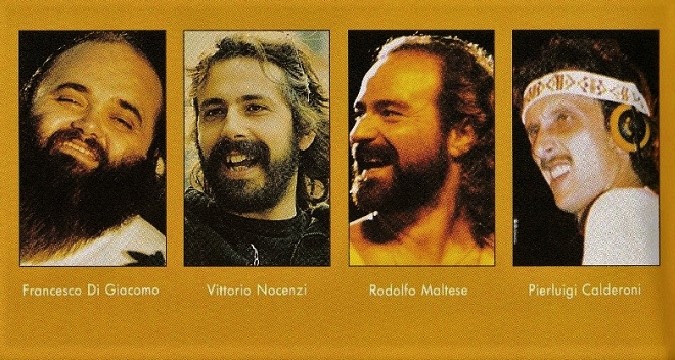 V úvodní L'evoluzione má na původní verzi poměrně důležitou úlohu klarinet, ovšem na tomhle vydání se nevyskytuje. Dechové nástroje tady většinou suplují klávesy a zvlášť dobře je to slyšet v najazzlé La danza dei grandi rettili, jenže to bych mohl pokračovat skladbu po skladbě, sloku za slokou a až takhle se v tom vrtat zas nechci. Zkrátka a dobře, vášeň a energii nahradily profesionální erudice a rutina…
Svým způsobem se to dá pochopit, člověk jest tvor velmi nespokojený a furt by po sobě něco opravoval a předělával, ale je to nezbytně nutné? Dobrá, někdy se ztratí původní pásy a reedice na CD se musí udělat z dochovaných gramofonových desek, někdy je to z důvodů zištných, ale zrovna v tomhle případě si to BMS mohli, myslím, odpustit. Na druhou stranu mohl kapelu pobyt ve studiu znovu stmelit a nakopnout k další kariéře, kdo ví? Samosebou jsem si hned po zmiňovanejch Vánocích koupil i původní vydání a mohu je tak mezi sebou porovnávat. Je to diskutabilní, názory se mohou různit, ale u mě jednoznačně vítězí to z roku 1972.
S hodnocením je to těžké a už předem jsem byl rozhodnutej dát dvě hvězdičky, ale jak jsem teď album znovu vytáhnul z regálu a při psaní jej poslouchám, zdá se mi to málo. On je to po hudební stránce pořád ještě vynikající materiál, jen trochu odlidštěnej a "moderní". Pro mě, fanouška skupiny a sběratele má tahle deska svoji přidanou hodnotu, ovšem vám ostatním doporučuji původní verzi.
Dám tedy tři. Dobré, však nikoli zásadní.
SKLADBY:
1. L'evoluzione – 17:00
2. La conquista della posizione eretta – 10:00
3. La danza dei grandi rettili – 4:05
4. Cento mani, cento occhi – 5:58
5. 750000 anni fa…l'amore? – 8:00
6. Miserere alla storia – 6:18
7. Ed ora io domando tempo al tempo (ed egli mi risponde : non ne ho!)  – 3:24
NOTES:
Completely new, re-recorded version of the 1972 album.
Registrato e mixato presso gli Al Capone Studios, Arezzo nei mesi di Maggio e Giugno 1991.
SESTAVA:
Vittorio Nocenzi – Piano, Organ (Hammond), Synthesizer (Minimoog, Synth Bass), Keyboards, Drum Machine (Programming), Accordion, Clarinet, Recorder, Vocals, Backing Vocals
Francesco Di Giacomo – Lead Vocals
Rodolfo Maltese – Electric Guitar, Mandolin, Sitar, Backing Vocals
Pierluigi Calderoni – Drums, Percussion
+
Piercarlo Penta – Organ (Hammond), Keyboards, Drum Machine (Programming)
Claudio Rego, Fabrizio Faderighi, Tiziano Ricci – Backing Vocals
Darwin - 1991 Version
Banco Del Mutuo Soccorso
Prog Rock
Virgin
1991
CD
7
CD Virgin ‎– 8 39079 2 /1991/