Kdo se domnívá, že ta správná hard rocková ocel se kalila vždy jen ve Velké Británii a USA, je na velkém omylu. Pochopitelně, tyto dvě velké země, kolébky tvrdší muziky než bývala ta popová, patří v podobném seznamu na první místo. Na začátku druhé poloviny dvacátého století, se Amerika zbláznila do Elvise a v Británii řádili Beatles. Další a další stylotvorné spolky se rodily jako houby po dešti a byly to především tyto dvě země, které určovali módní trendy a ukazovaly směr.
V kontinentální Evropě je však začaly rychle dohánět další územní oblasti, kde si rocková hudba mnoha směrů a příchutí nastavila zelenou. Vedle Itálie to bylo především Německo, právě tam se klubal jeden drsný spolek vedle druhého.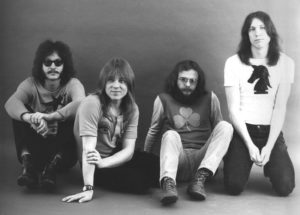 V roce 1968 vznikla v Berlíně kapela, které si dala do vínku jméno Birth Control (tedy kontrolované početí). Jeho první etapa se stylově ukotvila v hard rocku, někteří zlí jazykové i jim přezdívali Kraut rock. BC ovšem byli jako ryba ve vodě i v jiných oblastech. Jejich sound nesl stopy blues, psychedelie i jazzu. Instrumentálně výborně vybavená jednotka bodovala hned svým druhým albem Operation, které oproti debutu neslo znatelné zlepšení v oblasti vlastní kompozice. Třetí deska Hoodoo Man byla pak ta správná trefa do černého. Šlo o nesmírně nápaditý Párplovský sound, podepřený silným song writtingem. Energií nacucané a nasáklé skladby s pevnou rytmizací, vynalézavou kytarou a pestrou klávesovou výstavbou, kterým ten jediný správný směr ukazuje rocková hrdelní dvou pila – kytarista Bruno Frenzel a bubeník Bernd Noske s mikrofony.
Obě mnou opěvované desky jsou naprosto úžasné a jelikož je najednou recenzovat nelze, vybral jsem si hned tu první, zjevně dekadentním obalem opatřenou pecku Operation. Příšera typu mimozemské kobylky požírající malé děti vypadá efektně i hrůzostrašně zároveň, ale pořád to není nic proti tomu, co umístila kapela na zadní přebal lp. Zbytky koster, roztažená rodidla a žehnající papež na jednom společném obraze, jsou opravdu silnou kávou i dnes. Tehdy musel podobný obal vyvolat velkou vlnu nevole, obzvláště v určitých kruzích.
Zdejší písničky jsou pořádně tvrdé. Oplývají melodickým přístupem, s dlouhými instrumentálními vsuvkami, které jejich hudbu prosvěcují, jako pochodně temnou podzemní kobku. Varhanní zvuk mi občas připomíná jiné kapely jako jsou Doors, nebo Uriah Heep. Oba pěvci postrádají německý dialekt a jejich hlasy zní správně anglicky. Od prvních zvuků Stop Little Lady dostáváme vzrušující a  nabušený otvírák. Dupající rockec ve stylu DP s jemnou evokací ranných Eloy, mísí hard rock s úžasným zvukem hammondových varhan. Ano, můžeme namítat, že právě párpl dělali totéž. Ok, ale najděte mě na některém albu DP tak skvělou píseň, jakou je druhá Just Before The Sun Will Rise. To je čisté hudební nebe. Tohle je určitě moje nejoblíbenější skladba na tomto nosiči. Reinjhold Sobotta je borec. Hraje skoro stejně dobře jako Keith Emerson. Funkčně, dynamicky, a nesmírně pokrokově. Třetí The Work Is Done je stejně dobrá jako úvodní song, znovu nápaditá řežba s ženským refrénem navrch a přemýšlivým textem. Většina písní na tomto cd jsou tvrdé rockové pecky, krom závěrečného 11 minut dlouhého eposu, který je jemnější a blíží se tvorbě progresivního rocku.
Tato německá kapela zanechala v prog hard rockovém světě pořádně velkou stopu. Hráli dynamickou rockovou hudbu a ne jen nějaký obyčejný pazvukový krautrock, jaký byl tehdy tolik v módě. Pokud chceme hledat nějakou paralelu, tak třeba s Grobschnitt, Beggars Opera, nebo Atomic Rooster.
1. Stop little lady (7:16)
2. Just before the sun will rise (7:35)
3. The work is done (5:56)
4. Flesh and blood (3:27)
5. Pandemonium (6:34)
6. Let us do it now (11:09)
Total Time: 41:57
– Bruno Frenzel / guitar, vocals
– Reinhold Sobotta / organ
– Bernd Koschmidder / bass
– Bernd Noske / drums, vocals
Operation
Birth Controll
Hard Rock
Ohr
1971
LP
6