Parta kolem Zdeňka Kluky a Pavla Váněho měla prostě smůlu s vydáváním desek. První album hudebníci nahrávali v době, kdy skupina již oficiálně neexistovala, album Mauglí bylo nahráno jakoby mimochodem a v době vydání skupina již vystupovala s programem Dialog s vesmírem. Také může posluchače neznalé věci mást fakt, že každé ze tří alb vyšlo pod jiným názvem skupiny.
Ve výsledku je ale jedno, zda se skupina jmenuje Progress Organization, Barnodaj či Progress 2, protože skupina je vždy snadno rozpoznatelná díky typické melodičnosti, vokální preciznosti, instrumentální zdatnosti a snaze vytvářet komplikovanější kompozice. A i když její popularita nikdy nedosáhla úrovně jiných rockových skupin té doby, přece jenom zanechala v historii československé rockové hudby nezanedbatelnou stopu.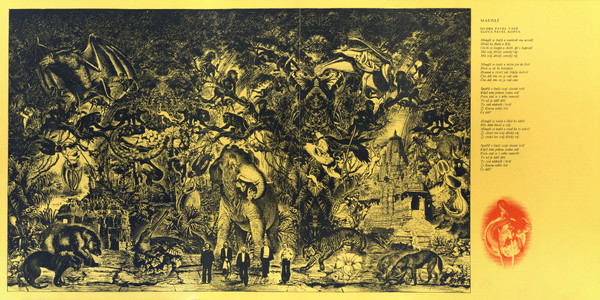 Album skupiny Barnodaj upoutá na první pohled černobílým obalem s motivy exotických zvířat z indické džungle. To koresponduje s názvem Mauglí, což má evokovat Kiplingovy Knihy džunglí. Snaha o koncepčnost však zůstala v půli cesty, v textech Pavla Kopty se to hemží i jinými inspiracemi, které Mauglího v mnohém nepřipomínají. Některé z nich, Kamarád Gramofon a Tutový typ, mně svou náladou připomínají Wolkerovy verše ze sbírky Host do domu.
Na desce najdeme devět veskrze příjemných písniček a jednu instrumentální skladbu. Ta má příznačný název Džungle a celé album otevírá. Rázem se přeneseme do tajuplné Indie, již má připomínat i užití sitáru. Následuje Strach, svižná píseň, pro kterou je charakteristická moravská melodičnost a která by se svým všeobecným námětem možná dala zařadit do cyklu o Mauglím. Určitě tam ale nezapadá Klukův Kamarád Gramofon, píseň, se kterou jsem měl dlouho problém a nemohl jsem ji vstřebat. Dnes vysoce hodnotím její posmutnělou nostalgickou náladu a orchestrální aranžmá.
Píseň Štěstí je dalším kouskem, který zpracovává archetypální téma, což se objevuje již v písni Strach. Přiznejme si, kdo z nás trochu toho štěstí občas nepotřebuje. Bezedná tůň střídá dvě polohy, zadumanou a kolovrátkovou, a stejně tak i mé pocity z této písně jsou dosti rozporuplné. Následující dvě skladby, Dopis v láhvi a Prám z prámů, vždy prošumí kolem mě a velký dojem nezanechají. Víc mě zaujme až Tutový typ, další Klukovo odbočení od bigbítu fungujícího na první dobrou. Pravý opak ale platí pro přímočarou píseň Mauglí, ze které se podle mě nestala odrhovačka jenom proto, že v době vzniku prostě rozhlas tvorbu nějakých divných hudebníků z Brna dokonale ignoroval.
Album zakončuje skvostná skladba Osud, která je opět ozdobena sitárem a mohutnou orchestrací v závěru. Nejlepší píseň na desce zdobí neméně skvělý Koptův text a výtečný zpěv Pavla Váněho.
Co dodat? Určitě to není nejlepší počin brněnských rockerů a progrese aby na ní posluchač lupou pohledal. Na druhou stranu se jedná o příjemnou desku s několika podařenými písničkami a skvostnou instrumentálkou, což asi nebylo v té době zas tak málo.
Skladby:
01. Džungle (4:25)
02. Strach (3:30)
03. Kamarád Gramofon (4:30)
04. Štěstí (3:35)
05. Bezedná tůň (2:55)
06. Dopis v láhvi (3:15)
07. Prám z trámů (3:00)
08. Tutový typ (3:55)
09. Mauglí (3:55)
10. Osud (5:05)
Sestava:
Zdeněk Kluka – bicí (1-10), moog (1, 8), kytara (1), harmonika (9), steel kytara (9), sborový zpěv (1-5, 7-10), zpěv (3, 5, 8)
Pavel Váně – el. a akust. kytary (1-6, 8-10), mandolína (5), sborový zpěv (1-5, 7-10), zpěv (4, 6, 9, 10)
Jan Sochor — piano (2, 3, 5, 7, 8, 10), varhany (1, 4—6, 9), moog (4, 6-8), smyčc. syntezátor Rolland (3, 7, 10), cembalo (5), sborový zpěv (1—5, 7—10), zpěv (7)
Pavel Pelc – basová kytara (1-6, 8—10), sborový zpěv (1-5, 7—10)
Mauglí
Barnodaj
Prog Rock
Supraphon
1978
LP
10
CD FT Records – FT0088-2