CD+DVD Vinyl Magic – VM 100A-B/MVA   /2005/
Po box setu From Cocoon To Butterfly jsem pošilhával už před lety, ale v našich obchodech nebyl, v těch zahraničních jsem ještě nenakupoval a tak jsem to po nějaké době vzdal. Až loni, když jsem se konečně pustil do recenze debutového alba Maxophone, mě napadlo prolustrovat stránky největšího distributora italského progresivního rocku btf.it a co myslíte? Měli ho tam…
Skupina Maxophone vznikla na jaře roku 1973 a o dva roky později natočila stejnojmenné debutové album. Tenkrát bohužel nesplnilo očekávání vydavatele, ani producenta a prostředky do něj vložené přišly vniveč, ale dnes sklízí pochvaly na všech frontách a v každém RPI žebříku bychom ho našli na nejvyšších příčkách. Skupina to zkoušela dál, dokonce připravovala materiál na další velkou desku, ale po komerčněji orientovaném singlu Il fischio del vapore / Cono di gelato z roku 1977 se rozpadla.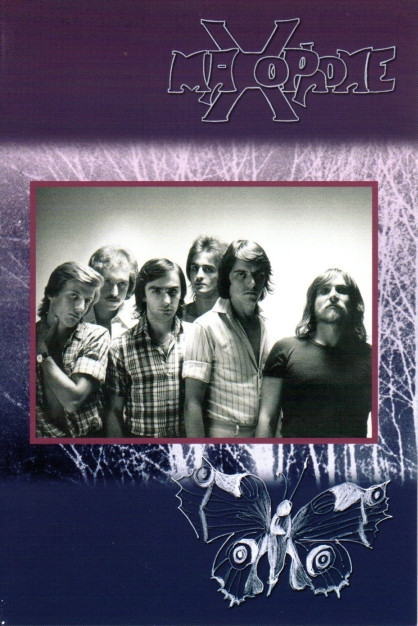 Maxophone se znovu sešli až v roce 2005 a bylo to při příležitosti vydání výpravného vzpomínkového boxu From Cocoon To Butterfly. V pěkném, rozkládacím digipaku o velikosti klasické DVD krabky se nachází audio CD, DVD a šestnáctistránková brožura s podrobnou biografií skupiny. Celý box set je  naprosto vyčerpávající sondou do historie Maxophone a nejen svým obsahem, ale i provedením by se stal ozdobou každé rockové sbírky.
Těžištěm DVD je televizní pořad "Concertino" režiséra Lucia Testy, který Maxophone natočili v březnu 1976. Na obrazovkách se objevil o dva měsíce později a kapela v něm pěkně naživo zahrála čtyři, z eponymního debutu pocházející skladby. Je to symfonický art rock s velkým A, vznešený, přiměřeně komplikovaný a přitom všem i neodolatelně melodický. Skupina hrála v sestavě – klávesista, bubeník, dva dechaři a basista s kytaristou a protože polovina z nich byla absoloventy hudební konzervatoře, hraje jim to jak z partesu. Je zábavné sledovat multiinstrumentalistu Maurizia Bianchiniho, který během vystoupení ladně střídá trumpetu s lesním rohem a mezitím si stačí odskočit ještě k vibrafonu, ale všechno jsou to kumštýři par excellence, kteří svou práci odvádějí s naprostým přehledem.
Znám tenhle záznam velice dobře. Na YouTube je k dispozici a tak už jsem ho viděl opravdu mockrát, ovšem i tak jsem rád za to, že jsem ho mohl konečně zařadit do své domácí sbírky. Teď si ho vychutnávám v té nejlepší možné kvalitě a na rok 1976 to hraje opravdu dobře. Obraz je čistej, roztaženej na celej zobrazovač a hlavně v barvě. A to je co říct, protože tenkrát to ještě rozhodně nebyl standard a vím o několika pořadech mladšího data, které se natáčely ještě černobíle. Zvuk je až nepřirozeně čistej a tak mám podezření na playback, ale co na tom. Šlo mi hlavně o to, vidět kapelu při práci a vychutnat si u toho kvalitní přednes, takže jsem naprosto spokojenej. Všechny čtyři skladby jsou pěkné, ale kdybych měl nějakou vypíchnout, byly by to úvodní C'è un paese al mondo a instrumentálka Fase. Bohužel, pravidelná relace "Concertino" měla vyhrazenu půlhodinku vysílacího času a víc se toho do ní prostě nevešlo. Specialitkou navíc je instrumentální verze skladby Mercanti di pazzie z roku 2005, kterou si obnovení Maxophone střihli živě při přípravě vydání tohoto boxu. Součástí DVD je ještě zhruba dvacet minut rozhovorů se členy Maxophone a to buď v italštině, nebo s anglickým překladem. Mluví se nejen o zdrojích inspirace a historii skupiny, ale i o původu obálky debutového alba. Nechybí tedy ani výprava k řece a hledání místa, na kterém se to tenkrát fotilo. Posledním bonusem je ještě povinná fotogalerie.
Na CD se nachází osm skladeb natočených v letech 1973-1976. Všechno jsou to dema v kolísavé zvukové kvalitě, ale vyloženě špatně hrajou jenom dvě úplně nejstarší, pořízená na jaře roku 1973. Konkrétně jde o písničky L'isola a Il lago delle ninfee a zajímavé je to, že se ani jedna z nich na debut vůbec nedostala. Z toho je tady pět alternativních verzí, mnohdy ve zcela odlišné podobě a – kupodivu – s texty v angličtině. Skladba Fischio del vapore vyšla na singlu v roce 1977, ale tady je v trochu jiné úpravě a se zpěvem beze slov. Text k ní tenkrát nebyl ještě hotovej a podobné je to s kompozicí Dadaidà. Asi nejlepším kouskem celé kolekce je deset minut dlouhá instrumentálka Kaleidophonia. Pěkná, členitá, se vstupy dechových nástrojů a zcela ve stylu debutového alba. Jenom dodám, že poslední tři uvedené skladby se měly stát součástí druhé velké desky a nahrávaly se ve studiu, na osmistopej magnetofon. Je to znát, protože jejich zvuk je perfektní.
Šestnáctistránkovej booklet je v italštině i angličtině a nabízí spoustu materiálu. Podrobnou biografii skupiny, podrobnosti ke každé, na CD uvedené skladbě a hromadu fotek. Celej digipak je opravdu pěknej, ale už při jeho rozbalení odpadly oba plastové traye a tak jsem je musel znovu přilepit. Zkrátka a dobře, je to výbornej kousek do sbírky nejen pro fanoušky Maxophone, ale aj italského art rocku obecně.
CD
01. Kaleidophonia (9:55)
02. Mercanti di pazzie (3:44)
03. Elzeviro (6:08)
04. L'isola (5:01)
05. C'è un paese al mondo (4:56)
06. Fischio del vapore (4:51)
07. Antiche conclusioni negre (6:36)
08. Il lago delle ninfee (2:01)
09. Dadaidà (8:01)
10. Al mancato compleanno di una farfalla (5:50)
Total time: 57:19
DVD
01. C'è un paese al mondo (6:24)
02. Al mancato compleanno di una farfalle (5:31)
03. Fase (4:33)
04. Mercanti di pazzie (6:13)
05. Antiche conclusioni negre (6:36)
And also 20′ minutes of interviews
SESTAVA:
Sergio Lattuada – keyboards
Roberto Giuliani – guitars
Leonardo Schiavone – clarinet, flute, saxophone
Maurizio Bianchini – french horn, trumpet, vibraphone
Alberto Ravasini –  bass, guitars, lead voice
Sandro Lorenzetti – drums
Marco Carbone – bass in "Mercanti di pazzie" Instrumental version 2005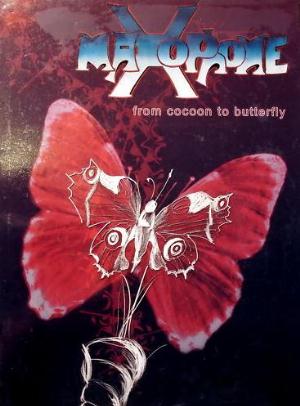 From Cocoon To Butterfly
Maxophone
Prog Rock
Vinyl Magic
2005
CD + DVD
10 + 5
CD+DVD Vinyl Magic – VM 100A-B/MVA /2005/