Zhruba před dvěma měsící jsem se tu zmínil o belgické hard rockové krásce Irish Coffee. Nyní se v hrubých rysech pokusím načrtnout další  vývoj tohoto souboru….
Vrátím se krátce do hluboké minulosti. První album Irish Coffee bylo mezi posluchači stále žádané, ale oficiálně nedostupné. Proto jej William Souffreau a spol. v roce 1992 znovu vydal pod hlavičkou vlastní firmičky Voodoo Rec. Původní master kdesi zmizel, proto byla nahrávka  zrestaurována z gramofonové desky a na následné CD přidány jako bonusy všechny singly kapely.  Zájem o tuto reedici podnítil bývalé členy kapely k opětné spolupráci, která vyústila v následujících deseti letech jen do několika sporadických vystoupení.
Ledy se hnuly až kolem roku 2003, kdy se muzikanti rozhoupali k práci na nových písních. Byla dokončena  píseň Coloured Land, jež v letmém náčrtku ležela od roku 1971 ve Williamově šuplíku. Chlapi také oprášili baladu I'm Lost, která kdysi uzavírala první LP. Její novější zvukový kabátek skladbě padl jak ulitý a nějaký materiál, co byl původně napsán pro soubor Joystick, což bylo těleso, které v sedmdesátkách vzniklo po rozpadu Irské kávy.
Ve studiu v roce 2004 kapela nahrála po 33 letech další bezejmennou desku, která byla vydána téhož roku u firmy Fuzzy. Z původní sestavy ze sedmdesátek nakonec zůstal zpěvák, majoritní skladatel  a kytarista William Souffreau, bubeník Hugo Verhoye a starý známý Luc De Clus, bývalý člen kapely, který s Irish Coffee hrál v období roku 1973-4. Nováčky v týmu se stali o generaci mladší klávesák Stany Van Veer a basman Cranky Cooreman.
A jak to dopadlo? První čtyři skladby a ta závěrečná znovunahraná jako by propadly černou dírou z roku 1971 – hutný hard rock vystavěný na pevných bluesových pilířích s hamondkami v zádech a pěknými kytarovými sólíčky. Deep Párplistům jistě poskočí tep při Bright Lights. Pátá Ain't Takin' No More je tak trochu šmrncnutá boogie po vzoru Status Quo, na následujících Lovely Lisa a Your Love je poznat, že jsou z trochu jiného těsta, složené pro jiný soubor – ty blues rockové  melodie vyznívají trochu ospale a mndle…
Staré pardály oddané dřevnímu hard rocku však toto album rozhodně neurazí.
SKLADBY:
1. Coloured Land – 3:22
2. Brand New Day – 3:41
3. Apocalypse – 4:53
4. Bright Lights – 3:57
5. Ain't Takin' No More – 3:09
6. Lovely Lisa – 3:26
7. Your Love – 4:34
8. Dark Clouds – 4:03
9. I'm Lost – 5:10
SESTAVA:
William Souffreau – vocals, guitar
Luc De Clus – lead guitar
Stany Van Veer – organ and piano
Cranky Cooreman – bass
Hugo Verhoye – drums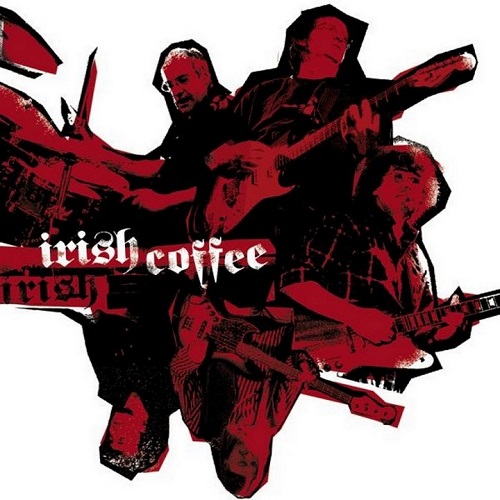 Irish Coffe
Irish Coffe
blues rock, hard rock
Fuzzy Rec.
2004
CD
9