6. marec 2020, 19:00–23:30: NAZARETH, TURBO, METALINDA
Miesto: Športová hala Hotelovej akadémie, Prešov, Slovensko.
Moja maličkosť: tribúna – B, rad – 7, sedadlo – 15.

Opäť som sa raz vybral za kultúrou. Vyfintený ako sa na správneho rockera patrí – džínsy, bunda z rovnakého materiálu a tričko Nazareth s motívom albumu Expect No Mercy pod mikinou AC/DC. Hurá, tak hajde na hard rock!!!
Deň pred koncertom nám Ticketportal stihol oznámiť, že Katapult nepríde a nahradí ho Metalinda. V oficiálnych vyhláseniach sa usporiadateľ ZP Promo vyjadril tak, Olda Říha inak – pravda bude niekde uprostred. Úprimnosť sa dnes nenosí, napriek tomu si dovolím napísať, že na Oldu som sa VEĽMI tešil. Škoda…
Po prvotnom oťukávaní a rozhliadnutí sa po zaplnenej hale, v ktorej boli všetky miesta pripravené na sedenie, sme si s bratrancom zavtipkovali, že sme tu "najmladší" a s prítomnou "geriatriou" nemáme nič spoločné, hahaha.

Slovenská Metalinda mala nevďačnú úlohu – rozbehnúť koncert a nažhaviť publikum. Priznám sa, že som chalanom nezávidel, pretože z útržkov rozhovorov, ktoré človek v takom zhustenom prostredí aj nechtiac zaregistruje, bolo zrejmé, že mnohí sa tešili na Oldu Říhu a jeho Katapult. Žiaľ, človek mieni a život mení.
Na začiatok dodávam, že Metalinda ma v časoch svojich "5 minút slávy" minula obrovským oblúkom, ale prišiel som sa zabaviť, o tom sú rockové koncerty. Aspoň som si pri skladbe Ján Amos Džínový pripomenul svoju kuchynskú angličtinu. Pri zvukoch slovenskej hymny v rockovom kabáte bola celá hala na nohách a Metalinda si vychutnala záverečný aplauz…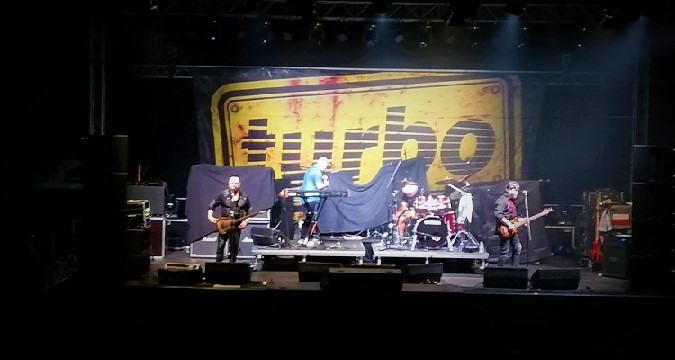 České Turbo ponúklo osvedčené hity, pridalo jednu novinku z pripravovaného albumu, ktorý by sa mal objaviť tohto roku. A ako to dopadlo? Keď frontman Mirek Chrástka spomenul svoj rodokmeň, že jeho babička pochádza z východného Slovenska, z obce Kamenica nad Cirochou, bolo vymaľované. Jasné, najkrajšie baby sú na východe a skladbou Krásným dívkám si Turbo halu doslova a dopísmena podmanilo. Záverečnú Chtěl jsem mít spievali všetci a dám ruku do ohňa, že aj tí, ktorí práve nasávali vo výčape. Skvelé!!!
Tak som sa dočkal – moja obľúbená hard rocková úderka zavítala aj do Prešova, môjho rodného mesta. Bez mučenia priznávam, že mi vyšla aj slzička. Proste, je to tak. Samozrejme, nebolo to moje prvé koncertné stretnutie s Nazareth. Najlepší bol 26. jún 1997 a Banská Bystrica. Vtedy bol Dan McCafferty v plnej sile a na kámoša, ktorý sa pri našej ceste domov pod Tatrami prebral so slovami: "Už sme v Bystrici?" – sa jednoducho nedá zabudnúť.
A Prešov? Ten bol výnimočný! Áno, Carl Sentance bol fantastický a ak to náhodou niekto nepochopil, tak budem hláskovať po vzore môjho obľúbeného politika: FAN-TAS-TIC-KÝ!!! Som presvedčený, že niektorí z prítomných tvrďasov ešte aj dnes krútia neveriacky hlavami, kde sa podel Dan, ale je to tak. Carl, spolu s gitaristom Jimmym Murrisonom, sú jednoznačnými ťahúňmi kapely a ten hard rock je naozaj skutočný – doslovne!!! V ich podaní majú aj "lepáky" Dream On, Love Hurts i Where Are You Now poriadnu dávku tvrdosti, čo možno nežnejšiu časť publika trošičku zaskočilo.
Po škótskom intre, v ktorom, samozrejme, nemohli chýbať gajdy, to kapela rozbalila naplno tónmi piesne Turn On Your Receiver a zastavila sa prakticky až na samom konci. Po počiatočnom vzájomnom oťukávaní to v kotli pod pódiom začalo poriadne vrieť a "nešťastníci", ktorí si zakúpili stoličky na palubovke, museli chtiac-nechtiac dvihnúť svoje zadočky. Podľa reakcií, ktoré nasledovali, som si istý, že im to vôbec nevadilo – práve naopak. Nemohli chýbať čísla z poslednej štúdiovky Tattooed On My Brain, skladby Never Dance With The Devil, Change i titulná pecka vhodne zapadli do celku. Ale zväčša sa spomínalo na zlaté sedemdesiatky, hlavne album Hair Of The Dog mal silné zastúpenie, čo som veľmi kvitoval. Strednú časť vystúpenia, poskladanú z piesní Beggars Day, Changin' Times a Hair Of The Dog radím na pomyselný vrchol večera. Pri tej druhej sa Jimmy Murrison utrhol z reťaze a ponúkol niečo zo svojho umenia – paráda! Došlo však aj na osemdesiatky – pri Love Leads To Madness som zaspomínal na platňu 2XS a pri vyššie spomenutej balade We Are You Now na Sound Elixir. Zaznel aj Razamanaz, "mičelovka" This Flight Tonight, na svoje si prišli aj cyklisti pri tónoch My White Bicycle. Kolega Hejkal by sa stopercentne potešil bluesovému štandardu Morning Dew. A dočkal som sa aj ja – v prídavku mi kapela splnila sen a zahrala obľúbenú rockovicu-petelicu Miss Misery. Zabudol som na niečo? Určite…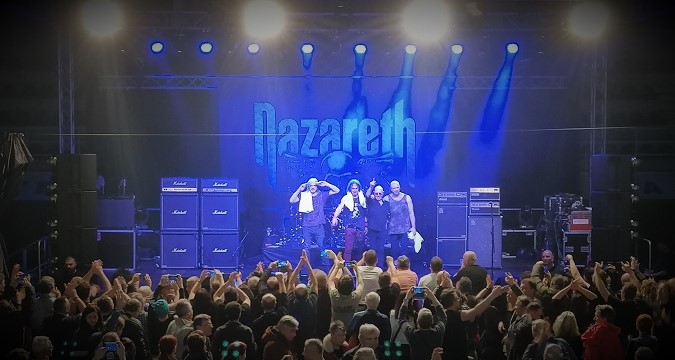 Som presvedčený, že aj ostatní fanúšikovia rockovej hudby odchádzali rovnako spokojní a natešení. V Prešove sa 6. marca 2020 stretla "geriatria" z východného Slovenska. Všetci tí dedkovia a babičky, ockovia a mamičky, ujovia a tety zo Šariša, Trebišova, Humenného, Bardejova, Svidníka, Stropkova i Michaloviec majú môj neskonalý obdiv a úctu – ďakujem Vám za skvelú atmosféru!!!!! A kapelám METALINDA, TURBO a NAZARETH za krásny zážitok!!!!!
A Vy, ktorí stále dokola omieľate, že to už nie je ono, naďalej seďte doma, na zadkoch, vo svojich obývačkách, prďte do fotelov a nadávajte na všetkých a všetko okolo! A pri pozeraní stupidít v telke žerte svoje lupienky, chlastajte pivo a prevracajte okále; ako je to možné – opäť som pribral…
Nakoniec došlo aj na Katapult, keď pri výčape zlomení, podlomení a prelomení návštevníci koncertu spríjemnili ostatným rockerom odchod z haly katapulťáckymi hitmi. Oldo, tak snáď Někdy příště…
LONG LIVE ROCK AND ROLL!!!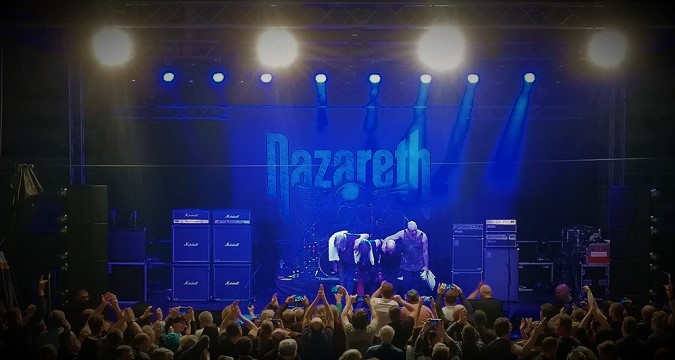 P. S.: Ak ste si náhodou všimli, že na lístku, ktorý som odfotografoval, je uvedené sedadlo číslo 16, tak to patrilo bratrancovi. Svoj tiket totiž zaboha neviem nájsť.