CD Virgin – MPICD 1001  /2011/
Banco del Mutuo Soccorso debutovali v roce 1972 a od té doby to hrnuli ve velkém stylu. Na konci roku 1975 už měli na kontě čtyři studiová alba a toho následujícího si připsali dvě další. V únoru 1976 jim Manticore Records vydali instrumentální soundtrack k filmu Garofano rosso a v říjnu téhož roku ještě art rockový monument Come in un'ultima cena…
Mám dojem, že valná většina fanoušků řadí tohle album až za "svatou trojici" nahrávek z let 1972-1973, ale já to slyším právě naopak. Podle mě patří k tomu vůbec nejlepšímu z produkce BMS a je takovou pomyslnou tečkou za jejich nejtvořivější a nejúspěšnější érou. Jistě, doba se změnila a rozsáhlé hudební plochy byly out. Nejdelší pecka na desce – Slogan – má sedm a půl minuty a dost podstatně se změnil také zvuk. Ten je daleko subtilnější, čitelnější a dává vyniknout komplikované struktuře jednotlivých písní. Má takřka jazzovej nátisk a dost tomu napomáhají i trubka, lesní roh, nebo housle hostujícího Angela Branduardiho. Ty nejpodstatnější markanty tvorby Banco del Mutuo Soccorso jsou však stále přítomné. Tím prvním jsou prvotřídní melodie a druhým originální, téměř operní tenor Francesca Di Giacoma.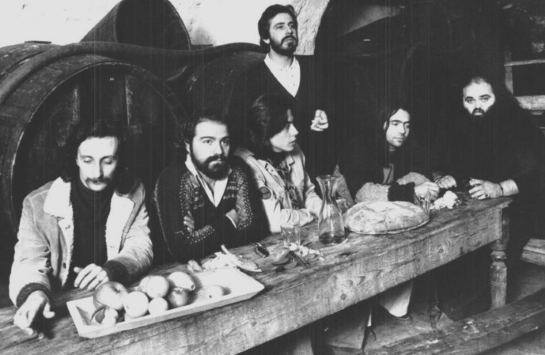 Koncepční album inspirované životem Ježíše Krista a symbolikou obrazu Leonarda Da Vinciho "Poslední večeře" zahajuje šest a půl minuty dlouhá píseň …a cena, per esempio. V její předehře rozeznávám harmonie blízkovýchodní hudby a v důrazně odzpívaných slokách Di Giacoma doprovází především čisté piano, s lehkou podporou kytary a mňoukajících syntezátorů. Její vyvrcholení je ovšem příkladné – u grandiózního finále přestávám dýchat, smekám rádiovku, uznale pokyvuju hlavou a šeptám bravo, fantastico, sensazionale!
Chytlavá a energií napumpovaná Il ragno mě pokaždé srazí na kolena a není divu, že se z ní vyklubal jeden z největších hitů skupiny a koncertní stálice v jednom. Tutovka ze stejného ranku, jako nesmrtelné R.I.P. (Requiescant in pace), nebo Non mi rompete. Působivá balada È così buono Giovanni, ma… je další příležitostí pro fantastického Di Giacoma, ale v akusticky podané písničce si nelze nevšimnout ani partů flétny, nebo lesního rohu. První stranu alba uzavírá důrazná, teatrální a k avantgardě se přibližující Slogan. Rozhodně nejkomplikovanější věc na desce, se skandovanými sbory a sprškou disharmonických sól.
Velmi podobně začíná i následující písnička Si dice che i delfini parlino a první dvě – instrumentální – minuty dají člověku skutečně zabrat, ovšem s Di Giacomovým nástupem se to celé uklidní a vzápětí rozkvete do nevšední krásy. Naléhavá Voilà Mida (il guaritore) má v sobě něco divadelního a to především díky překřikujícím se hlasům v příběhu vystupujících postav. Rytmicky komplikovaný doprovod a chytlavá vokální linka jsou v dokonalém protikladu a sborové zvolání "Voilà Mida!" si pokaždé střihnu spolu s kapelou.
BMS byli na vrcholu sil a důkazem budiž krátká Quando la buona gente dice, protože ukončit tak pěknou melodii už po necelých dvou minutách je zločinem a největším plýtváním v dějinách hudby. Půvabná, renesanční balada La notte è piena nás zavede do komnat středověkého hradu a stylovým rozloučením s příběhem i deskou je rytmicky chytlavá Fino alla mia porta. S pompézní tečkou navrch.
Při vší úctě k albům …di terra (1978), Canto di primavera (1979), nebo následujícím "lajfkám", ale nic lepšího už Banco del Mutuo Soccorso nikdy nenatočili. Elpíčko Come in un'ultima cena je tím nejlepším završením jejich nejúspěšnějšího období, navíc s životním výkonem frontmana skupiny Francesca Di Giacoma. Jeho zpěv nejenom, že zraňuje a drásá, ale zároveň povznáší a posouvá hudbu BMS ještě o stupínek výš. Byl jednou z největších postav italské progressive rockové scény a přesto, že letos od jeho úmrtí uplynulo (21.02.) už osm let, vyjadřují se o něm všichni bývalí kolegové z branže s největším uznáním a respektem.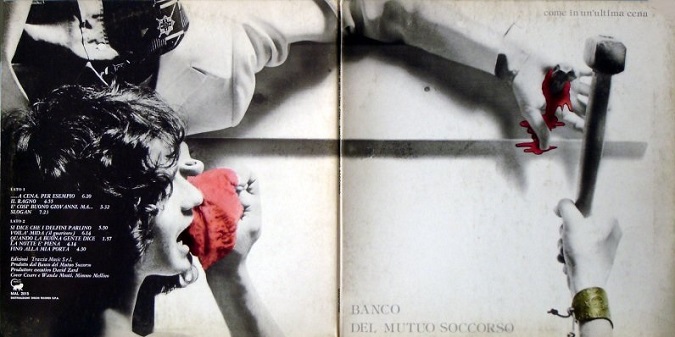 Ve sbírce mám nedatovaný repress CD reedice Virgin MPICD 1001 (původně 1988), ale podle jistých indicií to vypadá na rok 2011. Stříbrný kotouč je potištěný černým písmem tak, jak to bylo koncem osmdesátých let běžné a čtyřstránkový booklet nabízí jen reprodukci originálního obalu, s upraveným Da Vinciho obrazem uvnitř a tracklistem vzadu. Patří k těm hodně odbytým, ale samotný nosič hraje excelentně a tak na to zas tolik nehledím. Je lepší mít doma provedením odfláknuté, ale zvukově brilantní vydání, nebo krásnou vinyl repliku se zvukem zmršeným dynamickou kompresí? Nechť odpoví si každý sám…
Lato A
01. …a cena, per esempio – 6:20
02. Il ragno – 4:55
03. È così buono Giovanni, ma… – 3:32
04. Slogan – 7:23
Durata totale: 22:10
Lato B
05. Si dice che i delfini parlino – 5:50
06. Voilà Mida (il guaritore) – 6:14
07. Quando la buona gente dice – 1:57
08. La notte è piena – 4:14
09. Fino alla mia porta – 4:30
Durata totale: 22:45
Francesco Di Giacomo – voce
Vittorio Nocenzi – organo Hammond, sintetizzatore, clavicembalo, solina, voce
Gianni Nocenzi – pianoforte, pianoforte elettrico, sintetizzatore, clarinetto piccolo mib, recorder
Rodolfo Maltese – chitarra acustica, chitarra elettrica, tromba, corno francese, voce
Renato D'Angelo – basso, chitarra acustica
Pierluigi Calderoni – batteria, percussioni
Altri musicisti:
Angelo Branduardi – violino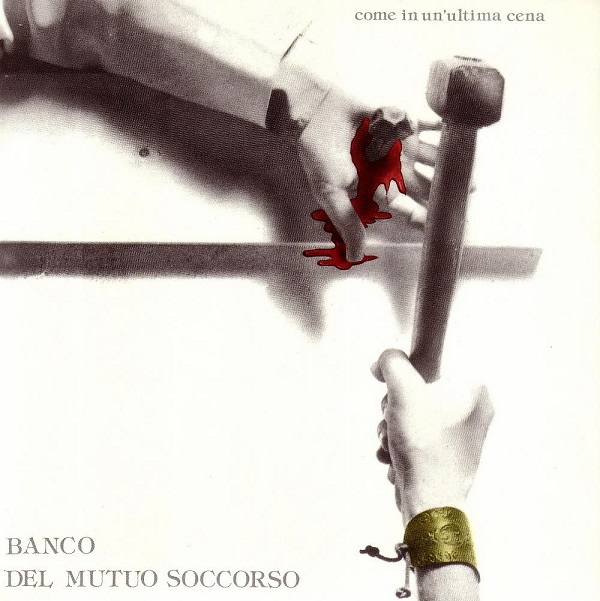 Come In Un'Ultima Cena
Banco Del Mutuo Soccorso
Prog Rock
Manticore
1976
LP
9
CD Virgin – MPICD 1001 /2011/