Jako milovník hudby šedesátých let a albových experimentů, které se rozvinuly dále v sedmdesátých letech, nemohu zapomenout na jednu z klíčových skupin, která je nedílnou součástí tohoto období a která dovytvářela nejen hudební, ale i divadelní a společenskou komunitu pohybující se v londýnském Landbrooke Grove, ale i v Notting Hill Gate. 
Hawkwind patří do psychedelické kategorie britského rocku, stejně tak jako Pink Floyd, Crazy World Of Arthur Brown nebo Pretty Things. Jejich hudební pojetí je přece jenom odlišné, ale spojuje je v jistém slova smyslu koncepční pohled na hudební formu. Nejenom jako na nekomerčním a nehitparádovém základě, ale zosobňuje jejich hudební tvář jako představení, kde má hudební, textová, ale i vizuální a tematická část stejně významnou úlohu.

S Hawkwind jsem se seznámil v Divadle hudby na pořadu Underground začátkem r. 1971, kdy ještě normalizační režim totálně nepronikl do všech kulturních sfér a dařilo se nějaký čas ještě kličkovat. Tam jsem tehdy poprvé uslyšel jejich eponymní album a byl to pro mě před mými šestnáctými narozeninami mocný zážitek.
HURRY ON SUNDOWN – Meditativní začátek. Prolínají se zde akustické kytary – dvanáctistrunná, šestistrunná a dokonce vnímám i sitár. Jak je zjevné, skladba vychází ze základního akordu a z něho se odvíjí košaté harmonické obrazy, do kterých vstupuje foukací harmonika a jsem stále fascinován akustickými kytarami. Mají odpich, dynamické napětí a úderná, relativně klasicky pojatá,  rytmika s prolínajícími se bubenickými breaky žene skladbu vpřed jako dravý vodní proud. Skladba spíš budí dojem dobře seřízeného jam session a psychedelické doznívání dvanáctistrunné kytary je opravdu famózní.
THE REASON IS? – Druhá skladba nás zavádí do jednoznačného psychedelického království. Zde se dostávají Hawkwind na pinkfloydovskou platformu jejich prvních dvou alb. Strašidelné zvukové kouzlení, v němž se přelévají gongy, činely a bicí nástroje s temným soundem tónového generátoru, doplňuje elektrická kytara , která rozkládá akordické proměny se vzestupnou tendencí. Tajemné ozvěny a podivné nečitelné zvuky nás pozvedají do astrálu.
BE YOURSELF – Agresivní údernost tří vyměňovaných akordů doprovázejí činely a dunivá baskytara, ke které se přidává i saxofon Nika Turnera a deformovaný hlas Dave Brocka. Řekl bych, že se jedná o jakýsi předobraz minimalismu v psychedelickém odéru. Opakující se bubenické přechody se škrabáním strun nás uvádějí do virtuální nirvány. Opar marihuany, hašiše a rozpínání mysli zde slaví grandiózní svátek. Do tématu vstupuje elektrická kytara tajemného Huwa Lloyda Langtona, která si prosadí prostor pro sólo, které se mrštně šplhá do sférických výšek mezi tajemné vokály. Velký prostor pro perkusivní bubenické doprovody a další rytmické nástroje se ženou prostorem jako vichřice. A jsme zase v základním tématu a baskytarové nájezdy Johna A. Harrisona a bubeníka Terryho Ollise se neomylně s železnou jistototou opakují stále dokola.
PARANOIA (Part 1) – Další opakující se schéma má až ortelnou nevyhnutelnost, až se pojednou zcela nečekaně hudební téma zlomí a propadne se do bezedných hlubin. Nedělá mi větší problém představit si, že i naši legendární undergroundoví čarodějové The Plastic People Of The Universe mohli těžit z podobných hudebních asociací.
PARANOIA (Part 2) – Pokud si snad někdo z posluchačů nedokáže představit, co znamená paranoia, troufnu si tvrdit, že Hawkwind se hudebním vyjádřením podařilo zhmotnit psychické stavy duševně nemocného člověka a proces proměny, který probíhá v jeho nitru. Člověku až leze mráz po zádech, když by si měl připustit, že by se něco podobného odehrávalo v jeho mysli. Po vygradování hudebního tématu dochází ke zklidnění. Lze–li to tak nazvat.
SEEING IT AS YOU REALLY ARE – Další kompozice nás ovšem z říše tajemných zvuků a neklidu v žádném případě nevyvádí. Můžeme se spíš cítit omotání jakousi virtuální pavučinou pocitů a stavu duševní zjitřenosti a pozvolného potápění do imaginárních zvukových vln, vytvářených tónovým generátorem a prehistorickým VCS3 synthesizerem (nebo varhanami) a tajemné zvuky nás v pitoreskních zvucích neustále provázejí dál a dál, ale zároveň vnímáme stále konkrétnější rytmickou linku bicích a baskytary i klouzavých kytarových tónů. Nějaká neviditelná sílá nás nadzvedla z toho propadání a zvolna nás zvedá do výše a letíme prostorem. Kytarové sólo se v mrštných bězích prosekává astrálním nekonečnem, doprovázené svištivými a kvílivými zvuky Dikmikových elektronických generátorů. Hra s pocity, snové iluzivní vlny mysli, tajemné šepoty a rytmické akcenty se odehrávají v nekonečně improvizovaných podobách a nedělá mi problém spatřit celou tuhle zvukovou iluzi jako absolutní psychedelické divadelní představení se světly, ohni, tanečnicemi a dlouhovlasatými pitoreskně oblečenými hudebníky skupiny Hawkwind. Nik Turner v divokých improvizacích řádí na altsaxofon, lehce preparovaným wah wah pedálem. Více než desetiminutová kompozice ovšem graduje v šíleném rytmu a zvukových mučidlech až zcela zanikne v nekonečnu.
MIRROR OF ILLUSION – Šustění percussion a rychlé kytarové doprovody rozbíhají poslední píseň na albu. Psychedelicky pojednaná skladba, kde se nepřestane zjevovat tajemno, ale tentokrát má prim jasná melodická linka, rozpínaná prostorem elektrickou kytarou a z backgroundu pronikají do melodie podivné neidentifikovatelné tónové variace. Harrisonova baskytara hraje zajímavé melodické linky a Ollisova bicí baterie nehraje žádné složité rytmické obrazce, ale je důležitou součástí hudební koncepce nejen této skladby, ale i celého alba. Huw Lloyd Langton je kreativní kytarový hráč, který je součástí celku a třebaže jeho kytarové party jsou jímavé, není to vyloženě suverénní sólový exhibicionista, jako jeho doboví souputníci. Opakující se schéma působí ve svém pojetí jako anestetikum a vy máte pocit, že jste odnášení do nějakého neskutečného kraje vidin a surreality.
Zajímavý albový debut. Myslím, že v mnoha ohledech mohli Hawkwind ovlivnit i progresivní německou rockovou scénu kraut rocku (tedy alespoň v raných časech). Posluchač, který je schopen přijmout podobnou hudbu do své mysli, nezůstane uspokojen prvním albem, ale logicky bude chtít sledovat, co londýnští Hawkwind vytvoří na dalších projektech. Zase si musím postesknout (jako už v mnoha jiných případech), že je velká škoda, že jsme nemohl v sedmdesátých letech tuhle kapelu vidět na vlastní oči a slyšet na vlastní uši u nás. Pragokoncert by neprodělal, ale když se podívám na vizáž jednotlivých členů Hawkwind, myslím, že by tehdejší kulturtrégři československého prostředí normalizačních časů upadli do mdlob, kdyby taková skupina měla v dané době vystoupit třeba v Lucerně.

Mám rád experimenty a první albový počin Hawkwind si mě získal natolik, že patří do mé sbírky a tak mu udělím plný počet hvězdiček. A to nejen za hudbu a pojetí, ale i za výtvarně výtečně pojatý obal.
SKLADBY:
1. Hurry On Sundown (Dave Brock)
2. The Reason Is? (Dave Brock)
3. Be Yourself (Dave Brock)
4. Paranoia (Part 1) (Dave Brock)
5. Paranoia (Part 2) (Dave Brock)
6. Seeing It As You Really Are (Dave Brock)
7. Mirror Of Illusion (Dave Brock)
SESTAVA:
Dave Brock – 6- & 12-string guitars, harmonica, percussion, vocals
Huw Lloyd-Langton – lead guitar
Nik Turner – alto sax, percussion, vocals
Michael "DikMik" Davies – electronics
John A. Harrison – bass
Terry Ollis – drums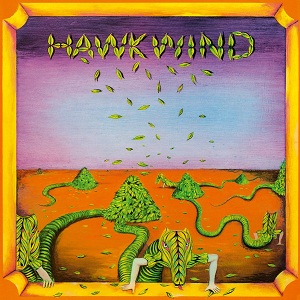 Hawkwind
Hawkwind
Space Rock, Psychedelic Rock
Liberty
1970
LP
7