CD Sony Music – 88843099992  /2014/
Album Donna Plautilla vyšlo v roce 1989, ovšem aktuální materiál bychom na něm hledali marně. Jde o retrospektivní ohlédnutí, které nás zavede až na přelom šesté a sedmé dekády minulého století do doby, kdy se skupina teprve začínala pomalu formovat a z později slavné sestavy v ní působili jen bratři Vittorio a Gianni Nocenziovi…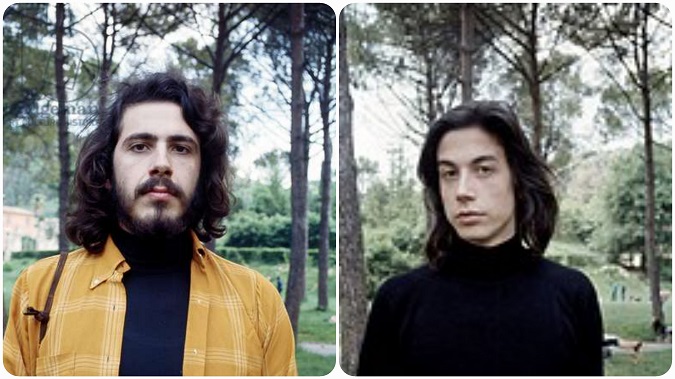 Všechno to začalo v roce 1968 úspěšně složenou zkouškou u RCA, na které se kromě výše uvedených bratrů představili ještě Franco Coletta (kytara), Fabrizio Falco (basa) a Mario Achilli (bicí). V roce 1970 skupina nahrála demo, které jí zajistilo pozvánku do profesionálního studia, ovšem to už v jejích řadách nebyli původní kytarista s bubeníkem, které nahradili Claudio Falco a Franco Pontecorvi. Kapela nahrála několik vlastních písníček a label tři z nich (Vedo il telefono, La mia libertà a Padre Francesco) vydal na kazetové kompilaci Sound 70. Zbytek natočeného materiálu zůstal v trezoru a poprvé vyšel až v roce 1989 prostřednictvím hudebního měsíčníku Raro! (Raro! Records – NL 74215). Byla to vinylová limitka, vylisovaná v počtu 500 (Clear vinyl) a 1500 (Black vinyl) kopií, ovšem na CD se album poprvé objevilo až o dlouhých 15 let později. Reedic moc není, ta od Sony z roku 2014 by měla být zatím poslední.
Čtyřicet minut dlouhá kolekce Donna Plautilla obsahuje deset skladeb, pohybujících se na rozhraní psychedelického popu, beatu a růžky vystrkujícího prog rocku. Nabízí se srovnání se zhruba stejně starými a podobně zaměřenými nahrávkami skupin Le Orme, Panna Fredda, I Raminghi, nebo Il Mucchio a zásadní rozdíl vnímám především na pozici frontmana. Sólového zpěvu se chopil Vittorio Nocenzi (legendární Francesco Di Giacomo k BMS nastoupil až o pár měsíců později) a byť zpívá s podobnou vervou a nasazením, úrovně pěvců výše uvedených kapel nedosahuje. Jeho neškolený hlas je položený daleko níž a občas trochu "zatahá za uši", ovšem odpůrcům vypjatých, do ukrutnejch vejšek tahaných vokálů by mohl vyhovovat.
Na desce jako takové mě baví odhalovat hudební motivy, které se staly základy skladeb natočených až o pár let později. Na konci úvodní Ed io canto a v průběhu písničky Bla, bla, bla rozeznávám melodii skladby Non mi rompete z alba Io sono nato libero (1973) a v osmé E luce fu se ozve fragment písně Quando la buona gente dice z eLPíčka Come in un'ultima cena (1976). Jsou důkazem toho, že některé nápady zůstávají tvůrcům ležet v šuplíku i řadu let.
Většinu skladeb charakterizuje urputnej, klopotnej rytmus a z dnešního pohledu neobvykle vyšponované, až zbytečně zesílené vokály. Tehdy to tak bylo zvykem, ale mám dojem, že se na tom svým způsobem podepsal i remaster posledních CD reedic. Líbí se mi pěkné sólo na Hammond v Piazza dell'oro (eh, eh) a taky mě zaujal humor a ironickej nadhled v písničkách Bla, bla, bla a Un giorno di sole, jejichž refrény mi připomínaj chorály fotbalovejch fanoušků.
Jednoznačně nejlepšími kusy na desce jsou závěrečná instrumentálka Donna Plautilla a přes pět minut dlouhá E luce fu. S krátkým výstupem bicích a jazzem šmrncnutou instrumentální vsuvkou, prošpikovanou sóly klávesových nástrojů. V obou peckách se BMS opravdu předvedli a naznačili, kudy se bude ubírat jejich další cesta…
Jednoduše provedená CD reedice od Sony z roku 2014 neobsahuje nic, než čtyřstránkový booklet s reprodukcí původní obálky, sestavou a tracklistem, ale to by mi nevadilo. Horší je to se zbytečně přehuleným zvukem, kterej mě tou svojí přeřvaností pomalu ubíjí. Naštěstí to nejsou metály, protože ty by mi utrhly hlavu i s ušima, ale stejně. Nechápu, kterej zvukovej inženýr to měl u takhle starý muziky zapotřebí a zasloužil by flákanec.
Je to fajn album s několika výtečnými okamžiky a byť to nejsou typičtí Banco, poslechnu si ho raději, než všechny ty jejich popem nasáklé pokusy z první poloviny osmdesátých let. Dvě a půl.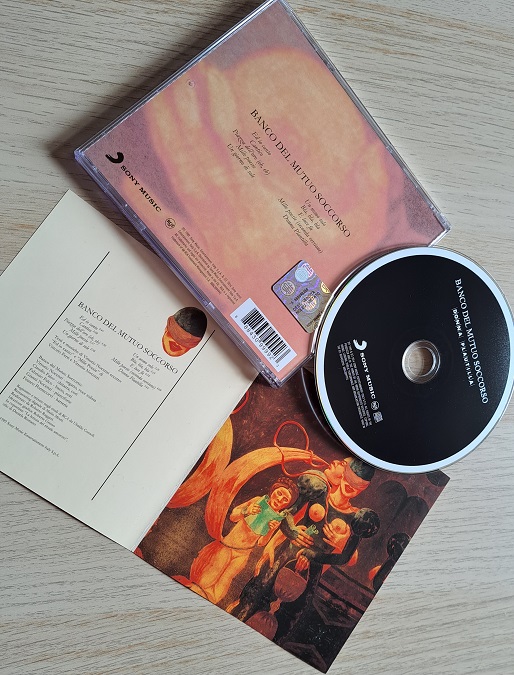 SKLADBY:
Lato A
01. Ed io canto – 4:37
02. Cantico – 2:06
03. Piazza dell'oro (eh, eh) – 3:28
04. Mille poesie – 3:34
05. Un giorno di sole – 2:34
Lato B
06. Un uomo solo – 3:23
07. Bla, bla, bla – 5:46
08. E luce fu – 5:18
09. Mille poesie (seconda versione) – 5:19
10. Donna Plautilla – 3:38
SESTAVA:
Vittorio Nocenzi – organo Hammond, voce
Gianni Nocenzi – pianoforte
Claudio Falco – chitarra, cori
Fabrizio Falco – basso, cori
Franco Pontecorvi – batteria
Donna Plautilla
Banco del Mutuo Soccorso
Prog Rock
Raro! Records
1989
LP
10
CD Sony Music – 88843099992 /2014/