Základy formace Widowmaker byly položeny na jaře 1975 v londýnském pubu The Roebuck zasazeném v inspirativním prostředí přírodního parku Hampstead Heath, kde se na spolupráci s australským basistou Bobem Daisleym (ex-Kahvas Jute, Chicken Shack, Mungo Jerry) a bubeníkem z folkrockových Lindisfarne Paulem Nichollsem domluvil kytarista Luther Grosvenor (ex-Spooky Tooth, Stealers Wheel), jenž odešel z Mott The Hoople, bo bažil vystoupit z Hunterova autorského stínu. Do nově vznikající kapely si vedle materiálu ze šuplíku a pseudonymu Ariel Bender, který v posledním angažmá používal ze smluvních důvodů, přibalil i touhu být hlavním zpěvákem.
Už po několika zkouškách probíhajících v budově bývalého kina ABC ve Fulhamu, kde jim poskytli azyl majitelé nemovitosti, pánové Emerson, Lake a Palmer, kteří ji přeměnili na zkušebnu a sídlo své společnosti Manticore Records, se ale na post vokalisty začal shánět specialista. Na doporučení Rogera Chapmana se jím nakonec stal Steve Ellis s minulostí v softrockových Love Affair majících na kontě coverový megahit Everlasting Love (jak se později ukázalo, zpěvák byl jediným z kapely, kdo se ve studiu podílel na jeho natáčení).
Ve hře bylo i angažování stálého klávesisty, nakonec ale dostala přednost varianta s druhým kytaristou a byl přijat Huw Lloyd-Langton z debutu Hawkwind.
O začínající skupině se doslechl Arthur Sharp, někdejší zpěvák beat popových The Nashville Teens, toho času ve službách Dona Ardena, resp. jeho vydavatelské společnosti Jet Records. Uzavření kontraktu umožnilo kapele nástup do De Lane Lea Studios ve Wembley, kde s hostujícím klávesistou Zootem Moneym a kvartetem doprovodných pěvců (Roger Chapman, Bobby Tench, Sam Brown a Julie Driscoll) během dvou letních měsíců roku 1975 nahrála eponymní album, do něhož otiskla rozmanité dědictví z předešlých štací všech zúčastněných.
Svěží, pestrá a uvolněná hardrocková nahrávka s výraznou bluesovou stopou, říznou Benderovou kytarou, jedinečnou Daisleyho basou a přesvědčivým výkonem frontmana naplno využila potenciál, jímž sestava disponovala. Jen parodická finálovka Got a Dream zakončená spláchnutím záchodové mísy, spolu s výmluvným námětem na přebalu a pohledem na jeho zadní stranu, kde z nepochopitelných důvodů chybí řádný člen sestavy Lloyd-Langton, jemuž je tam vysloveno pouze poděkování, jakoby leccos napovídaly o událostech příštích.
A taky že jo. Nekonečné průtahy ze strany firmy způsobily, že si dokončené dílo na své vydání muselo počkat až do poloviny března 1976. To už měla kapela za sebou i první vystoupení v televizi, kde se 24. února představila v hudebním pořadu BBC The Old Grey Whistle Test s albovými skladbami Ain't Telling You Nothing a On The Road, jež se dostala i na A-stranu doprovodného singlu, který byl k mání o tři dny později.
Živé televizní vysílání tehdy sledoval i Roger Daltrey, načež byli Widowmaker dodatečně přizváni k účasti na festivalové akci Who Put the Boot In probíhající na několika britských fotbalových stadionech v květnu a červnu 1976. Co na tom, že jméno formace se neobjevilo na již připravených propagačních materiálech, podobná nabídka se neodmítá. Tím spíš, že distribuce alba vázla jak doma, tak především v Americe, kde to nakonec dotáhlo pouze na 196. místo albového žebříčku Billboardu.
Nic nepomohlo ani rozsáhlé turné po Státech v roli předkapely stájově spřízněných Electric Light Orchestra ani dvojice dalších singlů. Přesto však za prvním zásahem do sestavy třeba hledat především neustálé dohady s nevypočitatelným manažerem Ardenem, které vyvrcholily jeho soudním sporem s frontmanem Ellisem, jenž sice nechutnou tahanici o 3000 liber vyhrál, ale v kapele i u Jetu skončil.
Zpěvák vzápětí podepsal smlouvu s Ariolou a s pomocí přátel, mezi nimiž nechyběla zvučná jména jako Henry McCulloch, Tim Hinkley nebo Henry Spinetti, natočil sólové album The Last Angry Man. Při jeho finalizaci se pro změnu rozhádali producenti Dave Courtney a Tony Meehan, vydání nahrávky bylo odloženo na neurčito a na trh se dostaly jenom dva singly, Rag And Bone/Save All The Encores (1977) a Soothe Me/Wind and A Lady (05/1978). Znechucený Ellis se přestěhoval z Londýna do Brightonu a začal se živit jako přístavní dělník. Titul The Last Angry Man spatří světlo světa na labelu Angel Air až v roce 2001…
Widowmaker mezitím rozepsali novou kapitolu svého příběhu se zpěvákem Johnem Butlerem a producentem Chrisem Kimseym, s nímž ve frekventovaných Olympic Studios na přelomu let 1976/77 připravili deset skladeb pro druhé album, jež vyšlo na jaře pod názvem Too Late To Cry bez odloženého songu Talk to Me.
I tentokrát se jedná o naprosto vyrovnanou nahrávku, v níž se to jen hemží odkazy do minulosti, kdy um ještě měl svou cenu a váhu. Nečpí z ní upocená snaha vyjít vstříc době, zato z každého břinku sálá nepředstavitelná lehkost hraní. Příznivý dojem z díla tak pošramotí jen povzdech původního zpěváka, že mu nebyl přiznán autorský podíl na většině skladeb. Ale bůh suď. Každopádně album stojí za slyš, závěrečné Sky Blues tuplovaně.
Na dalším americkém turné si Widowmaker střídavě zahráli před Tedem Nugentem, Aerosmith a Mahogany Rush, což přispělo k posunu jejich druhého alba na 150. místo v hitparádě Billboardu.
Za kolosální dramaturgický omyl (či zlomyslnost) však možno brát manažerovu dohodu o účasti kapely na punkových akcích s Ramones a The Dictators. Reakce netolerantních vyznavačů punku na vystoupení Widowmaker byla příslovečnou poslední kapkou, jíž přetekl Benderův pohár trpělivosti už tak naplněný po okraj planými sliby o vyplacení dlužných honorářů, jejichž část Jet Records svévolně zadržoval. Z pevného rozhodnutí angažmá ukončit ho nezvyklaly ani Ardenovy výhrůžky, že už si v branži ani neškrtne.
Jako na zavolanou tehdy na Daisleyho stole přistála nabídka Ritchieho Blackmorea nadšeného basistovým výkonem při koncertě Widowmaker v Hollywoodu. Členství v Rainbow se neodmítalo, třebaže se jednalo o post stejně nestabilní jako je dnes hranice mezi pohlavími.
Zbylé trio nemělo sílu zvrátit běh naplněného osudu kapely, v září 1977 byl oficiálně ohlášen její konec.
Ariel Bender (i Luther Grosvenor) se přesvědčil, že Al Capone hudebního byznysu nemluvil do větru. Kytaru tak raději odložil a dal se na podnikání.
K muzice se vrátil až v 90. letech s kapelou Blues Band '92, vydal druhé sólové album (Floodgates, 1996), zúčastnil se reunionu Spooky Tooth (1998/99), založil Ariel Bender Band (2004), vystupoval s uskupením Ariel Bender's Mott The Hoople (2007/08), nahrál svoje třetí album (If You Dare, 2011), v červnu 2018 se dal dohromady s Ianem Hunterem a Morganem Fisherem v koncertním projektu Mott The Hoople '74.
Bob Daisley si po brzkém konci v Rainbow (08/77–10/78) zahrál s kdekým, jeho účastnický seznam bere dech.
Huw Lloyd-Langton se stal nakrátko členem Budgie (1978), koncem roku 1979 se na celé desetiletí vrátil do sestavy Hawkwind, vystupoval s vlastním projektem Lloyd-Langton Group (1984/99), vyučoval hru na kytaru v Kilburn Community Centre (1993/98), hrál v The Meads of Asphodel (2000/07). Zemřel po dlouhém boji s rakovinou 6. prosince 2012.
Paul Nichols podle všeho pověsil paličky na hřebík.
John Butler na začátku osmdesátých let založil alternativní rockovou formaci Diesel Park West. Stal se její klíčovou personou a tvůrčí silou, což platí dodnes.
V roce 1980 se pro návrat k muzice rozhodl i Steve Ellis. V shorehamských docích dal výpověď, poslední den v práci ale utrpěl vážný úraz, po němž strávil kus života ve špitálech a rehabilitačních zařízeních. Znovu chodit začal až po osmi letech, hudební kariéru tak restartoval na druhý pokus.
Budiž mu echt přáno, že se na jaře letošního roku dočkal souborného vydání svého díla. Parádně vyvedený 10CD Box Finchley Boy dokonale mapuje všechny zásadní momenty jeho hudební dráhy (The Love Affair, Ellis, Widowmaker, sólová alba, nahrávky s Paulem Wellerem).
Zato kapele Widowmaker pšenka nerozkvetla ani na reedičním poli. Na vinylu dosud nevyšlo ani jedno album, na CD se tak dělo jen sporadicky – Jet Records (1989), Angel Air (2012), Belle Antique (2019) a Esoteric Recordings (2017), jejichž antologii na 2CD Running Free: The Jet Recordings 1976-1977 možno směle doporučit.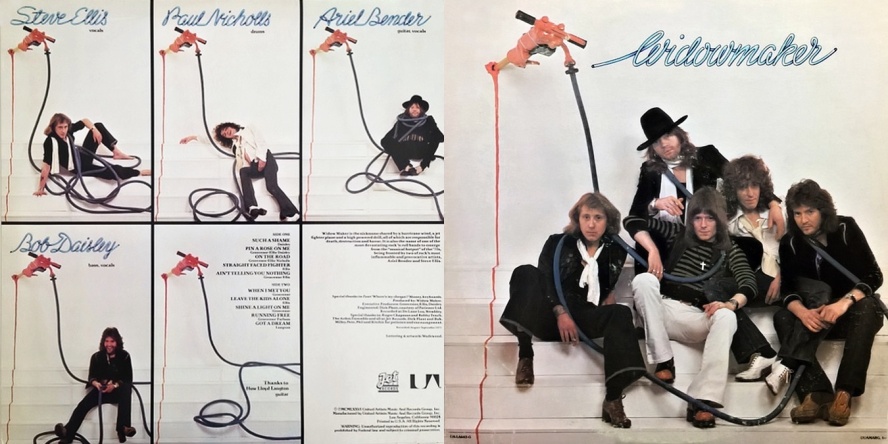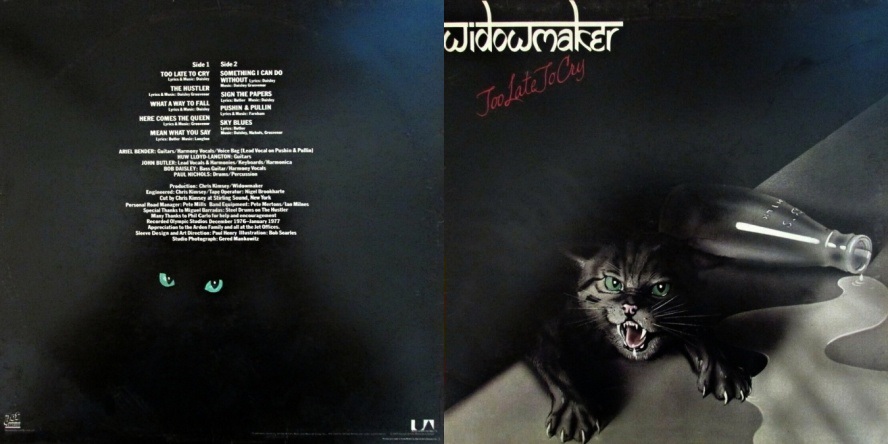 DISKOGRAFIE:
02/1976: On The Road/Pin A Rose On Me (SP Jet Records)
03/1976: Widowmaker (LP Jet Records)
04/1976: When I Met You/Pin A Rose On Me (SP Jet Records)
06/1976: Leave The Kids Alone/When I Met You (SP Jet Records/UA)
04/1977: Too Late To Cry (LP Jet Records/United Artists Records)
06/1977: Too Late To Cry/What A Way To Fall (SP Jet Records/UA)