Zatímco se v Československu vždy připravená kulturní fronta chystala na slavnostní shromáždění do Národního divadla a Divadla hudby, aby se angažovala ve prospěch "nových tvůrčích činů ve jménu socialismu a míru", kdesi na jihu Oklahomy v lednu 1977 obsadil Randy Davis post kytaristy v lokální rockové kapele Rigid Spur, z níž koncem roku vzešel kvartet Ashbury South. V únoru 1978 se k němu přidal jeho bratr Rob, avšak formace s převzatým repertoárem a propracovanou pódiovou show vydržela jen do léta 1979.
Randy začal pracovat pro nahrávací společnost v Texasu, jako vyhledávaný multiinstrumentalista doprovázel řadu muzikantů v regionu a zároveň pravidelně vystupoval ve dvojici s Robem, který se vedle kytary chopil i zpěvu.
V květnu 1980 Davisové přesídlili do Tusconu v Arizoně, kde založili nový soubor. Pod názvem Ashbury debutovali v nejznámějším místním klubu The Night Train, uspěli v soutěži Battle of the Bands pořádané KDKB, jedním z rockových rádií ve Phoenixu té doby, a v listopadu vyrazili na koncertní šňůru po státech Čtyř rohů.
Po jejím skončení v lednu 1981 do skupiny nastoupil bubeník Johnny Ray, který se s dvojicí hostujících muzikantů (Jerry VanDielen – piano a John Watts – perkuse) během ledna a února 1983 podílel na natáčení devíti skladeb v tusconském Westwood Studios. Výsledek společného snažení byl bezúspěšně nabídnut několika velkým firmám.
Randy Davis: "Nemělo to cenu, naše muzika nikoho nezajímala. Když už se s náma bavili, tak po nás chtěli něco úplně jinýho."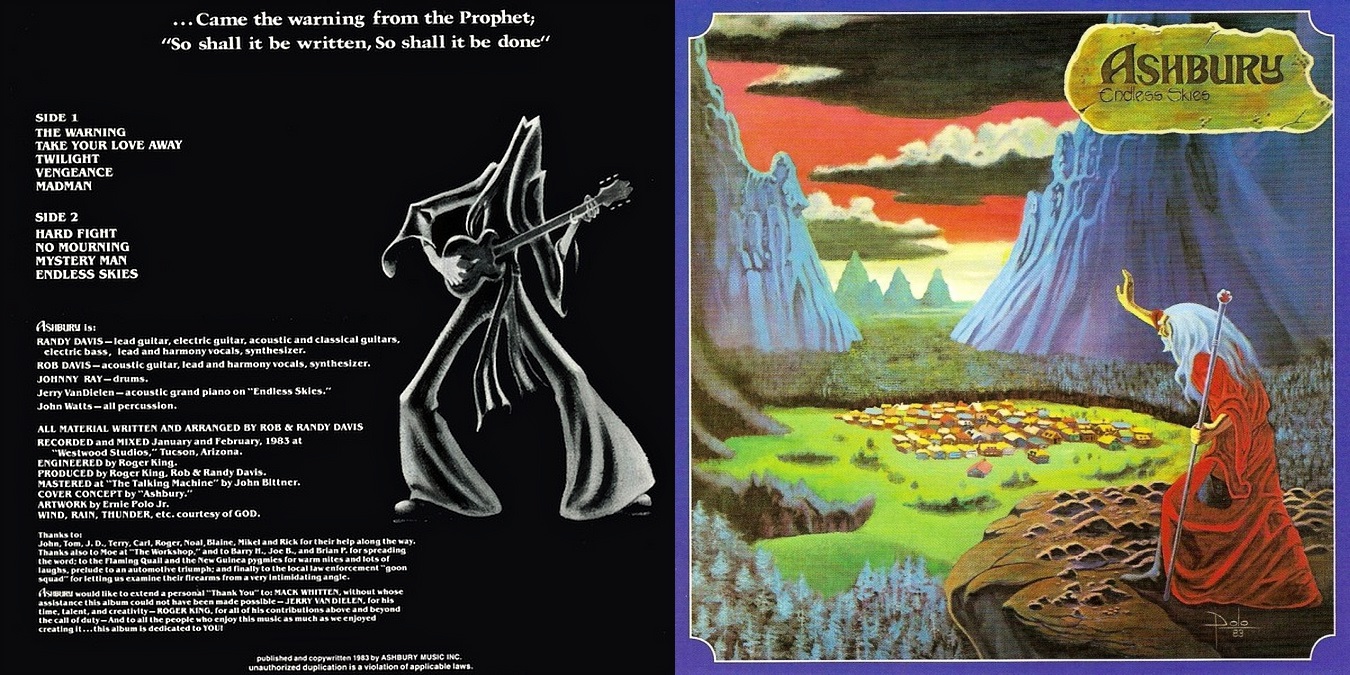 Album Endless Skies nakonec spatřilo světlo světa v květnu 1983 jen díky nadšenému stoupenci Ashbury Macku Whittenovi, resp. jeho příspěvku 5000 dolarů, který pokryl jak tisícikusový náklad LP, tak honorář pro renesančního člověka z Tucsonu jménem Ernie Polo Jr., pracovníka v obchodě s obuví a autora obrazu s Prorokem varujícím před špatnými volbami a chamtivostí, jenž byl použit na přebal alba, které bylo prostřednictvím Tower Records distribuováno na jihozápadě Spojených států, kde Davisové s novými spoluhráči podnikli letní propagační turné.
Radio KSTM z Phoenixu ocenilo debut Ashbury titulem Arizona Rock Album of the Year '83 a stejnou cenu mu udělilo i o dvanáct měsíců později s vysvětlením, že nic lepšího za ten čas v Arizoně nevzniklo. A nemožno se divit. Písně zde plynou s nepředstavitelnou lehkostí jedna za druhou jako kapitoly v tom nejsrozumitelnějším příběhu. A s jeho koncem se obvykle dostaví pocit známý jen po shlédnutí nevšedního filmu – že svět, doba i člověk sám jsou najednou lepší. Anebo, že se tak jistojistě stane.
Nedlouho po vydání Endless Skies se začalo s přípravou materiálu na další desku, ale uběhla dvě desetiletí než se první album dočkalo svého nástupce. V mezidobí byla ústřední dvojice v kontaktu se světem hudby prostřednictvím nepravidelných akustických vystoupení pod hlavičkou Davis Brothers Ashbury.
Randy Davis: "K odloženému materiálu jsem se vrátil až v roce 2001. Bral jsem to jako zábavnej vedlejšák, takže trvalo další tři roky, než jsme s Robem dali dohromady asi hodinu hudby. Bez komerčních ambicí jsme udělali jen 100 kopií pro rodinu, přátele a fanoušky a až na základě narůstajícího ohlasu jsme v roce 2010 titul Something Funny Going On vydali se všema náležitostma."
Dlužno dodat, že na zvýšeném zájmu o kapelu měla velkou zásluhu i reedice debutového alba připravená v roce 2007 firmou Rockadrome, kterou založil Dennis Bergeron, někdejší manažer podobně zaměřeného labelu Monster Records.
Oproti fantasy příběhu Endless Skies představuje druhé album návrat do reality (dojde i na korporátní fašismus v nahrávacím průmyslu), hudebně ovšem kráčí ve stopách svého melodického předchůdce s uhrančivou směsí akustických a elektrických kytar a vokálních harmonií. A dobře, že tak.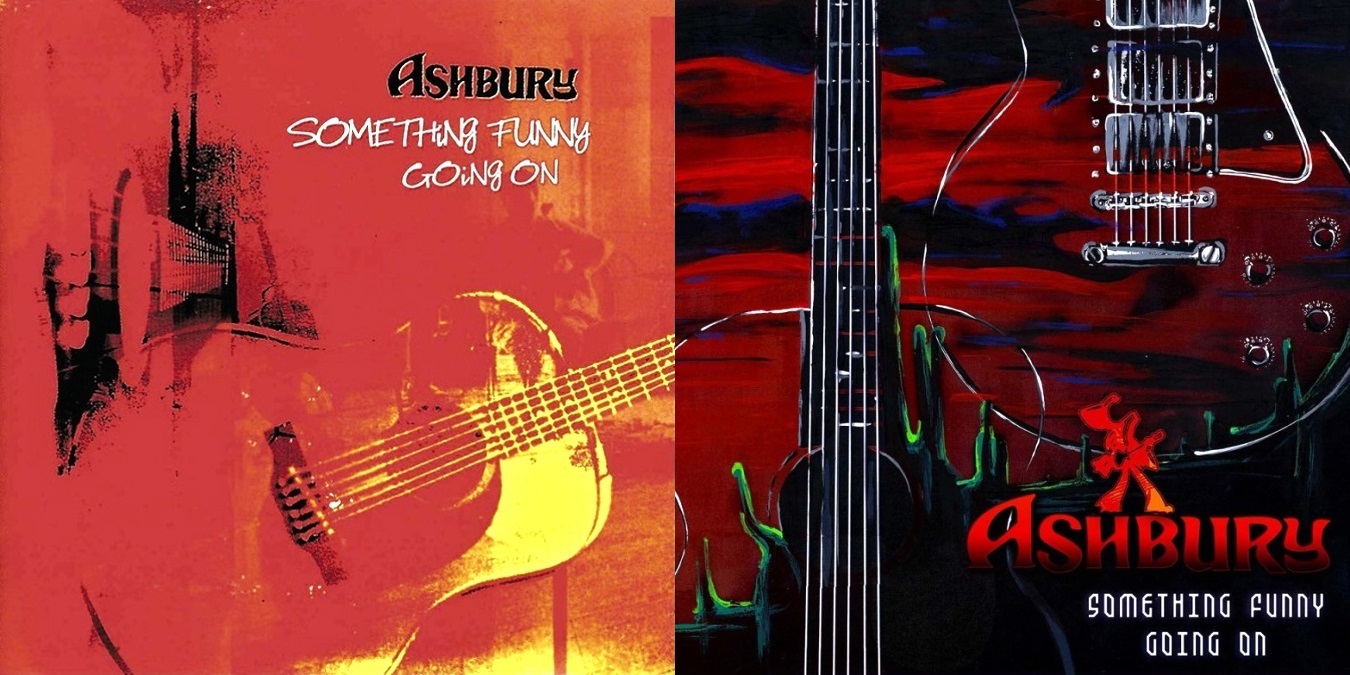 Fanouškovská základna Ashbury se dál šířila všehomírem jak chřipkové viry v sezónních epidemiích, kapelu přijala za svou především metalová komunita.
Rob Davis: "Sami nevíme, jak a proč se to stalo. Nikdy jsme nebyli metalovou kapelou a ani jsme se nesnažili stát něčím, kým nejsme. Ale vzájemně to funguje a už řadu let máme pozvánky na metalové akce z celého světa."
Ashbury se na mezinárodní scéně zabydleli, opakovaně se vrací i do Evropy (májový festival Muskelrock ve Švédsku 2015, německý Keep It True v letech 2015 a 2017…), v domovině při akci Psycho Las Vegas II v srpnu 2016 sdíleli pódium mj. s Alicem Cooperem, Blue Öyster Cult a The Crazy World of Arthur Brown.
Oba tituly vydal v letech 2016-17 ve vydařené reedici německý specialista na metal High Roller Records. V rozhovoru z května 2017 Rob Davis uvedl, že je kompletně připraveno třetí album, jež mělo být k mání koncem loňského roku pod názvem Eye of the Stygian Witches, ale zatím se tak nestalo. Trojici starších songů, s kterými je na desku počítáno (Out of The Blue, End of All Time a Searchin') vydala v roce 2013 na audiokazetách parta stoupenců Ashbury v Irsku. Jako další skladby byly uvedeny Faceless Waters, Good Guitar, Celtic Cross plus titulka, tož se snad brzy ukáže, co a jak.
Za všechna jména, která se kdy na pódiu po boku nerozlučné bratrské dvojice představila, nutno zmínit aspoň nepřehlédnutelnou postavu s basou Joeya Morena, který je v sestavě od roku 2011 (tehdy s ním rytmičil Stephen Howell), aktuální složení doplňují bicmen John Gimmler a třetí kytarista John Bujak.
DISKOGRAFIE:
1983 – Endless Skies (LP, Ashbury Music)
2010 – Something Funny Going On (CD, Ashbury Music)
PS: Nikdy nezapomenu na dobu, kdy jsem se doslova opájel objevováním zapomenuté hudby. Právě Ashbury jsou jedním ze symbolů těch časů, jejich první desku bych si vzal na pustý ostrov i do důchoďáku.
PPS: Nebyl by to internet, aby vedle nesporných zásluh na úspěšném restartu kariéry Davisových nevnesl do celé story zmatky v podobě pětičlenné formace z města hříchu a zábavy, která si v roce 2005 zvolila stejný název a do konce svých dnů (2009) vydala čtyři studiová alba…