ASIA byla od počátku na úspěch kalkulovaným hvězdným seskupením. Jména: Steve Howe, Carl Palmer a John Wetton automaticky znamenala obrovský zájem médií.
Iniciátor, klávesák Geoff Downess, se odjakživa tak trochu vezl s módou, neváhal přeskakovat podle potřeby ze stylu na styl jako pilná včelka: od umělecky ambiciózního jazzrocku (SHE'S FRENCH) k spotřebnímu disku (BUGGLES) a pak třebas k artrocku (YES) i jinam.
Pomprocková ASIA byla jím jasně směrována na americký trh, kde koncem 70. let slavily obrovské úspěchy BOSTON, JOURNEY, STYX, KANSAS a další představitelé bombastického FM/AOR.
V roce 1982 mezi "umělečtějšími" rockery ještě doznívala kocovina z punku, na scénu se ale už prodrala new wave a všudybylské syntíky se staly součástí kytar, hlasivek i bicích. Amerika byla v té době pro rockovou melodiku stále zemí zaslíbenou.
Exportní plán vyšel: LP v USA #1, singl Heat Of The Moment #4. Celosvětově se album Asia řadí mezi 100 nejprodávanějších desek 80. let.
Seřadil jsem na hromádku řadovky (záměrně vynechal live, kompilace, archívy), pustil play, poslouchal a čmáral si na papír poznámky…
Asia (1982)
Debutové album napořád definovalo styl i sound Made in ASIA, ať již pod jejím praporem hrál ten, či onen z dvou desítek muzikantů.
Je nepochybné, že typizovaný slavnostně fanfárový pompézní sound vymyslel Geoff Downess a ostatní se víceméně přizpůsobili, jinými slovy: obětovali své hráčské ambice na oltář úspěchu.
Hymnické nápěvy, cválavá melodika, vokální harmonie jak z mormonských chrámů, svádivé pop melodie – to vše bylo cíleno do prostoru vymezeného jmenovanými US kapelami, svou nacukrovanou podbízivosti šla ale ASIA o dost dál, až někam na pomezí mainstreamového poprocku.
LP Asia je otiskem doby, kdy se v muzice začalo ve velkém počítat, kdy rock umazaný od hlíny byl firmami vymydlen, vyšampónován, vyfénován, a lidmi následně pozlacen, platinou potažen. Byla to doba vrcholového music kšeftu.
V rámci žánru velmi solidní, svým způsobem stylotvorná deska.
Alpha (1983)
Prakticky dvojče prvního alba: rozmáchlá melodika, velká muzikantská gesta, cizelovaný nablýskaný sound, pompa na druhou – to vše cíleno na dospělého pohodlného posluchače. GB NR.5, USA NR.6. Don't Cry skončila v druhém sledu (33/10).
Alpha už nenaplnila komerční ambice podle představ (jiné ani podle mně nebyly záměrem). Potvrdilo se, že povrchově líbivý formát ASIA nemá adekvátní obsah, a že toho krasostylu a pěknosoundu se lidi rychle přejí. Nicméně na jednu platinu se ještě urodilo.
Melodický rock se snadno stane pastí pro své tvůrce i posluchače. Stačí když vyschne kompoziční invence a z muzikantů se vytratí tvůrčí vnitřní pnutí, kdy mezi sebou bojují o každou sekundu. ASIA na dvojce působí jako firemní sešlost. Skvělá muzika k ohňostroji.
P.S. Zajímalo by mě, kdyby nejdřív vyšla Alpha a pak Asia, jestli by se prohodily i preference a prodeje.
Astra (1985)
ASIA se začala drolit zevnitř. Steve Howe vzdal boj o první linii v soundu poté, co si údajně poslechnul demáče, jeho švýcarský nástupce Mandy Meyer (mj. KROKUS) byl z pohledu star image nouzovkou, hráčsky kapelu nijak nebrzdil.
Astra prozrazuje určitou dramaturgickou bezradnost a Downesovu rostoucí nadvládu. ASIA se dostávala do vleku doby, objevují se náznaky discosoundu (Hard On Me) i zjemnělého softrocku (Wishing). Zvuku kapely vládnou syntezátory, elektronicky doupravené bicí tento posun k módnosti jen stvrzují. Z dřívější celistvé velkoleposti zůstaly pouhé střípky.
Aqua (1992)
Obnovená sestava sice zahrnovala vedle nového kytaristy Ala Pitrelliho i hostující otce zakladatele Howea a Palmera, odstup obou byl ale zřetelný. Do popředí dění se dostal novic John Payne s catleyovsky patetickým projevem.
Zásadním problémem Aqua jsou skladby, vysychající pramen invence nezachránil ani hlasově výtečný Payne. ASIA byla tou dobou de facto Downes Bandem. Album se neumístilo ani v Anglii, ani za Atlantikem, menší úspěchy slavilo jen v Japonsku a Německu.
Aria (1994)
Z původní supergroup se definitivně stala Geoffreyho doprovodka. ASIA sice udržovala určitou kontinuitu se svou minulostí, své místo měla v jejím soundu i nadále pompa a patos (Desire, Military Man), v titulním kusu se dokonce objevila po delší době snaha o košatější prokomponovanost, stylem ale stále více mířila k dospěláckému popu, některé skladby (Anytime, Reality) bych si uměl představit i na rozdováděné zahradní párty. Z mého pohledu rockera nejslabší album.
Arena (1996)
Tandem Downes – Payne se slyšitelně snažil vymanit ze stereotypu. Hned v úvodní Into The Arena například zazní slibná zvýrazněná kytara. Arena, Heaven i decentně pulzující Falling se tetelí jak cigaretová mlhovina ve stylovém whisky baru. Payne si podle mě nejvíc užívá Words, táhlou magnumovskou medovinu, a Aziz Ibrahim Bring Me Down, kam se mu podařilo prosadit solidní riff. Ostatní skladby jsou v područí downesovského synthie pop formátu, jediná The Day Before The War mě zaujala svým návratem k pompéznosti. Oceňuju snahu vymanit se z klišé.
Aura (2001)
Poučený návrat, žádné fanfáry, ale spíše vycizelovaný – vnitřně bohatý – sound a'la TOTO. Skladby jako takové jsou vesměs nevýrazné, velkých motivů se už nedočkáte, celkově je to ale příjemná nerušivá piánko background muzika na konci oldrockerova dne. Jak jsem již uvedl, Payne má něco z patosu Boba Catleye, jeho hlas rozhodně nenudí, mnohé dokonce zachraňuje. Pestrá squadra hostujících muzikantů se projevila na zvukové barevnosti. Aura neunese soustředěný gurmánský poslech, ale jako stylovou náladovku ji beru. Pauza prospěla, přeci jenom ale čas oponou trhnul, všichni byli už jinde, i ti věrní Japončíci.
Silent Nation (2004)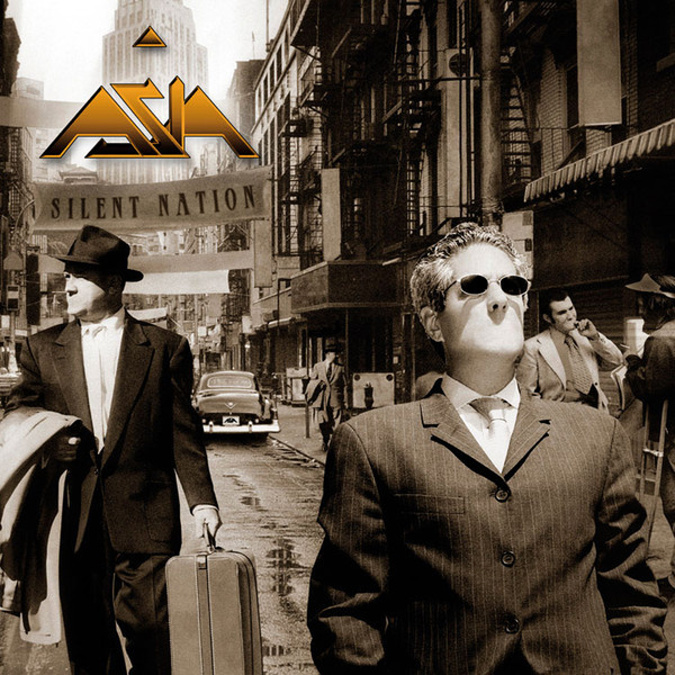 Částečný návrat k rozmáchlejším gestům: What About Love i Long Way From Home je melodicky chytlavý AOR, Silent Nation pak po dlouhé době autorsky pěkně vystavěný solidní opus. Povedená je i patetická balada Gone Too Far a po ní skočka a fanfárovka v jednom I Will be There For You, pecka jak ze starých časů. Rutina, i když překvapivě lehkonohá… Jednoznačným přínosem byl zkušený Chris Slade za bicími.
Phoenix (2008)
Po prvním poslechu kandidát na výser ro(c)ku, po pátém – a nadlouho posledním – své první dojmy jen orazítkuju a podepíšu.
Hudba má vzbuzovat emoce, ovšem když je to od první noty klišé na druhou a doslova se navíc dusíte v mracích prefabrikovaných (byť zářivě svítivých) zvukových barev ze sprejů, dostaví se jediná – pryč odsud!
Jeden by čekal, že se po těch letech staří mistři dospěláckých pompézních náladomaleb předvedou eruptivními gejzíry nápadů, o to vyvaleněji čučím do růžové mlhy, kdy přiletí slibovaný mýtický pták. Nepřiletí.
Člověčiny a vzruchu se nedohledáte. A tam někde v tom zcukernatělém zvětralém medu mají být zataveni giganti Howe, Wetton, Palmer, Downes? A jsou to opravdu oni? Není to nějakej aprílovej fór, nebo čísi pomsta rockerům?
Z celé desky snese jakás takás "hitová" měřítka úvodní Never Again, ale i to je z větší části homeopatie sebe sama. Je mi docela líto Stevea Howea, který chudák v každé skladbě dostal deset patnáct sekund a dost. Přitom ty jeho miniatury jsou z celé desky nejzajímavější!
Tenhle Phoenix může zase v klidu lehnout do popela a třebas zdechnout; nemá smysl, aby roztahoval svá ulepkaná křídla v jakékoliv rockerské cédé přihrádce.
Hergot. Staří chlapi a rochní se jak malá děcka ve vlastních chcankách v mělkém brouzdališti.
P.S. Komu se tohle líbí, je podle mě jakožto rocker navždy z(a)tracen.
Omega (2010)
Po předloňské hrůze jsem se novinky docela obával. A jak to dopadlo? Omega je lepší než Phoenix. Lepší než Phoenix je ale všechno.
Wetton má posazeno trochu výš než na koncertech, hlasově omládnul, nakolik je to studiové kouzlení, poznají návštěvníci tour 2010. Downesovi konečně někdo vysvětlil, že ty jeho popíkové syntíky do dospěláckého pomprocku nepatří.
Většina skladeb je tentokráte psaná lehčí rukou než zplihlý Phoenix. Jenže namísto plnokrevného pompézního soundu zde opět máme jakousi light verzi, sice neurážející vkus, jsou to ale zkrátka převoněné kuličky z marcipánu a ne chlapský bigbít. První dva tři cukříky chutnají, brzy se jich jeden přejí.
Taky nechápu, proč ASIA se svým muzikantským potenciálem tvrdošíjně zůstává u triviálního schématu refrén verze refrén i tam, kde se doslova nabízí rozvití kompozice a zařádění si. Kolikrát jsem si při Howeově sólečku představoval, jak se najednou kolem jeho kytary vzedme hradba kláves a rytmiky a Palmer, Wetton i Downes vyzvou profesora na souboj. Namísto toho Howe po 20 sekundách odchází do zákulisí.
Nebudu se s tím malovat, pastnu syrové poznámky, jak šly z ucha do klávesnice. I Don't Wanna Lose You Now – trubička se šlehačkou. Finger On The Trigger – slušnej kytarovej riff, i nástup hammondů OK, melodický cval, backgroundy jak od ELO, typizovaná rádiovka. Through My Veins – parádní hymnus, nepřeslazený, přitom nadýchnutý, Wetton jde na to víc odspodu, Howe nasadil masivnější struny. Holy War – svižná, ale v hlavní melodické lince vodnatá písnička, Wetton a zpěvy vůkol to zachraňují. Škoda, že Howe nakročí dopředu jen v mezihře. Downes nakrátko vystrčí růžky se syntíky, huš. Ever Yours – uf, to nejen začíná jak Forever Young od Alphaville, což mi až tak nevadí. U Alphaville. Rozvařená, přecukrovaná marmeláda narvaná éčky. Průser.
Listen Children – hebké klávesy, piáno, gradace… a napůl cesty se zastavíme někde u softkytarové brnkačky à la cokoliv z 80's AOR Ameriky. Vokální nátěr je napůl ASIA, napůl všelicos jiného, vespod pobrnkává Howe jako kdyby přišel z U2 a ne Yes, ke konci už jen halekačka, odrhovačka. End Of The World – první fanfáry v intru, Wetton pokračuje ve velebném duchu; jen pevný melodický oblouk, který by to všechno unesl a nechal shůry vyniknout, chybí. Howe opět jen takové ty dojezdy do ztracena, podle mě ho tohle nemůže ani v nejmenším bavit. Light The Way – 80's syntíky, Howe líbezně vazbí, přicválá Palmer, naskočí Wetton… a nic. Kouzlo nikde. Homeopatická ředina původně kvalitních surovin. Šlape to, akorát není jasné kam. Emily – patetický Wettonův úvod se rozvine, anebo nerozvine? Tak napůl, Emily neztratí melodický glanc, chybí jí však takové to bombastické natlakování, které skvěle umí třebas Springsteenův E-Street Band. Howe zase kdesi vespod z povinnosti zazpívá jen jednu krátkou sloku. I'm Still The Same – další převařenka, trčící ELO v doprovodných vokálech. There Was A Time – synthflétna, vlnka skoro jak u Jethra, pak se ale melodie natáhne kamsi jako žvýkačka. I Believe – velká vzpruha na závěr, jinak bych už asi usnul, ta by obstála i na jedničce. Že ji každý už nastokrát "slyšel"? A co, na koncertě si při ní společně zahalekáme…
I když to tak podle těch mých šlehů od boku nevypadá, celkově docela dobrý, poslouchatelný. Programově se vracet k Omeze sice nebudu, ale když si ji někdy náhodou pustím, nevypnu. Tak asi.
XXX (2012)
Co čekat od resuscitovaného strojku na peníze? Po dvou albech a koncertech v posledních čtyřech letech od znovuobnovení původní sestavy jsem na rozpacích, a XXX vkládám do přehrávače se zataženou emoční brzdou. První letmý poslech mě nevylekal ani nenasral, naopak, navnadil. Mám za sebou pět poslechů za sebou v jeden den, a bez únavy…
Když se kouknu do notesu s poznámkami, koukám, že mě toho zaujalo dost a dost. Hned první dvě skladby se povedly i kompozičně, což je u ASIA dlouhodobý prubířský kámen. Tomorrow The World je typizovaná nástupovka, co mě ale dostalo hned zkraje, byly ve finále rozparáděné Downesovy hammondy i Howeova kytara. Předešlu, že vrcholem alba je pro mě Bury Me In Willow se skvělým stupňovaným refrénem a vrchovatou porcí pompézního soundu. No Religion je spádovka jak od Uriášů, znělé varhany si Downes od Kena snad vypůjčil, anebo mu – v této skladbě nezvykle zdrsnělý – Wetton našeptával, jak je Hensley nastavuje. Velmi podařený pokus o bombastický rock v duchu seventies. O dekádu dál nás posune Faithful s rejstříky à la Saga. Vláčná nadýchnutá střednětempá pompárna, ke konci ozdobená "ťahavými" modulovanými tóny Steveovy kytary. V podobném osmdesátkovém duchu se zvolna rozjíždí i I Know How You Feel.
Na začátku Face On The Bridge to vypadá, že Palmer u bicích snad usnul, pak za to vezme Howe, a Carla s sebou doslova strhne. A najednou máme z odloženinky výstavní kus. Wetton vystrčený před kapelu, nakynuté refrény, jak káže receptář bistra ASIA a ve skvělé mezihře se všichni jakoby zvednou ze židlí a rozparádí jako zamlada – to je Al Gatto Nero se skvělými "dialogy" Johna s kolegy sboristy. Jediná Judas s typizovaným dejavu nápěvem mě ničím extra nezaujala. Druhým vrcholem XXX je podle mne Ghost Of A Chance, balada gradovaná až do symfonizujícího finále se vznášejícím se Howeovým kluzákem a slavičím trylkem.
Díky stopáži 5-7 minut je v každé skladbě místo i na různé mezihry a dohry. Právě v těchto "druhých plánech" se mi ASIA 2012 líbí nejvíc, rocková pompa jak má být. Je znát, že se čtveřice snaží vyhnout dřívějším excesům. Nezvykle ukázněný Downes se nesnaží propašovat do svých kláves žádné své oblíbené popděsy, jen vrství, sem tam dokonce potěší staromilce hammondkami. Určitá jednostrunnost je daná tím, že mimo dvojice Downes/Wetton se nikdo nezapojil do skládání. Howe jen u dvou skladeb. Zde vnímám největší rezervy do budoucna.
XXX je důkazem, že když se chce – a Downes neblbne – má ASIA i po třiceti letech svým věrným co nabídnout, jakkoliv se čas nedá vrátit a doby, kdy takováto muzika bořila žebříčky, jsou nenávratně pryč.
Jaromír Merhaut, publikováno v magazínu Spark 7/2008 a Rock+ 2012