Medzi rokmi 1970 a 1975 boli Uriah Heep (názov podľa postavy z románu David Copperfield od Charlesa Dickensa) jednou z najúspešnejších hard rockových skupín. Od svojich kolegov z tej doby sa však čiastočne líšili nezvyčajne dlhými skladbami, ktoré oplývali prekvapujúcimi progresívnymi prvkami, často využívajúc motívy "fantasy". V každom prípade – štúdiovky Salisbury, Look At Yourself, Demons & Wizards a The Magician's Birthday patria jednoznačne k ich tvorivému vrcholu a ponúkajú poctivú hard rockovú jazdu s častými potulkami po progresívnych cestičkách. Album Live In January 1973 to veľmi pôsobivo dokumentuje a je nabitý energiou na prasknutie – jeden z najlepších živých záznamov, aké kedy boli vydané.
Pre zvuk Uriah Heep bol charakteristický Hammond organ B3 Kena Hensleyho v spojení s reproduktorovým systémom Leslie, vokálne harmónie a hutná gitara Micka Boxa.
Salisbury má v ponuke svojím spôsobom aj jednoduchšie a kratšie čísla, akými sú Bird Of Prey s neuveriteľnou stavbou vysokých vokálov, prípadne Time To Live so skvelou gitarou. A tento nástroj dominuje aj v High Priestess, kde prekypuje energiou a ženie skladbu dopredu s typickou silou vokálnych harmónií. Tieto piesne sú veľmi dobrej kvality a poháňané poctivou rytmickou sekciou. Jediná nevýhoda? Basák Gary Thain ešte nefiguroval v zostave – jeho druhý hlas by albumu dodal extra nádych.
Skladba The Park je výnimočná a vybočuje z doteraz načrtnutého rámca. Nie je to balada, aj napriek svojej pokojnej atmosfére a jemnosti. Varhany hrajú takmer stredovekú melódiu, gitara sprevádza vokál, basa preberá časti organovej linky. V tom momente nastáva krátke ticho a prichádza ľahký jazzmotív. Ten je sprevádzaný spevom vtáčikov a detskými hlasmi – veď sme v parku.
Na Lady In Black nebudem mínať atrament. Má ten zvláštny dar, že by ju mal poznať každý.

Všetko doteraz však zostáva v tieni titulnej skladby. Salisbury je jedna z vôbec najlepších dlhých kompozícií na spojnici rocku s klasikou. Ak zostanem pri podobných spolkoch, tak napr. April od Deep Purple jasne zaostáva. Uriah Heep sláčikovými a dychovými nástrojmi vytvárajú náladu, ktorá neustále osciluje medzi hard rockom, progresívnym rockom a klasickou hudbou. Navyše – spevák vo vynikajúcej forme a ako inak, dokonale zvládnuté vokálne harmónie.
Motív sa rozvíja sláčikmi a dychmi, ktorý postupne preberá Hammond. David Byron, jeden z najlepších spevákov v rocku, Ken Hensley za organom, rovnako gitarista Mick Box – na mojej strane nefalšované nadšenie. Existuje len veľmi málo dlhých songov, ktoré ma dokážu zaujať od prvej do poslednej sekundy. Salisbury patrí medzi nich. Nie je ľahké načrtnúť celých 16 minút. Treba si to vypočuť.
Uriah Heep z rokov 1970-1975 obľubujem pre náročnejšie poňatý hard rock. Skupina mala počas tohto obdobia veľmi kreatívne a vydarené nahrávky, ktoré jej môže závidieť nejeden umelec. Kvalitná produkcia z počiatkov hard rocku i progresu by sa mala neustále pripomínať, aby sa o nej dozvedeli aj mladšie ročníky. A Salisbury tieto atribúty napĺňa, preto som si dovolil venovať sa platni rozsiahlejšie. Nezabúdajme na našu obľúbenú hudbu!
(Recenzia pôvodne publikovaná na nemeckej stránke Babyblaue. So súhlasom autora preložená do slovenského jazyka.)
SKLADBY:
1.  Bird Of Prey  (Box/Byron/Hensley/Newton)  4:05
2.  The Park  (Hensley)  5:38
3.  Time To Live  (Box/Byron/Hensley)  4:02
4.  Lady In Black  (Hensley)  4:33
5.  High Priestess  (Hensley) 3:39
6.  Salisbury  (Box/Byron/Hensley)  16:02
ZOSTAVA::
David Byron: lead vocals (1., 2., 3., 6.)
Ken Hensley: organ, piano, slide & acoustic guitars, harpshicord, vibec, vocals, lead vocals (4., 5.)
Mick Box: lead guitar, acoustic guitar, vocals
Paul Newton: bass guitar, vocals
Keith Baker: drums
Brass and woodmind on Salisbury arranged by John Fiddy.
Ďalšie informácie o albume: Discogs.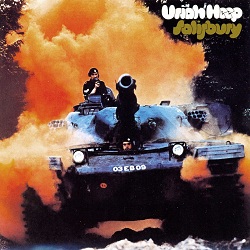 Salisbury
Uriah Heep
hard rock, progressive rock
Vertigo
1971
LP
6