CD Black Widow Records – BWRCD 011-2  /1995/
Jedna z mála desek, ke které mě přitáhnul především obal. Skupinu Abiogenesi jsem tenkrát neznal, ale té v mnoha ohledech nedokonalé a trochu naivní malůvce upíra jsem nedokázal odolat. Pak stačil jeden nástřel z internetu a já věděl, že tohle cédéčko musím mít…
O skupině Abiogenesi se toho dá najít pomálu, ale něco přece. Pochází z Turína, vznikla v první polovině devadesátých let a jejími zakládajícími členy byli Toni D'Urso (kytara, zpěv) a Sandro Immacolato (bicí), kteří spolu už předtím účinkovali v obskurních jednoalbumovejch projektech Blues & Soda (1991) a Gothic Lunch (1992). Kapela byla komplet teprve potom, co ji doplnili Roberto Piccolo (basa) s Patrickem Menegaldem (klávesy) a debutovala albem Abiogenesi, vydaným u italského nezávislého labelu Black Widow Records v roce 1995.
O tři roky později skupina natočila eLPíčko Il giocoscuro a v roce 2000 album Le notte di salem. Na něm už nefiguruje hráč na klávesové nástroje Patrick Menegaldo, kterého nahradil Marco Cimino a za zmínku stojí i účast několika zajímavých hostů (např. Clive Beer-Jones z britských Black Widow). Marco Cimino se v kapele dlouho nezdržel a následující placku Io sono il vampiro už místo něj nahrál Paolo Cercato. Album obsahuje soundtrack k televiznímu hororu "Io sono un vampiro" režiséra Maxe Ferra a vyšlo v roce 2005, no a zatím posledním příspěvkem do diskografie Abiogenesi je vinyl Impetus Insectorum z roku 2010.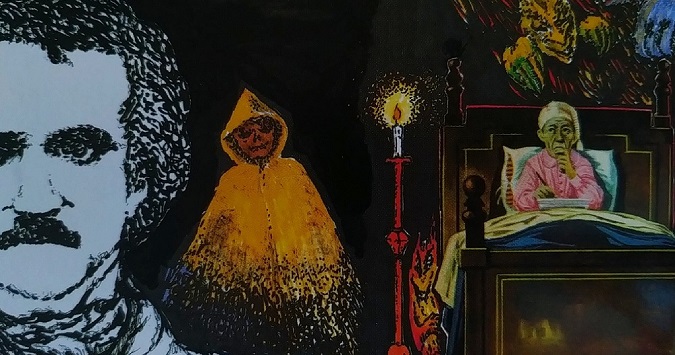 Víc se mi toho vypátrat nepodařilo a připadá mi to přinejmenším zvláštní. Na internetu se dá najít jen minimum hodně špatnejch fotek a informace aby z něj člověk páčil heverem. Hledal jsem nějaké rozhovory, upoutávky, nebo recenze koncertů a nic. Bandcamp mlčí a podstrkuje mi squadru Abiogenesis a podobné je to i s facebookem. Spíš, než na regulérní kapelu to vypadá na studiovej projekt, ale těžko říct. Sice na mě vyskočily fb profily Toniho D'Ursa (podle starejch fotek skupiny Blues & Soda soudě) a Sandra Immacolata, ale kontaktovat a ptát se je na podrobnosti si s mou jazykovou vybaveností netroufám.
Při hledání informací jsem objevil několik webovek, na kterejch kapelu Abiogenesi nálepkujou termínem progresivní metal, ale to v žádném případě. Tohle je hard/prog rock, jako vyšitej. S pořádnou dávkou psychedelie a prvky retra, v podobě Hammond organu, houslí, nebo akordeonu. Ovšem tou nejsilnější devizou alba je jeho atmosféra. Trochu temná, dekadentní a dokonale uhrančivá. Staré pendlovky odbijou jedenáctou, vrznou dveře (nebo je to víko od staré, zpráchnivělé rakve?) a od prvních tónů Ile St. Louis (ostrov na řece Seině v Paříži) jsem jak zhypnotizovanej. Kapela mě táhne na vařený nudli, nemrtvej z obálky alba mi chce pustit žilou a já jdu, jak tele na porážku…

Album Abiogenesi obsahuje šest zářezů a s výjimkou krátkého, instrumentálního předělu R.I.P. jsou to všechno skladby 8-12 minut dlouhé. Hned úvodní Ile St. Louis je podprahově velmi, velmi chytlavá a myslím, že hlavním důvodem bude triviálně jednoduchá, ovšem neobvykle zvýrazněná basová linka. Ta, společně s fuzzy kytarou vytváří unikátní zvuk (považte, psal se rok 1995) a když se do toho vloží ještě hammondky, špicuju uši a pomlaskávám spokojeností.
Cover klasické pecky In Ancient Days skupiny Black Widow (z alba Sacrifice z roku 1970) a název La notte di Ognissanti (Noc všech svatých) nevěstí nic dobrého, ale nakonec jde o jednu z nejmelodičtějších věcí na desce. S důraznými akcenty varhan, přizvukující dvanáctistrunkou a charismatickým chraplákem Toniho D'Ursa. Mou nejoblíbenější je následující, devět a půl minuty dlouhá instrumentálka Abiogenesi. Taková půvabná, zrádná svůdnice s podmanivou atmosférou a vstupy akordeonu, u kterých mi hlavou bloudí obrázky z pařížských předměstí. Ovšem i tady, pod onou zdánlivě klidnou slupkou, doutná cosi zlověstného…
Ani čtvrtá L'oscura tenebra nevybočuje z nastaveného kurzu a od pochodového bubnu v úvodu skladby mě k sobě vábí, jak světýlko do bažin. Tentokrát Toniho D'Ursa doprovázej housličky hostující Claudie Crivello a svižná, instrumentální vložka s parádním sólem na Hammond organ dává razítko na potvrzení o výjimečnosti a kvalitě tohoto alba.
Blíží se ráno a zmoklej, poněkud schlíplej upír se jde konečně natáhnout. Dneska neměl štěstí a společnost mu dělají už jen rozvrzané housle, provazy chladného deště a údery hromu –R.I.P. Pro mě je to takové outro, protože závěrečná skladba Appuntamento con la luna se zbytku materiálu úplně vymyká. Ne, že by byla špatná, právě naopak, ale stylově jde o čistej neoprog z poloviny osmdesátejch let a připomíná mi tvorbu Marillion, nebo Pallas. Až na tu italštinu. Dvanáct minut dlouhá skladba obsahuje dlouhé instrumentální vsuvky, táhlá kytarová sóla a hlavně, tuny syntezátorů.
Podle discogs existují jenom dvě edice, vinylová limitka (666 ks) a klasické CD. To je v běžné plastové krabičce a kromě jednoduše potištěného kotouče obsahuje ještě osmistránkový booklet. Zajímavé jsou nejenom ilustrace na první a poslední straně brožury, ale rovněž ty uvnitř. Bohužel, ale předmluva, texty písniček a kredity jsou napsané rukou a rozluštit jména všech hostujících hudebníků je pro našince prakticky nemožné.

Mám naposlouchaná i následující alba Abiogenesi (kromě posledního Impetus Insectorum), ovšem debut je jen jeden a k úplné dokonalosti mu chybí jen malinkatej krůček. Za čtyři.
SKLADBY:
1. Ile St. Louis  8:57
2. La notte di Ognissanti  7:48
3. Abiogenesi  9:20
4. L'oscura tenebra  9:52
5. R.I.P.  2:30
6. Appuntamento con la luna  11:15
SESTAVA:
Sandro Immacolato – batteria & percussioni
Patrick Menegaldo – organo Hammond & tastiere
Roberto Piccolo – basso
Toni d'Urso – voce, chitarre & tapes
Abiogenesi
Abiogenesi
Prog Rock
Black Widow Records
1995
CD, LP
6
CD Black Widow Records – BWRCD 011-2 /1995/