DVD+CD Black Widow – BWR 127  /2010/
Skupina Delirium působila v první polovině sedmdesátých let a zanechala po sobě relativně bohatou diskografii v rozsahu tří velkejch alb a celé řady neobyčejně úspěšnejch singlů. Na scénu se vrátila v roce 2003 prostřednictvím alba La storia, po kterém následoval koncertní záznam Vibrazioni notturne (2007). Opravdu novej materiál však přinesla až teprve studiovka Il nome del vento, vydaná v roce 2009 labelem Black Widow a zatím poslední položkou na seznamu je nahrávka L'era della menzogna (2015).
Retrospektivní DVD Il viaggio continua: La storia 1970-2010 si kapela nadělila ke čtyřicátinám a je takovým pěkným ohlédnutím za její historií. Hlavním obsahem DVD je koncert z roku 2008, doplněný o bonusy, rozhovory, fotogalerii a především sedm historických snímků z archivu italské státní televize RAI. Bonusové CD pak nabízí to samé vystoupení (byť trochu sestříhané) v čistém audiu.

Koncert proběhl 13.02.2008 v Janově a od vystoupení zaznamenaného na předcházejícím "živáku" Vibrazioni notturne se zas tak moc nezměnilo. Obě show od sebe dělí sotva dva roky a sestava skupiny zůstala – naštěstí – stejná. Při zběžném pohledu se moc nelišej ani seznam a pořadí skladeb, ale to neznamená, že není na co koukat. Už svým nástupem, s využitím leitmotivu skladby Theme One legendárních Van Der Graaf Generator, mě Delirium dokonale zaskočili a následuje pecka za peckou…
V první části koncertu se hrajou skladby z prvních dvou alb. Všechno osvědčené šlágry, které zazněly již na výše uvedené lajfce Vibrazioni notturne a jedinou výjimkou je smutnokrásná Favola o storia del lago di Kriss (Libertà), kterou si u mě Delirium vysloužili další (bez)významné plus. Po závěrečné části skladby Gioia, disordine, risentimento následuje chvilka oddechu, spojená se vzpomínkou na kapelu Jethro Tull a příležitost pro Martina Fredericka Grice ukázat, jak skvělým flétnistou je. Jo, aj tuto Medley znám už z dřívějška, ale je fajn Martina vidět řádit aspoň na televizní obrazovce. Když už tam člověk nemohl být přímo…
Po této ekvilibristické vsuvce následuje krátký návrat k debutu – prostřednictvím krásně sezpívané Preludio (Paura) – a teprve pak dojde i na prvního zástupce z poněkud opomíjeného alba III. Kapela si vybrala skladbu Dio del silenzio a udělala dobře, protože svou pohádkově krásnou melodií perfektně zapadá do nálady koncertu. To už na pódiu sedí aj čtveřice krásnejch dívek, tvořící malej smyčcovej kvartet a na řadě jsou dvě písničky z v té době připravovaného LP Il nome del vento. Já to album ještě neslyšel, ale měl bych to co nejdřív napravit, protože především ta první – Dopo il vento – je opravdu pěkná.
Poslední část vystoupení tvoří takovej pelmel, poskládanej z největších hitů skupiny. Tím prvním je z debutu pocházející Dolce acqua (Speranza) a chybět nemůže (a nesmí) ani slavná singlovka Jesahel. Za zmínku však stojí i progrocková nakládačka La battaglia degli eterni piani, která má svůj původ na albu III. Na úplnej závěr si kapela připravila ještě předělávku písničky With a Little Help from my Friends (Lennon, McCartney) a to už je opravdu vše.
Delirium pocházej z Janova a koncert tedy proběhl prakticky před domácím publikem. Dům byl plnej a tak není divu, že dobrá nálada vládla nejenom na jevišti, ale i pod ním. Kapele to šlape jedna báseň a ta dlouhá pauza před návratem na scénu není vůbec znát. Klávesista Vigo je zcela pohrouženej do své hry a show dělají především Grice (kterej neustále střídá flétnu a několik saxofonů) a bubeník Di Santo. Ten má za sebou obrovskej gong, do kterého nezapomene čas od času pořádně fláknout a jsou to rány, jak z kanónu.
Obraz je ve formátu 4:3 a při jeho roztažení na celej zobrazovač jsou postavy hudebníků malinko zdeformované. Nebo mi to tak aspoň připadá. Ale není to tak hrozné a záleží i na tom, na jakou kameru se zrovna točilo. Těch tam bylo opravdu hodně a záznam tak působí hodně živě a dynamicky. Ke střihu a obrázkům jako takovejm nemám vážnějších výhrad. To teprve přijde…
Tak a teď jsem se dostal k jedinému, ale o to zásadnějšímu kamenu úrazu a tím je zvuk. Ten je pouze v pětikanálovém mixu a všichni, co doma nemáme domácí kino jsme nahraní. Já si DVD pouštím pouze do sterea a v menu pak stačí jenom přepnout na volbu zvuku 2.0, nebo PCM. Jenomže tady ta možnost prostě není a můj zážitek z koncertu tím zásadně utrpěl. Ten zvuk je dost tlumenej, rozplizlej a některé nástroje jsou (pochopitelně) hodně potlačené. Koncertních DVD mám doma ve sbírce docela dost, ale nevybavuji si žádné, kterému by volba Stereo chyběla. Je to škoda a nevím, kterej makovec je za to zodpovědnej. Bonusové CD mi tím pádem hraje daleko líp.
Inu což. Koncert je koncert, ale nosič samotnej nabízí ještě celou řadu bonusů a tím prvním jsou tři skladby z vystoupení konaného 08.02.2007 v Janově, respektive 12.12. 2003 v městečku Mezzago. Jen na jednu kameru a s dunivě nabasovaným zvukem, ale koukat se na to dá. Bez problémů. Obzvlášť ten záznam z klubu Bloom (2003) je hodně raritní a musel být pořízenej krátce po tom, co se Delirium vrátili na hudební prkna.
Dalším významným bonusem je sedm černobílých snímků italské státní televize RAI. Jejich kvalita je sice poněkud kolísavá, ale je paráda mít je všechny takhle pohromadě. Většinu jich znám už z youtube, ale televizní live představení skladby Dolce acqua z 18. května 1972 jsem viděl poprvé. O hodně špatné skladbě Live, love and be free (natočené krátce před jejich rozpadem) ani nemluvě.
Chybět nemůže ani "povinná" fotogalerie, záběry z backstage a rozhovor. Ten má nějakejch 12 minut a je vedený v italštině, ale s anglickými titulky a rozumím mu – kupodivu – i já. Posledním přílepkem je upoutávka na další DVD chystané labelem Black Widow a v ní jsou na jednom pódiu vidět Delirium a Lino Vairetti z Osanny.
Co dodat? Box je to pěknej a dostatečně reprezentativní a klidně bych ho doporučil i tomu, kdo o Delirium v životě nezavadil. Osobně bych mu dal aj pětku, ale ten pětikanálovej mix mi fakt vadí a tak tu jednu hvězduli sundám. Už jsem tady hodnotil podobně koncipovaná DVD skupin Osanna (Tempo) a Nuova Idea (Live Anthology). Na Osannu to nemá, to je prostě top, ale koncert Nuova Idea mi připadá slabší…
DVD – ONE NIGHT IN GENOA:
01. Intro/Verso il naufragio
02. Movimento I (Egoismo)
03. Favola o storia del lago di Kriss (Libertà)
04. Villaggio
05. Culto disarmonico
06. Gioia, disordine, risentimento
07. Bouree / Living in the Past
08. Preludio (Paura)
09. Dio del silenzio
10. Dopo il vento
11. L'acquario delle stelle
12. Dolce acqua (Speranza)
13. La battaglia degli eterni piani
14. Jesahel
15. With a Little Help from my Friends
Bonus DVD:
16. King's Road
17. Viaggio negli arcipelaghi del tempo – Fuga 1
Filmati storici dall'archivio RAI:
18. Canto di Osanna
19. Dolce acqua
20. Jesahel
21. Treno
22. Dolce acqua
23. Live, love and be free
24. Jill
CD – ONE NIGHT IN GENOA:
01. Intro/Verso il naufragio
02. Movimento I (Egoismo)
03. Favola o storia del lago di Kriss (Libertà)
04. Villaggio
05. Culto disarmonico
06. Gioia, disordine, risentimento
07. Preludio (Paura)
08. Dio del silenzio
09. Dopo il vento
10. L'acquario delle stelle
11. Dolce acqua (Speranza)
12. La battaglia degli eterni piani
13. Jesahel
SESTAVA:
Ettore Vigo – tastiere, voce
Pino Di Santo – batteria, voce
Martin Grice – flauto, sax, voce
Roberto Solinas – chitarre, voce solista
Fabio Chighini – basso, voce
+
Quartetto ďarchi:
Chiara Giacobbe – Violino
Diana Tizzoni – Violino
Simona Merlano – viola
Daniela Caschetto – violoncello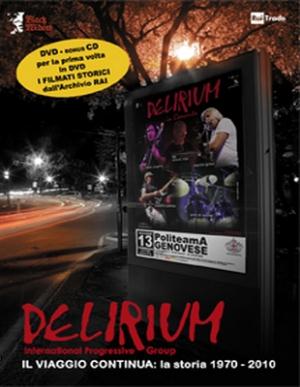 Il Viaggio Continua: La Storia 1970-2010
Delirium
Prog Rock
Black Widow Records
2010
DVD + CD
DVD+CD Black Widow - BWR 127/2010/