Tenhle poklad sedmdesátých roků mi pomohl vyštrachat, stejně jako jemu mnoho podobných, kolega Hejkal. Na recenzi Friend's Friend's Friend jsem narazil náhodou a nebýt cirkusově střiženého crazy obalu, možná bych šel bez zájmu a počtení o dům dál. Tahle zastávka se ale vyplatila a rázem přetavila v pořádnou porci zvědavosti. S pomocí Discogs ležela deska tři měsíce na kraji stolu s dalšími adepty až do minulého týdne, kdy na ni přišla ta spravná chuť.
Když bych měl do nějaké posloupnosti zhrnout přednosti a klady, které mne na kapele Audience, potažmo desce Friend's Friend's Friend, zaujali nejvíce, pořadí by bylo asi následující. Vše odstartovala:
1. Hejkalova recenze;
2. šaškoidní obal;
3. emotivní přednes zpěváka Howarda Wertha, místy připomínající Micka Jaggera;
4. nástrojové obsazení s lahodně prozpěvující flétnou a často temně dunícím ságem;
5. slušná zásoba zvukomalebných, elektriky zbavených poloh;
6. celková jazzová orientace většiny skladeb a jejich variabilní šíře, a pak také píseň č. 6. – nazvaná Ebony Variations – svým charakterem a nástrojovým obsazením tolik mi připomínající milované The Moody Blues (snad vyjma klasicistně-lidovkových pasáží vně).
Takže… Hejkalovi obrovské díky za prima objev a pět bodů pro Audience – novou to srdeční záležitost.
SKLADBY:
1. Nothing You Do 4:38
2. Belladonna Moonshine 2:40
3. It Brings A Tear 2:55
4. Raid 8:44
5. Right On Their Side 5:24
6. Ebony Variations 5:29
7. Priestess 6:14
8. Friend's Friend's Friend 3:28
SESTAVA:
Howard Werth – guitar (acoustic), banjo, vocals
Tony Connor – percussion, piano, drums
Keith Gemmell – saxophone, woodwind
Trevor Williams – bass guitar, vocals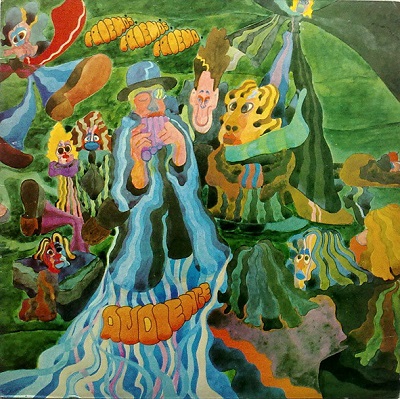 Friend's Friend's Friend
Audience
Prog Rock
Charisma
1970
LP
8