Miesto a čas: Británia na prelome 60. a 70. rokov.
Predmet: jedinečná rocková muzika
Subjekt: Audience
Poznáte hudobnú skupinu Lloyd Alexander Real Estate? Nie? Nič sa nedeje. Kto sa dnes orientuje v nejakých poloprofesionálnych kapelách, ešte k tomu zo 60. rokov minulého storočia? Správne! Prakticky nikto. No a čo, že po sebe zanechala jeden singel Gonna Live Again/Watcha' Gonna Do (When Your Baby Leaves You), ktorý vyšiel v roku 1968 na značke President Records. Čo je podstatnejšie, pôsobili v nej aj traja hráči, menovite Howard Werth (ak. gitara, spev), Keith Gemmell (dychy), a Trevor Williams (basa, vokály). A práve táto trojica sa v roku 1969 spojila s bubeníkom Tonym Connorom, aby dala vzniknúť skupine Audience.
Audience bola jednou z tých zaujímavejších progresívnych rockových skupín, ktorých sa v Británii v danom čase rodilo toľko, že bola ako Holandsko plné tulipánov. Po podpísaní zmluvy s Polydorom vydala debutový album Audience, ktorý predstavil zvláštny mix rockovej muziky koketujúcej ako s folkom, tak džezom. Navyše, kontrast akustickej gitary a dychových nástrojov tvoril pomerne nezvyčajnú kombináciu, ktorá mala priam hypnotické účinky. Skupina však nebola spokojná so zmluvnými podmienkami a podporou vydavateľstva, nuž nečudo, že keď jej po vystúpení pred Led Zeppelin ponúkol zmluvu Tony Stratton-Smith z Charisma Records, nasledoval rýchly presun. Album Friend's Friend's Friend (1971) si kapela produkovala sama a nikto jej do toho nekafral. Výsledkom je niečo úžasné. Napriek tomu ďalšie dva albumy produkoval Gus Dudgeon. A hoci to bol chlapík držiaci eso typu Eltona Johna, diela The House On The Hill (1971) a Lunch (1972) už nedokázali zopakovať čaro druhej dosky. Nepomohlo vydanie v USA (na značke Elektra), nezúročilo sa obalové vizuálne zapojenie firmy Hipgnosis. Kapela v kuse koncertovala, najmä v USA, nuž to začiatkom roka zabalil Gemmell a album Lunch dokončili muzikanti Jim Price (saxofón), Bobby Keys (trubka) a Nick Judd (piano). Následne kapela vyrazila na turné v zložení Werth, Connor, Williams, Judd a Pat Charles Neuberg (saxofón). Dlho jej to nevydržalo. Najprv odišiel Judd (pôsobil v Juicy Lucy, hral s Alanom Bownom, The Andy Fraser Band, Brianom Enom, Frankiem Millerom, Sharks alebo Madness).
Kapela to zabalila, ale hudobníci sa veru nestratili. Gemmell hral v Stackridge, Sammy, The Roy Young Band a s Pasadena Roof Orchestra. Werth sa vydal na sólovú dráhu a skončil načas v Amerike, pretože mal nahradiť stratu Jima Morrisona v The Doors, ale napokon z toho zišlo. Williams hral s The Nashville Teens a skúšal aj iné veci, napríklad s Terrym Mostom, napokon však hudobný priemysel opustil. Aj Connor hral s Mostom, ale tiež s Jackson Heights, The Nice a Hot Chocolate.
Reunion Audience prišiel v roku 2004. Werth, Gemmell, Williams a John Fisher (bicie) vyrazili na pódiá v Británii, Nemecku, Taliansku a Kanade.  O rok neskôr vyšiel koncertný záznam Alive & Kickin' & Screamin' & Shoutin'. Obsahoval nahrávku z vystúpenia z Astor Theatre Deal z decembra 2004. V roku 2008 zomrel na rakovinu pankreasu Fisher a za bicie si sadol Simon Jeffrey. Kapela ostala aktívna do roka 2013, kedy ukončila svoju činnosť. Gemmell v danom období vydal dva sólové albumy a taktiež bojoval s rakovinou jazyka, takže už nevládal vystupovať. Posledný koncert kapela odohrala v londýnskom 100's Club. Gemmell zomrel v roku 2016.
Aby to nevyzeralo, že tu azda píšem medailón o kapele, poďme sa pozrieť na album Friend's Friend's Friend. Obsahuje osem skladieb a jeho atmosféra balansuje niekde na pokraji rozprávky a rockovej naliehavosti. Oproti debutu sa skladby predĺžili, stvrdli, pričom si uchovali niečo, čo neviem opísať, ale nazvem to mágiou. V polovici albumu sa nachádza takmer deväťminútová rocková pecka Raid. Zároveň je to asi najťaživejšia vec na albume. Schopnosť pretaviť naliehavé veselé i smutné emócie do hudby založenej na akustickej gitare a dychoch doviedla Audience k dokonalosti. Keďže hlavným sólovým nástrojom je saxofón, džezové presahy nejde nepočuť. Čo skladba, to klenot. Singlová Belladonna Moonshine je neskutočne pozitívna, melancholická It Brings A Tear chytá za srdce,  Right On Their Side má "sabbathovský" švih, rozprávkový nádych vydýchne Ebony Variations, úžasnú chmúrnu náladu vytvorí Priestess atď. Na cédečku mám pridanú aj bonusovú b-stranu singla Belladonna Moonshine, a síce ostrú The Big Spell. Osobitým poznávacím znamením hudby je škrípajúci hlasový prejav speváka. Verím, že nie každému sadne, zvykol som si a neviem si muziku Audience predstaviť bez neho!
Pre akéhokoľvek bádateľa v oblasti rockových vykopávok je tento album zlatou baňou. Asi nemusím zdôrazňovať, že ide o môj najobľúbenejší album od Audience. Vyskúšajte ho, presvedčíte sa sami, prečo je tomu tak.
Skladby:
Nothing You Do 4:38
Belladonna Moonshine 2:40
It Brings A Tear 2:55
Raid 8:44
Right On Their Side 5:24
Ebony Variations 5:29
Priestess 6:14
Friend's Friend's Friend 3:28
Zostava:
Howard Werth: ak. gitara, bendžo, spev
Keith Gemmell: saxofóny, drevené dychové nástroje
Tony Connor: bicie, perkusie, piano
Trevor Williams: basa, vokály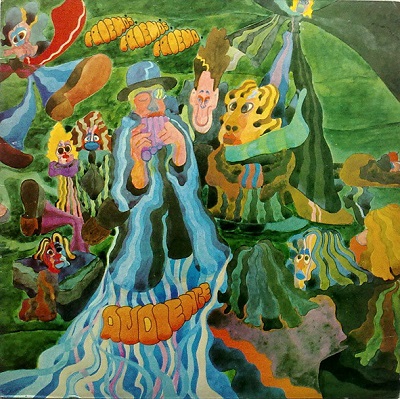 Friend's Friend's Friend
Audience
progressive rock
Charisma
1970
LP, CD
8