CD Black Widow Records – BWRCD 018-2  /1998/
Album Il giocoscuro je druhým zářezem v diskografii italskejch Abiogenesi a u nezávislého hudebního vydavatelství Black Widow Rec. vyšlo v roce 1998. Informace dostupné na internetu jsou sice všelijaké (datum vydání se pohybuje mezi roky 1996-1998), ale vycházejme z údajů zveřejněnejch na stránkách discogs. Od eponymního debutu ho tedy dělí nějaké tři roky a sestava skupiny zůstala stejná, ale s hudbou už je to malinko jiné. Stylově je to sice pořád ještě poněkud zasmušilej dark prog, ale víc underground a retro…
Deska se nahrávala na čtyřstopej magnetofon Tascam a podle toho to taky vypadá, ovšem v tomhle případě šlo o jednoznačnej záměr s cílem vytvořit ponurej a ulepenej zvuk. Zkrátka underground, ale zas takovej průšvih to není. Sice – hlavně první strana alba – trochu "huhlík" a člověk se musí smířit s tím, že mu při hlasitější reprodukci rezonuje nábytek v kvelbu, ale má to svoje kouzlo, přetavené do opravdu sugestivní atmosféry.
Na debutu z roku 1995 si skupina střihla i jednu předělávku, ale tady už je veškerej matroš jen a pouze z pracovny Abiogenesi. Při poslechu desky se sice nedokážu ubránit dojmu, že už jsem to, či ono někde slyšel, ale pěkně popořádku:
Ve sbírce mám CD, ovšem vyšlo to aj na vinylu (limit ed. 500 kopií) a celou jeho první stranu vyplňuje sáhodlouhá kompozice Il giocoscuro. Je to s takhle dlouhejma věcma kříž a ne pokaždé se daří udržet posluchačovu pozornost, ale v tomhle případě jde o šest kratších skladeb pospojovanejch do jednoho celku, což přispívá k větší rozmanitosti předloženého materiálu. Je to taková klikatá cesta rockovým světem a v těch necelých 23 minutách zazní všechno možné. Od semiakustického progrocku (Nessie la regina del lago, nebo Il cimitero degl'innocenti), přes divokou psychedelii (Schizogenesi), delikátní jazz (Jazz vampire), až po strašidelnej hardrock (Il giocoscuro a Movimentoscuro). Vypíchnul bych bezuzdně sólující flétnu hostujícího Marca Bruna v kapitole Nessie la regina del lago, nebo kouzelnej akordeon Paola Perretiho v Jazz vampire. A zdroje? Zmíněná "Nessie, jezerní královna" mi docela připomíná skladbu Il re di Raipure z debutového alba Pierrot Lunaire a pomaličku se táhnoucí Movimentoscuro Black Sabbath…
Obsah desky je dost vyrovnanej, ale jednoho velkého favorita tady přece jenom mám a tím je skladba s podivným názvem Sul margine del bosco la Morte librava la sua falce. Což by se dalo volně přeložit jako "Na kraji lesa se vznášela Smrt s kosou". Je to opravdu sugestivní věc s prehistorickými varhanami, šeptaným projevem Toniho D´Ursa a fantastickou instrumentální vsuvkou. Především z kytarového sóla v závěru skladby jsem docela auf, protože něco podobného bych tady rozhodně nečekal.
V působivé, semiakustické písničce Notte da urlare není slyšet nic jiného, než akustickou kytaru, charismatickej zpěv a tahací harmoniku. Asi těžko bych hledal podceňovanější hudební nástroj, protože akordeon mi pasuje hlavně k hospodskému šramlu, ale ono to vážně funguje a bez něj by to nebylo ono. Na závěr jsou tady dvě instrumentálky, baskytarová drobnost Lunipieno a deset minut dlouhá Golem. Posmutnělá, náladotvorná věc v houpavém rytmu, s parádními Hammondkami a pěknou kytarou. Taková pomyslná třešnička na smutečním dortu…
Dlouhatánskou Il giocoscuro bych kapele vrátil trochu předělat. Mám dojem, že by potřebovala ještě malinko vypilovat, ale druhá strana desky nemá chybu. Původní nosiče jsou už dávno vyprodané a nějakou dobu jsem si musel vystačit s poslechem ze Spotify, ale před nedávnem se mi konečně podařilo sehnat i originální CD. Hororovou obálku mu vytvořila Jolanda Rosina a čtyřstránkovej booklet obsahuje texty skladeb s kredity. Jediné, co mi tady (stejně, jako na debutu) chybí, je pořádná fotka kapely, ale asi to bylo její přání. Nezbývá, než ho respektovat.
SKLADBY:
01. Il giocoscuro  22:50
Act I – Nessie la regina del lago
Act II – Jazz vampire (Strumentale)
Act III – Il giocoscuro
Act IV- Il cimitero degl'innocenti
Act V – Schizogenesi (Strumentale)
Act VI – Movimentoscuro (Strumentale)
02. Sul margine del bosco la Morte librava la sua falce  8:07
03. Notte da urlare  3:24
04. Lunipieno (Strumentale)  1:15
05. Golem (Strumentale)  10:00
SESTAVA:
Toni D'Urso – chitarra acustica 6 e 12, chitarra elettrica, voci e tapes
Sandro Immacolato – batteria
Patrick Menegaldo – organo Hammond e tastiere
Roberto Piccolo – basso
Inoltre hanno suonato gli Amici:
Paolo Perreti – fisarmonica
Marco Bruno – flauto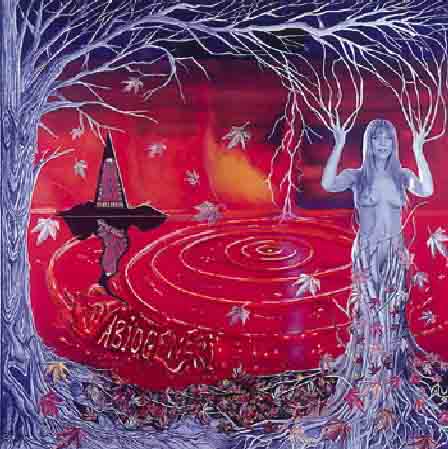 Il Giocoscuro
Abiogenesi
Prog Rock
Black Widow Records
1998
LP, CD
5
CD Black Widow Records – BWRCD 018-2 /1998/