"Cesta je nekonečná – dokud věříš – nemusíš se ničeho bát"
David Byron (Start Believing)
Deset měsíců po vyhazovu z Uriah Heep se David Byron připomněl albem krátkodobého superprojektu Rough Diamond a rok nato i druhou sólovkou, vzešlou ze spolupráce s hitmakerem Danielem Boonem.
The Byron Bandu dalo v roce 1980 vzniknout zpěvákovo spojení s wolverhamptonským rodákem, kytaristou Robinem Sidebothamem, používajícím příjmení George. Po dvou bezohlasových singlech se jim sestava doslova rozsypala pod rukama (pikantní budiž přestup bicmena Thompsona do Hensleyho formace Shotgun), svižně ale dali dohromady novou partu zvučných jmen.
Na album On The Rocks, jehož vydání bylo načasováno k termínu zahájení britského turné v září 1981, bylo z připraveného materiálu vybráno osm skladeb, na nichž dostatek prostoru dostal i saxofonista Mel Collins, což se do celkového soundu Bandu nemohlo nepromítnout.
Nejprv se ale přímočarým riffem ve skočné singlovce Rebecca, která nepostrádá potřebnou dávku rozjezdové energie, přihlásil nadějný kytarista. Collins se dostal k nátisku výrazněji až v následujícím bluesovém klenotu Bad Girl, který ozdobí i nevázaný frontmanův projev, dávající vzpomenout na ty nejlepší časy. Zdánlivě nedostižný vrchol však překoná hned další song, dynamická hardrocková klasika How Do You Sleep?, k níž netřeba cokoli dodávat. Snad jen, že pokud se Lennon deset let předtím stejnojmennou písní z alba Imagine vypořádal s McCartneym za jeho útok na desce Ram, Byron v ní želel rozpadu svého manželství.
Následující Little By Little ovšem představí soubor v úplně jiné poloze. Potenciální hymna všech pohodářů světa se nese v poklidném tempu a vedle nakažlivého popěvku ji příhodně podbarvuje Collinsův saxofon. A ve zvláštní atmosféře protkané říznou kytarou a vypjatým Byronůvým vokálem se odehrává i dokonale vystavěná Start Believing. Zato příští disco kus Never Say Die nemůže zachránit zhola nic. Je nešťastným krokem zpátky a zbytečnou připomínkou předchozího nevydařeného alba Baby Faced Killer.
Lehce pošramocený dojem ale vzápětí napraví jak bluesově smutný příběh o King_ovi, "bláznovi, který dal mnohem víc, než si vzal", tak především nevázaná rokenrolová jízda Piece of My Love s povedeným ságo/kytarovým intrem, která je návratem k těm nejlepším stránkám alba.
Reediční vydání CD od Repertoire Records z roku 1993 obsahuje čtvero bonusových čísel. Singl Every Inch of The Way/Routine (A-strana zde i v nezkrácené verzi) byl prvním počinem Byronova Bandu, když využil zásob z jeho předchozí spolupráce s Boonem.
Hlavní pozornost si ale zaslouží akustická balada Tired Eyes, která se z nepochopitelných důvodů neocitla již v původním výběru, ač by její záměna za Never Say Die mohla z titulu On The Rocks učinit výjimečnou hudební událost celých osmdesátých let.
I tak ale poslední regulérní studiovka Davida Byrona přináší větší než malé množství důkazů o tom, že i pět let po nuceném odchodu z kapely, u jejíhož zrodu kdysi stál, měl ještě hodně co nabídnout. A není divu. Vždyť rocková historie světu nikdy nepředstavila charismatičtějšího frontmana.
Avšak ani jeho vynikající forma a nesporná kvalita většiny songů již nedokázaly zvrátit běh osudu. Album opět propadlo u kritiky i komerčně a zůstalo jen dalším neúspěšným pokusem navázat na někdejší slávu.
Svět nemá logiku. Ani svědomí.
SKLADBY:
01) Rebecca 4:01
02) Bad Girl 4:52
03) How Do You Sleep? 6:09
04) Little By Little 3:54
05) Start Believing 4:04
06) Never Say Die 4:25
07) King 3:40
08) Piece of My Love 6:47
Bonusy:
09) Every Inch of The Way 3:25
10) Routine 3:52
11) Tired Eyes 2:39
12) Every Inch of The Way 4:58
Autorství skladeb: D. Byron/R. George, s výjimkou 9, 10 & 12 (Byron/Boone)
Nahráno: The Old Smithy, Worcester a Highland Studios, Londýn 1980-81
Zvuková režie: David Baker
Mix: Robin George, David Baker a David Byron
Produkce a aranžmá: Robin George
SESTAVA:
David Byron – zpěv
Robin George – kytara, basová kytara (4)
Mel Collins – saxofon
Bob Jackson – klávesy
Roger Flavell – basová kytara
John Shearer – bicí a perkuse
&
The Powder Puffs – doprovodný zpěv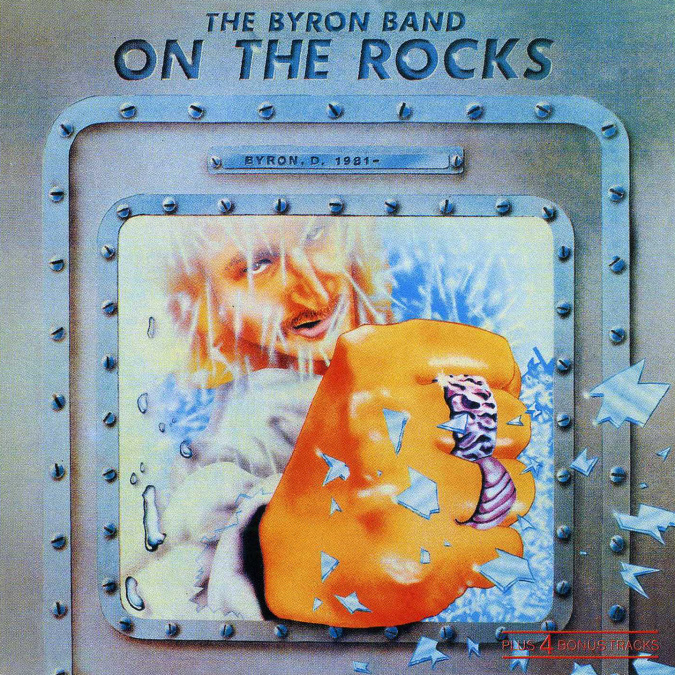 On The Rocks
The Byron Band
Hard Rock
Creole Records
1981
LP
8+4
CD Repertoire Records