Rád bych upozornil na moc pěknou knihu Marshally nadoraz  (Historie bigbeatu v západních Čechách) od Radka Diestlera. Je to bichle o 300 stránkách a ve formátu A4, mapující historii bigbítu na západě Čech od roku 1966, do roku 2000. Nejde o nějakej suchopárnej sborník, napsané je to velmi čtivě a rozdělené na regiony. Samosebou jsem si jako první prolistoval kapitolu "Rockin' Egerland (O Ascherlandu nemluvě)", zahrnující Cheb, Aš a Mariánské Lázně a co mohu posoudit (už jsem taky …sátník), docela to sedí. Chybku jsem zatím objevil jen v jednom křestním jméně.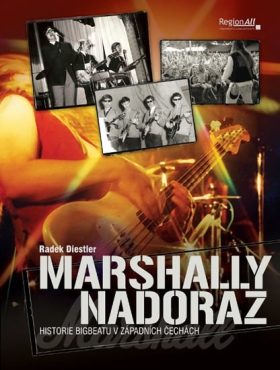 Je tu spousta raritních fotek z domácích archivů, ale i přetištěnejch vstupenek a (vesměs ručně vyrobenejch) plakátů. Kvalitní, lesklej papír je samozřejmostí. Publikaci jsem dostal k Vánocům a jsem z ní nadšenej. Přijde mi daleko kvalitnější, než podobně zaměřenej, ovšem celorepublikovej "Bigbít".
A tady je originální popis:
"Marshally na doraz jsou knihou o historii bigbítu v západních Čechách. Jsou projektem, který svým záběrem nemá České republice sobě rovného. Vypráví o rockových skupinách a dění na celém území bývalého Západočeského kraje v letech 1960-2000 a klade důraz na příběhy a vyprávění těch, kteří byli u toho. Přináší příběhy známých i dávno zapomenutých skupin. Rozhovory s jejich členy jsou kombinovány s důkladným výzkumem archivů a soukromých sbírek. Připomínají důležitá místa, události i postavy v zákulisí. Marshally na doraz jsou kusem historie českého Západu v posledních letech minulého tisíciletí a kusem mládí většiny z nás."
Formát: 210 x 270 mm
Vazba: V8
Náklad: 2500 ks
Typ papíru a gramáž: listy 100g kř. lesk, potah a přebal 150g + lesklé lamino
Počet stran celkem: 304
Stovky fotografií

Kniha je pořád k mání, za zhruba 400 Kč.