…aneb pod ekologickou vlajkou v době pandemické
Sedm let je dlouhá doba i od tak skvělé desky, jakou předcházející Lightning Bolt nepochybně byla. Ne vždy totiž platí, že delší čekací lhůta musí nutně u zavedené kapely přinést i zralejší ovoce.
Mezi vyznavači kultu "marmelády babičky Eddieho Veddera" se pořád najde hodně těch, kteří od nich očekávají přinejmenším druhý Ten. Když ne alespoň nahrávku podobně revoluční jako byl debut nebo dvojka Vs, tak alespoň desku novátorskou a obdobně hledačskou, jaká byla svého času alba No Code, nebo Yield. Málo kdo z dnešních čtyřicátníků a padesátníků, kteří s kapelou postupně dorůstali a nepřestali je sledovat, si dokáže připustit holý fakt, že tyto časy dávno pominuly a Pearl Jam už zhruba dvacet let, přesně od desky Binaural nepotřebují světu ani sobě nic dokazovat. Grunge je čtvrt století mrtev a kapela tento kdysi tolik revoltující styl dávno opustila. A možná ani ne opustila, jen se zkrátka přesunula přes oblast inovativní do vod klidného a uspořádaného rocku, jaký borcům okolo padesátky náležitě sluší.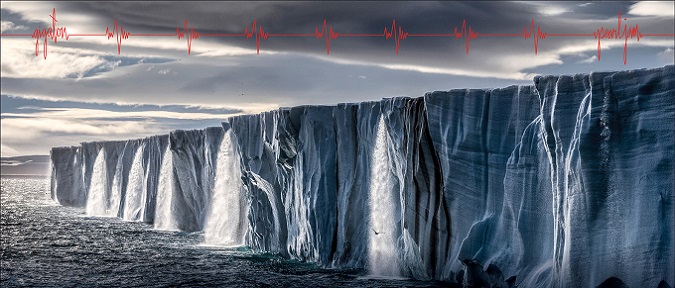 Letošní novinka pojmenovaná Gigaton se ve svých textech i grafickém zpracování titulní obálky, s impozantně vyobrazeným postupně se bortícím ledovcem, opět dosti znatelně věnuje problematice ekologického chátrání naší planety a její celkové poselství má v dnešní pandemické době, která světem teď urputně hýbe, jistě své opodstatnění a více než kdy jindy tak nachází úrodnou půdu.
V oblasti hudební deska zcela přirozeně navazuje na předešlou, sedm let starou předchůdkyni, tudíž musí být všem jasné, že žádná obroda stylu grunge, či nějaké přehnané novoty se na hudebním poli od Pearl Jam znovu nedočká. A jelikož něco podobného jistě nebylo snahou kapely, tak ji nelze upřít holý fakt, že pro rok 2020 si dokázala připravit dostatečně silný materiál, který nejen že vedle Ligtning Bolt svou pozici ubránit dokáže, ale jistě bude patřit na tu lepší polovinu silnějších nahrávek kapely, které za svou třicetiletou kariéru dokázala vytvořit.
Ale tak jak není všechno jen bílé a černé, není ani v případě Gigaton všechno jen klasicky (fádně) rockové. Největší porci řekněme čerstvosti přináší jeden z prvních singlů alba, píseň Dance Of The Clairvoyants, která se nese na nezvyklé silné taneční figuře a jejíž dravost a nenasytnost je na první pohled až smyslně dráždivá. Z ne úplně nepodobné kategorie jsou i písně Alright (ta v sobě absorbuje stopy vzdušnějších nuancí) a song Seven O'Clock disponující podobně jako Alright i spoustou sugestivních atmosférických pasáží.
Tu hrubší jadrnou omítku nahazují Pearl Jam prostřednictvím solidního začátku Who Ever Said s výbornou linkou na španělky v refrénu a nápaditě umístěnou melodií v jejím závěsu, tak stejně s kvalitně zmáknutou Quick Escape. Naopak další ze singlů Superblood Wolfmoon je jen typickou nátěrovkou alá Pearl Jam s nepříliš výmluvnou kvalitou. Obdobně jsou na tom i obyčejné písně Never Destination a Take The Long Way. Co však dokáží v posledních letech Pearl Jam kvalitně vygradovat, jsou závěry jejich alb. Počínaje osmou Buckle Up se Eddie a spol. upnou tu k baladické, tu k nevšedně působivé (Comes Then Goes) struně a tato jejich niterná poloha žne svůj díl i zde. Prostřednictvím těchto položek se nás kapela snaží transformovat (dotlačit) k tomu nejefektnějšímu, čehož je momentálně schopna a musím říct, že i letos jsou skladby tohoto emočně nátlakového soundu neuvěřitelně dotažené a hlavně zní opravdově. Jak Retrograde, tak závěrečná River Cross patří už teď do pokladnice zlatých šperků, blištivých náhrdelníků a cizokrajných démantů hned vedle těch s nápisy Even Flow, Oceans, nebo Garden. Výborný závěr.
Nakonec si tedy marně lámu hlavu, jak novinku alespoň částečně "objektivně" ohodnotit. V žádném případě nejde o nadstandardně pojatou desku. Obávám se, že takové se v případě této kapely už nedočkáme. Přeci jen je daleko obvyklejším faktem, že s postupujícím věkem souboru se výrazově zralejší nahrávky zkrátka netočí (což u mne dokonale vyvrací letošní Wishbone Ash). Avšak na poměry tak velké kapely jako jsou Pearl Jam, se jedná o výbornou a vcelku vyrovnanou kolekci (vyjma dvou, tří slabších bodů), která většinu z desek vyrobených za posledních dvacet let nemá problém laicky řečeno přelstít.
A jelikož je právě zde pěti bodová škála značně zúžená a zavádějící, v procentuálním hodnocení si dovolím novým Pearl Jam udělit číslovku 85.

SKLADBY:
01. Who Ever Said 5:11
02. Superblood Wolfmoon 3:49
03. Dance Of The Clairvoyants 4:26
04. Quick Escape 4:47
05. Alright 3:44
06. Seven O'Clock 6:14
07. Never Destination 4:17
08. Take The Long Way 3:42
09. Buckle Up 3:37
10. Comes Then Goes 6:02
11. Retrograde 5:22
12. River Cross 5:53
SESTAVA:
Jeff Ament – bass guitar, keyboards and guitar on Dance Of The Clairvoyants and Quick Escape, drum loop on Quick Escape, keyboards on Alright and Seven O'Clock, kalimba on Alright and River Cross, programming on Seven O'Clock, piano on Buckle Up, production, layout.
Matt Cameron – drums, drum programming on Dance Of The Clairvoyants, guitar on Alright and Take The Long Way, vocals and programming on Take The Long Way, production.
Stone Gossard – guitar, bass on Dance Of The Clairvoyants, percussion on Buckle Up, vocals on Buckle Up, keyboards on Retrograde, production.
Mike McCready – guitar, percussion on Dance Of The Clairvoyants, keyboards on Retrograde, production.
Eddie Vedder – lead vocals, keyboards on Seven O'Clock, pump organ on River Cross, production, layout, text.
Gigaton
Pearl Jam
Alternative Rock
Monkeywrench Records ‎/ Republic Records ‎
2020
CD, LP
12