Ta změna byla nutná. Věčně nespokojený kytarista Blackmore, klávesový kouzelník Lord a bubenický dříč Paice už nějakou dobu cítili, že pokud má jejich skupina držet krok s tepem doby, je nutná výměna zpěváka. Volba padla na Iana Gillana známého v té době z účinkování ve skupině Episode Six. Ten s sebou ještě přitáhl baskytaristu Rogera Glovera a nová bohatýrská kapitola Deep Purple se mohla začít psát zlatým písmem.
Vlastně o nějakém psaní nemůže být řeč, protože pětice se rozhodla rovnou tesat do materiálu mnohem trvanlivějšího, než je obyčejný papír, totiž do kamene. A hned první nahrávka Black Night to potvrdila měrou vrchovatou, stala se velkým hitem a žádaným koncertním číslem. Deep Purple si ještě střihli společnou nahrávku se symfonickým orchestrem, aby se mohli vrhnout na přípravu jedné z nejdůležitějších desek v historii tvrdé rockové hudby, alba Deep Purple In Rock.
To vznikalo od října 1969 do dubna 1970 a poprvé se obal s tvářemi pěti hudebníků vytesanými do skály objevil na pultech britských obchodů v červnu téhož roku. A hudba, jež se linula z drážek desky, s oním obalem dokonale korespondovala. Hned úvodní smršť Speed King je neskutečným zvukovým blitzkriegem, útokem na sluch nepřipraveného posluchače, který nemá ani čas se pořádně vzpamatovat, takový je to nářez. Ano, věřím tomu, že pánové při nahrávání celého materiálu měli na všech přístrojích volume hodně doprava. Následující Bloodsucker mi svou nekompromisností připomíná zatloukání klínů do té skály vyobrazené na obalu. Buch, buch, buch a pomalu začínám mít dojem, že mám mozek napadrť. Ještě že nás čeká veleskladba Child In Time, při níž si snad mé sluchovody odpočinou. Jenomže to, co Blackmore rozpoutá v prostřední části skladby, to je nad mé chápání. Jeho doslova orgasmická bouře eruptivních sól se pro mě stává dokonalým spojením agrese a nadpozemské krásy.
Flight Of The Rat také nepřináší úlevu. Tento kvapík se žene vpřed jako horská bystřina při jarním tání. Tato bystřina se však při sóle Jona Lorda a následně Ritchieho Blackmora stává regulérní povodní, aby se v závěru skladby vody vrátily zpět do svého koryta. Zatloukání klínů tu už jednou bylo a díky skladbě Into The Fire je tu opět. Jakmile Gillan zaječí titulní slogan, tak mi málem vstávají vlasy hrůzou na hlavě, taková je to síla.
U předposledního kousku Living Wreck mám pocit, jako by si hudebníci řekli, že je posluchače potřeba nechat trošku vydechnout, aby nabral síly před závěrečnými zvukovými orgiemi. Ty přicházejí v podobě skladby Hard Lovin' Man. Smrští jsme začali a smrští také končíme. Nekompromisní nářez, v němž Lordovy varhany dostávají ohromný prostor, aby se vzápětí vystřídaly s neméně ďábelskou kytarou, ve mně vyvolává představu soundtracku pro šílené 20. století.
To album jsem musel slyšet a je dobře, že to bylo v době, kdy tato hudba má tu sílu útočit na podvědomí mladého posluchače v tom nejkladnějším slova smyslu. Možná mám radši následující Fireball pro jeho větší pestrost, ale to nic neznamená. Deska Deep Purple In Rock je v mých uších tím nejlepším, co Deep Purple vytvořili.
Skladby:
1. Speed King     5:51
2. Bloodsucker   4:08
3. Child In Time 10:16
4. Flight Of The Rat 7:53
5. Into The Fire   3:29
6. Living Wreck 4:30
7. Hard Lovin' Man 7:10
Sestava
Ritchie Blackmore – kytara
Ian Gillan – zpěv
Roger Glover – baskytara
Jon Lord – klávesy
Ian Paice – bicí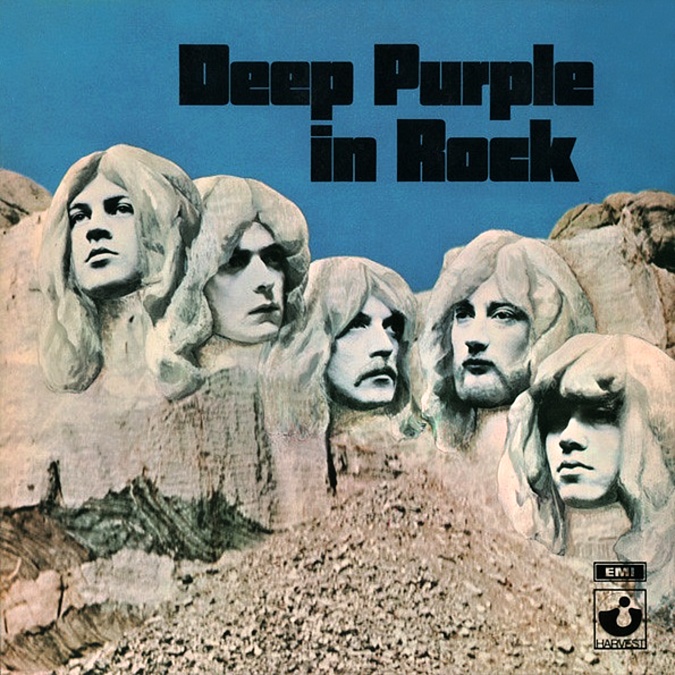 In Rock
Deep Purple
Hard rock
EMI Records Ltd.
1970
7
CD EMI – CDP 7 46239 2