Ambiciózne súhrnné dielo vzdávajúce hold celoživotnej tvorbe Mariána Vargu, nazvané Collected Works Vol. 1, uzrelo svetlo sveta koncom roka 2019 v limitovanom náklade 500 kusov.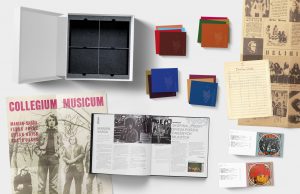 Ide o ozaj vkusný box set obsahujúci na 16 cd kompletnú Mariánovu diskografiu vrátane všetkých radoviek skupiny Collegium Musicum a všetkých jeho projektov pred, počas a po Collegiovského obdobia, pod ktoré sa podpísal ako muzikant a skladateľ. Bonusom pre kompletistov je posledný disk nazvaný Z červeného kufríka, ponúka raritné, ešte nezverejnené nahrávky ako napríklad štyri živé nahrávky od Collegium Musicum zahrané v Prahe v roku 1970, tri z nich sa na oficiálnych nosičoch skupiny ešte nikdy neobjavili. Autormi tohto vskutku krásneho zberateľského kúsku je Spoločnosť Mariána Vargu, partia ľudí snažiacich sa kultivovať Mariánovo hudobné dedičstvo, ktorému sa podarilo získať od v agónii trpiaceho Opusu práva a licencie k jeho nahrávkam. O nový remaster sa postarali borci v bratislavskom hudobnom štúdiu Real Music House a podľa tvrdenia tvorcov – citujem: "Kolekcia albumov s názvom Marián Varga Collected Works I. bude výnimočná novým zvukovým dizajnom preslávených nahrávok. Ku každému albumu sme pristupovali s veľkou precíznosťou a snahou dodať známym skladbám nový "oprášený" zvuk v duchu predstavy samotného Mariána. Za podstatné považujeme, že analógový redizajn sa tvorí z originálnych nahrávok. Veríme, že túto unikátnu kolekciu ocenia verní fanúšikovia Vargovej hudby, ale aj tí, ktorí jeho dielo ešte tak dôsledne nepoznajú. Je to úžasná hudba a je pre nás veľkou cťou podieľať sa na jej zvukovom obnovení." ~ (Robert Pospiš & Martin Sillay, nahrávacie a postprodukčné štúdio Real Music House).

Krabica ďalej obsahuje 260 stranový booklet na stránkach chronologicky zladený s poradím vydania jednotlivých nahrávok Mariánovej diskografie. Ide o akúsi historickú sondu ponúkajúca zreteľný náhľad do Vargovej hudobnej kariéry, podáva rozsiahle informácie o okolnostiach sprevádzajúcich nahrávania jednotlivých albumov, dobové fotografie, mnohé z nich predtým nezverejnené, rozhovory s ním, jeho citáty ako aj spomienky umelcových súputníkov. V krabici nájdeme napríklad kópie dvoch plagátov, prvý je známy záber Alana Pajera zobrazujúci Collegium Musicum ešte s Rasťom Vachom v základnej zostave odfotený pri príležitosti nahrávania prvého albumu pre Supraphon v parčíku pri štúdiu v Dejvicích. Ďalší plagát pozýva záujemcov na rockový festival usporiadaný v Palerme roku 1972, predstavuje zúčastnené skupiny, mnohé zvučných mien, medzi ktorými nechýbali ani Collegium Musicum, jediná skupina pochádzajúca z východného bloku. Už som sa stihol pomojkať s bookletom a prílohami, privoňal som im už hádam päťdesiatkrát. Teraz ma už čaká iba si pozorne vypočuť každé ​jedno cédéčko, bude to príjemný hudobný maraton na jeden kompletný víkend.