V minulosti som tu predstavil knihy The Progressive Underground Volume 1 a Volume 2, ktorých autorom je náš kolega Kev Rowland. K dispozícii je už aj tretie pokračovanie, ktoré mi došlo v elektronickej podobe. Na úvod mi však opäť dovoľte pripomenúť a predstaviť autora.
Kto je Kev Rowland?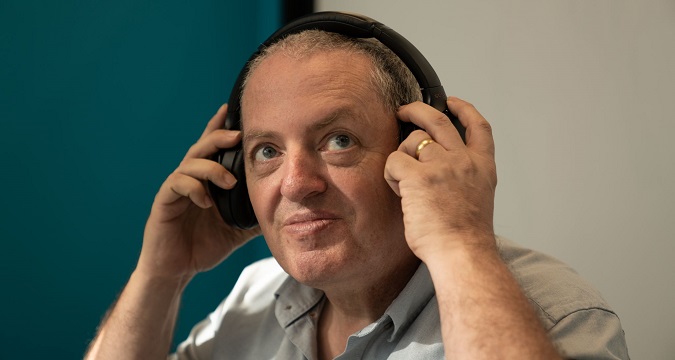 "Od roku 1990 do roku 2006 som vo Veľkej Británii viedol fanzin Feedback, písal som o kapelách, ktoré sa nikdy nevenovali mainstreamu, z ktorých mnohé boli v progresívnom undergrounde. Vytvoril som si úzke vzťahy najmä s mnohými britskými skupinami ako Freewill, Credo, Galahad… Preskúmal som doslova tisíce kaziet a CD skupín z celého sveta. Počas tohto obdobia som tiež prispieval do francúzskemu progzinu Acid Dragon, do známeho Rock 'n' Reel, ako aj pre webovú stránku Ghostland. V roku 2006 som sa presťahoval na Nový Zéland a vydávanie Feedback_u pozastavil. (Ten sa potom premenoval na Amplified, odkiaľ som na svoju žiadosť odišiel.) Produkoval som vyše 80 vydaní s viac ako 11 tisíc tlačenými stranami.
Na Novom Zélande som prestal písať a recenzovať, ale postupne som sa vrátil na scénu a začal prispievať na mnohé stránky i do časopisov. Vložil som sa do toho s rovnakým zápalom, ako pred 20 rokmi. V roku 2014 som to však zastavil a začal pracovať na knihe, ktorá obsahuje všetky moje progresívne recenzie pre Feedback. Dokončil som ju na konci roku 2016…
Píšem o rôznych hudobných štýloch, od akustiky a jazzu cez všetky typy rocku (progresívny, melodický, hard), až po najextrémnejší metal a avantgardu. Všetky moje recenzie sa objavujú v tlačenej verzii britského fanzinu Amplified (stále aktívny aj po 30 rokoch), tiež ich odosielam do týždenného elektronického časopisu Gonzo, poľského www.mlwz.pl (kde Artur uverejňuje každý deň niekoľko mojich recenzií v sekcii anglického jazyka), ďalej sú to stránky PowerofProg.com, HouseofProg.com,  Progressor.net a ďalšie. Taktiež prispievam na www.Background.com, do francúzskeho progzinu Acid Dragon. Ak je skupina uvedená v príslušnom zozname, recenzia sa objaví aj na ProgArchives, všetky metalové na Metalmusicarchives a jazzové na Jazzmusicarchives. Uf!
Snažím sa objaviť a propagovať "nové" kapely, ktoré si to zaslúžia. V roku 2019 ma oslovil zástupca stránky Rockovica.com a ja som súhlasil s publikovaním mojich článkov v slovenskom jazyku." 
– THE PROGRESSIVE UNDERGROUND VOLUME 3  –

Kev Rowland v tretej časti svojej knihy predstavuje recenzie pre časopis Feedback, teraz premenovaný na Amplified, ktorý dlhý čas aj viedol. Ak chceme pochopiť, o čo Kevovi išlo, musíme si uvedomiť, že jeho písanie o hudbe začalo v rokoch, kedy o internete a nejakom super rýchlom  šírení článkov nemohlo byť ani reči. O progresívnu hudbu sa veľké tlačené média takmer vôbec nezaujímali, tým pádom ju vytlačili do undergroundu. Našťastie, bolo tu zopár "bláznov", ktorí sa s tým nezmierili a šírili progresívny rock medzi fanúšikov hudby. Bol medzi nimi aj autor tejto knihy, pokrývajúci široký hudobný záber, ktorý sa vypracoval na jedného z najznámejších a najpopulárnejších recenzentov. Až tak nám zrejme dôjde, čo tento človek pre hudbu, jej poslucháčov a hlavne samotných hudobníkov urobil, čo pre nich znamenal a stále znamená.
Kev: "Zväzok 1 obsahoval umelcov A-H, zväzok 2 I-S, čím sa dotvára kompletná abeceda. Trojka obsahuje aj malé recenzie, kompilácie, videá / DVD, rozhovory a recenzie z koncertov. Toto je môj osobný favorit z týchto troch zväzkov, pretože rozhovory a recenzie koncertov fungujú ako stroj času."
Pre detailistov, Volume 3 ponúka tieto heslá!!!
Recenzie:
T, Tale, Talisma, Tangerine Dream, Tea For The Wicked, Tempest, Tercia, Thessera, Thieves' Kitchen, David Thomas & Ronnie Gunn, Steve Thorne, Threshold, Tiemko, Tiles, Timeline, Timelock, Timothy Pure, Tin Scribble, Ádám Török & Mini, Top Left Corner, Touchstone, Devin Townsend, Tr3nity, Tractor, Tranceport, Transatlantic, Transience, Trans-Siberian Orchestra , Treebeard, Trespass, Trion, Trio96, Tripod, Tristan Park, Akihisa Tsuboy, Natsuki Kido Duo, Tsuki no Umi, Tsunami, La Tulipe Noire, Twelfth Night, U I Blue, Ultime Atome, Umphrey's Mcgee, Unbroken Spirit, The Underground Railroad, Upright, Van & Borner, Vanden Plas, Vanishing Point, Janos Varga Project, Csaba Vedres, Vertical Alignment, Vietgrove, Violent Silence, Violet District, Visible Wind, Vision, Volare, Von Daniken, Voyager, Vulgar Unicorn, Adam Wakeman, Oliver Wakeman, Rick Wakeman, Rick & Adam Wakeman, Walking On Ice, Walrus, Wappa Gappa, Paul Ward, Wastefall, The Watch, Waterclime, John Wetton, Whistler's Mother, White Door, White Willow, Alan Whittaker, Wicked Minds, Harry Williamson, Willowglass, Damian Wilson, Ray Wilson, Wingdom, Wings Of Steel, Winter, Without Face, Without Warning, Withoutending, Woolly Wolstenholme, World Turtle, Wyxmer, Xaal, Xinema, You And I, Ywis, Dweezil Zappa, Zaragon, Zazen, Zen Orchestra, Zenit, Ziff, Zone Six
Menšie recenzie:
5:01 AM, Abraxas, After Crying, Airborne, Ancient Curse, Blue Shift, Brian Hirsch, Court, Crucible, Deluc, Die A Tribe, Evidence, Fig Leaf, Fruitcake, Geoffrey Downes, Ghosts Of Dawn, In The Labyrinth, Indeed, Ines, Iris, Ivanhoe, J.R.S., Jeremy, John Wetton, Lands End, Lanvall, Magus, Maryson, Mystery De Notre Dame, New Sun, Quasar Lux Symphoniae, Quidam, Rachel's Birthday, Sigmund Snopek, Silent Lucidity, Simon Says, Smokin' Granny, Solaris, Tea In The Sahara, The Moor, The Wishing Tree, Tristan Park, Truth In Advertisement, Zello.
DVD/Videá:
Jan Akkerman, Asia, Chain, Roger Chapman, Colosseum, Discipline, Dream Machine, ELP, Genesis, Glass Hammer, Icon, IQ, Jadis, Landmarq, Lana Lane, Legend, Magenta, Geoff Mann, Neal Morse, Mostly Autumn, Nektar, Erik Norlander, Pain Of Salvation, Pendragon, Plackband, Quikion + Lithuma Qnombus, Saga, Sanity, Shadowland, Spaced Out, Spock's Beard, Threshold, Tractor, Twelfth Night, Uriah Heep, Rick Wakeman, Yes.
Interviews (niektoré aj opakovane):
Nick Barrett, Brian Devoil, Stu Nicholson, Clive Nolan, Geoff Mann Tribute, Tracy Hitchings, Rog Patterson, Steve Paine, John Dexter Jones, Clive Nolan/Mick Pointer, Fish, Clive Nolan/Ian Salmon, Steve Howe, Neal Morse/Nick D'Virgilio, Alan Morse, Karl Groom, Kerry Livgren, Martin Orford, Woolly Wolstenholme, Peter Nicholls, Neal Morse , Nick D'Virgilio, Gary Chandler, Manfred Mann, Henning Pauly, Mark Colton, Empathy, Richard Sinclair, Guy Manning, Adam Wakeman, After Crying, Solstice Coil, Jeremy Morris, Richard Wileman, Mangala Valis.
Koncerty:
Aerie Faerie Nonsense, Ars Nova, Asgard, Big Big Train, California Guitar Trio, Casual Affair, Credo, Damian Wilson, Different Trains, Enchant, Freewill, Galahad, Grace, Grey Lady Down, IQ, Jadis, Jump, Landmarq, Legend, Llyn Y Morynion, Mastermind, Mentaur, Mr. So & So, Neal Morse, Power Quest, Revelation, Rick Wakeman, Saga, Shadowland, Sphere, Spock's Beard, Steve Hackett, The Flower Kings, The Morrigan, Threshold, Tracy Hitchings , Vietgrove, Winter, World Turtle.

V predslove sa čitateľom prihovárajú Artur Chachlowski (www.mlwz.pl) a Steve Paine (Legend), na zadnej strane obálky sú komentáre Garyho Chandlera (Jadis) a Johna Dexter Jonesa (Jump). Autorom samotnej obálky je Martin Springett.
Ak sa to dá takto pomenovať, Kev píše štýlom, ktorému porozumejú aj rockoví nadšenci spod Tatier i hory Říp, pričom nemusia mať červený diplom z anglického jazyka. Toto je pre mňa najväčšia devíza, samozrejme, mimo samotných albumov, ktoré predstavil. Za mňa jednoznačne – palec hore!
Kev, thank you very much!!!!!
Kev Rowland
Red Arrow Farm
639 Depot Road
RD1 Oxford 7495
New Zealand
The Progressive Underground Volume 3
Available now through Amazon! Links below
UK   USA   Germany   Fra  Italy  Australia  Brazil  Japan  Spain
The Progressive Underground Volume 2
Available now through Amazon! Links below
UK   USA   Germany   Fra  Italy  Australia  Brazil  Japan  Spain
The Progressive Underground Volume 1
Also available through Amazon! Links below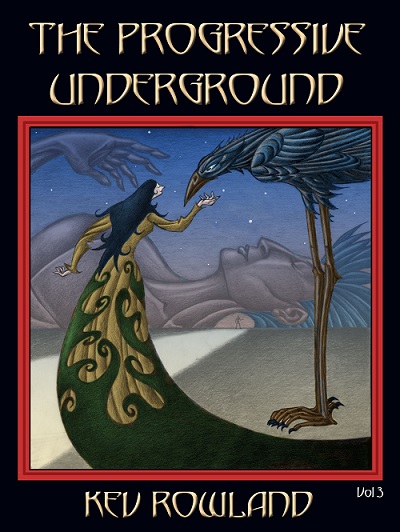 The Progressive Underground Volume 3
Kev Rowland
Prog Rock
Gonzo Media Group
2020
Kniha
Elektronická kniha, 366 strán