…aneb ke kořenům blues rocku s pokusem č. 6
Před sebou mám CD švédských Europe a začínám psát recenzi. Jak ale najednou začít? Nějak se mi do toho psaní vlastně ani moc nechce. Ptáte se proč? Důvodem je určitý pocit zklamání, který mě v těch několika málo dnech strávených spolu s Walk The Earth provází a který v sobě nemohu potlačit.

Velká očekávání, jež jsem do nahrávky vkládal, se tentokrát nevyplnila. Míra spokojenosti, provazející a zrcadlící se v každé předešlé po-comebackové nahrávce Europe, vždyť už od dob Start From The Dark jsem si zvykl a vždy také dostal obrovskou kvalitu, je dnes nahrazena otazníkem za větou typu; pánové, skutečně to takto cítíte? A ptáte se co touto otázkou mám na mysli? Ti, co desku ještě neslyšeli, k ní mají pádný důvod. Opačná část posluchačské obce, jež si Walk The Earth už poslechla, ji bude rozumnět podstatně výrazněji.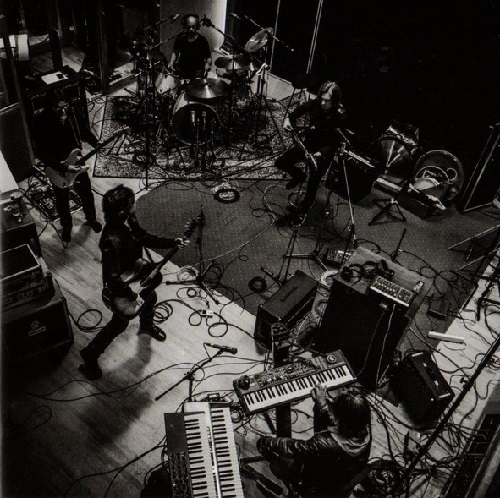 Dnes nebudu začínat v hlubokém pravěku, kdy kapela mastila svůj načančaný pop rock, spokojeně se šklebila do kamer a jejich zlatavě kudrnaté kštice se natřásali před pubertálními děvčaty. Nebudu psát ani o důvodech rozpadu skupiny a změně hudebního výrazu při jejich druhém startu. Snad každá druhá recenze na jejich nový produkt začíná slovy o tom, jak kdysi hráli to a dnes ono, jak změnili tvář a kam se jejich kroky postupně obracejí.
Píše se rok 2017 a Europe na své šesté novodobé desce zní nejtvrději a nejtemněji za celou svou kariéru. Je mnohem zemitější, těžší, valivá, stone rocková a depresivnější než cokoliv, co do této doby kdy kapela stvořila. S prvním poslechem jsem nevycházel z údivu a stěží se měl čeho zachytnout. Jenže co s nahrávkou kapely, kterou máte k smrti rád a která vás s prvním dotekem tak zklame. Jediná možná léčba je hrnout ji do hlavy, lidově řečeno – horem, dolem, zprava, zleva, nepřestat a vydržet. Výsledek buď skončí totálním nechutenstvím a odvrhnutím, nebo…. a to je naštěstí tento případ, jí budete postupně přicházet na chuť. Deska tudíž okamžitě putovala do stroje zvaného mp3-jka a vyrazila na svou pouť. Během ní jsme se postupně začali kamarádit a vzájemně respektovat (to je přehnané, že?). 
Pár slov o nových písních, jež se textově zaobírají různými sociálně demokratickými aspekty v různých, časově odlišných etapách lidského vývoje:
Pokud rozlousknete první oříšek, první tři písně, máte z větší části vyhráno. Walk The Earth (byla podle slov autorů provedena starou nahrávací technikou na starém magnetofonovém zařízení), The Siege a Kingdom United jsou reprezentanty temnější a místy hodně depresivní skupiny skladeb na albu. O nějaké hitovosti, či výrazné nápaditosti si můžete nechat jenom zdát. Melodie jsou ukryty vespod pod tvrdou Norumovou kytarovou stěnou, která drží za pomoci "párplovských" kláves Mica Michaeliho. Časem si je ale oblíbíte a naleznete množství zajímavých nuancí potřebných k jejich výrobě. Pictures je první vlaštovkou přivážející nepatrný pramínek světla. Pomalejší píseň s bohatším aranžmá mající ve svém podtónu zvláštní melancholický smutek. Chvílemi máte pocit, že Joey nejen zpívá, ale před mikrofonem i brečí. Neveselá klavírní melodie písní se proplétající vám nedopřeje žádný optimistický pohled skrze dnešní svět, který nám Europe domalovávají za pomoci šedivých tónů. A je tu pětka Election Day a Norumovci konečně ožívají. Kapela šlape ve větších obrátkách a zpoza hammondů hledí vzpřímeně kupředu.
B stranu otevírá grungem načichlá těžkooděnkyně Wolves. Tíživá a velice tajemná věc se zajímavou vnitřní silou a podprahovou aurou, která ji obepíná jako krunýř Karety obecné. Skladbu GTO lze zařadit mezi okleštěný zástup vypalovaček, kterých je tu však žalostně málo. O to víc se na ni těšíte a užívate si ji. Zvláštní skladbou je osmička Haze. Tempestův vokál se topí kdesi u dna velké vodní špinavé nádrže a Norumovi zajímavé riffy mu nedovolí jakýkoliv pohyb vzhůru. Další výrazné povolení otěží přicházi s Whenever You're Ready. Ta by mohla být součástí některé z předchozích nahrávek. Má jiskru a slušný tah na bránu. Cítit jak si kapela společně užívala. Posledním zástupcem je Turn To Dust. V ní za pomoci kláves maluje akustická kytara na plátno větších rozměrů velice naléhavou a melancholicky vyvedenou hudební skicu.
A to je vše, pouhých čtyřicet minut(!) vyrobených s producentem Davem Cobbem ve studiích Abbey Road. Prvním šéfem zvuku, jež byl použit podruhé na dvou po sobě jdoucích nahrávkách. Zřejmě s ním byla kapela minule maximálně spokojena a dala mu opět šanci. Zřejmě to přesně takto kapela cítí a jde si za svým. Tato nahrávka je obrazem určitého stádia vývoje semknutého hudebního tělesa. Určitého stupně, jež je podobný lidskému zrání a růstu. A přesně takto by se k ní mělo i přistupovat a hodnotit ji.

Každá z jejich posledních nahrávek je úplně jiná:
Start From The Dark bylo zmrtvýchvstání jako hrom. Energie stříkala na všechny strany a rockový svět se otřásal v základech.
Secret Society byl progres. Rockově bujarý, dechberoucí stupeň, na kterém variabilita a nápaditost seděli vedle sebe ve školní lavici.
Pak přišel Last Look At Eden. Kapela si vyzkoušela symfoničtější prvky, spolupráci s orchestrem a vitální pohled na svět.
Bag Of Bones otočil kormidlo o 180 stupňů. Ze země se vykopali staří Led Zeppelin a Black Sabbath, vše ztemnělo a ztěžklo.
War Of Kings šlo ještě více ke kořenům, do tvorby prosakuje blues a energie se šíří pouze z nádoby s popiskem sedmdesátá léta.
A Walk The Earth? Mám dojem, že se trochu vytratila jiskra a hravost. Před sebou vidíte jen tmavé obrysy skal ostrých jako břitva, vystupujících z šedavě mlžného oparu, jež halí temná noc. Skrze ni má měsíční svit jen pramálo prostoru, aby vás alespoň částečně osvítil.
SKLADBY:
01. Walk The Earth 4:16
02. The Siege 4:01
03. Kingdom United 2:52
04. Pictures 4:49
05. Election Day 4:06
06. Wolves 3:55
07. GTO 3:29
08. Haze 3:49
09. Whenever You're Ready 2:51
10. Turn To Dust 6:50
SESTAVA:
Joey Tempest – lead vocals
John Norum – guitars
John Levén – bass
Mic Michaeli – keyboards
Ian Haugland – drums
+
Jamie Larsson – backing vocals [additional] (01)
Kevin Kirs-Verstege – Choir (10)
Norwegian Blue Mass Choir – Choir (10) 
Walk The Earth
Europe
Hard Rock
Hell & Back Recordings
2017
CD, LP
10